The Hindu Editorial (A difficult union) – May 08, 2021
A change of guard in Puducherry, where governance and development took a backseat from mid-2016 due to continuing friction between the elected government and Raj Nivas, ushers in hope for its people. For further reading, visit "The Hindu". Below is today's word list-2 for The Hindu Editorial (A difficult union) – May 08, 2021.
To read this article, click here.
This preview is provided here with permission.
Courtesy: The Hindu
The Hindu Editorial (A difficult union) – May 08, 2021:
alliance (noun) – association

, union, partnership.

ally (noun) – partner, supporting (political) party (with common interests).
keep at bay (phrase) – prevent someone/something from coming nearer.

change of guard

 (phrase) – It used to refer to a situation in which there is a (dramatic) change in which new people are replacing people (existing) in positions of importance.
take a backseat (phrase) – take a less important role.
friction (noun) – discord

, disharmony, disunity, strife, conflict, disagreement, dissension.

Raj Nivas

 (noun) – the official residence of the Lieutenant Governor.
usher in (verb) – herald

, portend, mark the start of, signal.

electorate (noun) – all the people who entitled to vote in an election.
frustration (noun) – disappointment, annoyance/irritation, dissatisfaction.
erstwhile (adjective) – old, previous, former, then.
amply (adverb) – sufficiently, 

satisfactorily, 

(more than) enough.
reflect (verb) – indicate

, show, reveal, exhibit.

opposed to (adjective) – against.
oath (noun) – vow

, sworn statement, promise/pledge.

have one's work/task cut out (phrase) – be faced with a tough task/work.
composition (noun) – formation, arrangement.
in the making (phrase) – coming, developing, burgeoning, up and coming.
look forward (to) (phrasal verb) – anticipate, expect, hope for.
in the midst of (phrase) – in the middle of.
infer (verb) – deduce

, reason, conclude, come to the conclusion.

back (verb) – support, endorse, uphold, champion.
in anticipation (noun) – with the expectation of something occurring.
cordiality (noun) – affability, warmth, friendliness, friendship.
yield (verb) – produce, give, provide (results/benefits).
dividend (noun) – benefit, advantage, gain.
legitimate (adjective) – valid, reasonable, reliable.

no less than

(phrase) – used to highlight the importance of a person/thing.
pitch (verb) – talk in support of something, voice/express one's support for something.
acronym (noun) – a word formed by combining initial letters of a series of words; initialism (e.g. BEST (Business hub, Education hub, Spiritual hub and Tourism hub).
coin (verb) – create, think up, formulate (a new word/phrase).
cohesive (adjective) – united, integrated, cooperated; adhering.
on the ground (phrase) – in a situation/place where things are happening really/practically.
battered (adjective) – damaged

, impaired, spoiled

.

fatigued (adjective) – tired, exhausted, worn out, drained, overtaxed.
likely (adverb) – probably

.

ambitious (adjective) – formidable, challenging, demanding.
taste blood (verb) – to realize that you have achieved something small and you are encouraged to do/achieve something big.
geographically (adverb) – in terms of the region.
contiguous (adjective) – adjacent

, neighbouring, adjoining, abutting, connecting, joining, bordering.

linguistically (adverb) – in a method correlating with language.
align (with) (verb) – join forces with

, join up with, form an alliance with, link up with, combine with.

set one's sights on (phrase) – aspire to, aim for, strive for, hope for, work towards.
seek (verb) – 

try, aim, attempt.

one's pound of flesh (phrase) – an act of insisting on getting what you are entitled to, although it may create problems for the person it is demanded from.
nominee (noun) – candidate.

reservation

 (noun) – 

hesitation, hesitancy, reluctance, objection; scepticism, doubt, qualm.

accommodate (verb) – adjust

, adapt, attune, get accustomed, come to accept

.

pronounced (adjective) – noticeable

, evident, conspicuous, striking, obvious, recognizable. 

lead to (verb) – result in

, cause, bring on, give rise to.

swearing-in (noun) – an official ceremony in which a person is taking the oath and admitted into a new official job.
fend off (verb) – hold off, resist, block.
conscious (adjective) – aware, mindful, sensible.
fragmented (adjective) – divided, splintered, split, separated, disintegrated.
throw up (phrasal verb) – produce something.

leave open

(phrase) – keep undecided.
manipulation (noun) – controlling or influencing someone/something cleverly; tactic, trick, plan, scheme, intrigue.
tilt (verb) – change.
tilt the scales/balance (phrase) – to change the balance of a situation, so that one side is gaining an advantage.
legislator (noun) – a member of a legislature (parliament/legislative assembly); lawmaker, representative.
account for (phrasal verb) – constitute

, comprise, form.

thanks to (phrase) – as a result of

, owing to, due to, because of.

walk/balance on a tightrope

 (phrase) – to deal with a difficult situation in which a very small error could have very bad outcomes.
nonetheless (adverb) – notwithstanding, nevertheless, in spite of that/however.
welfare (noun) – a government program that provides (financial) assistance to individuals and families in need; social security

, public assistance.

march (on) (verb) – move forward

, advance, progress.

prioritise (verb) – make a point of, highlight, call attention to (something as very important).
narrow (adjective) – narrow-minded

, intolerant, illiberal, short-sighted, myopic, inward-looking.

interest (noun) – advantage, benefit.
Note:
 1. Click each one of the words above for their definition, more synonyms, pronunciation, example sentences, phrases, derivatives, origin and etc from http://www.oxforddictionaries.com/.
2. Definitions (elementary level) & Synonyms provided for the words above are my personal work and not that of Oxford University Press. Tentative definitions/meanings are provided for study purpose only and they may vary in a different context. 
3. This word list is for personal use only. Reproduction in any format and/or Commercial use of it is/are strictly prohibited.
The Hindu Editorial (A difficult union) – May 08, 2021: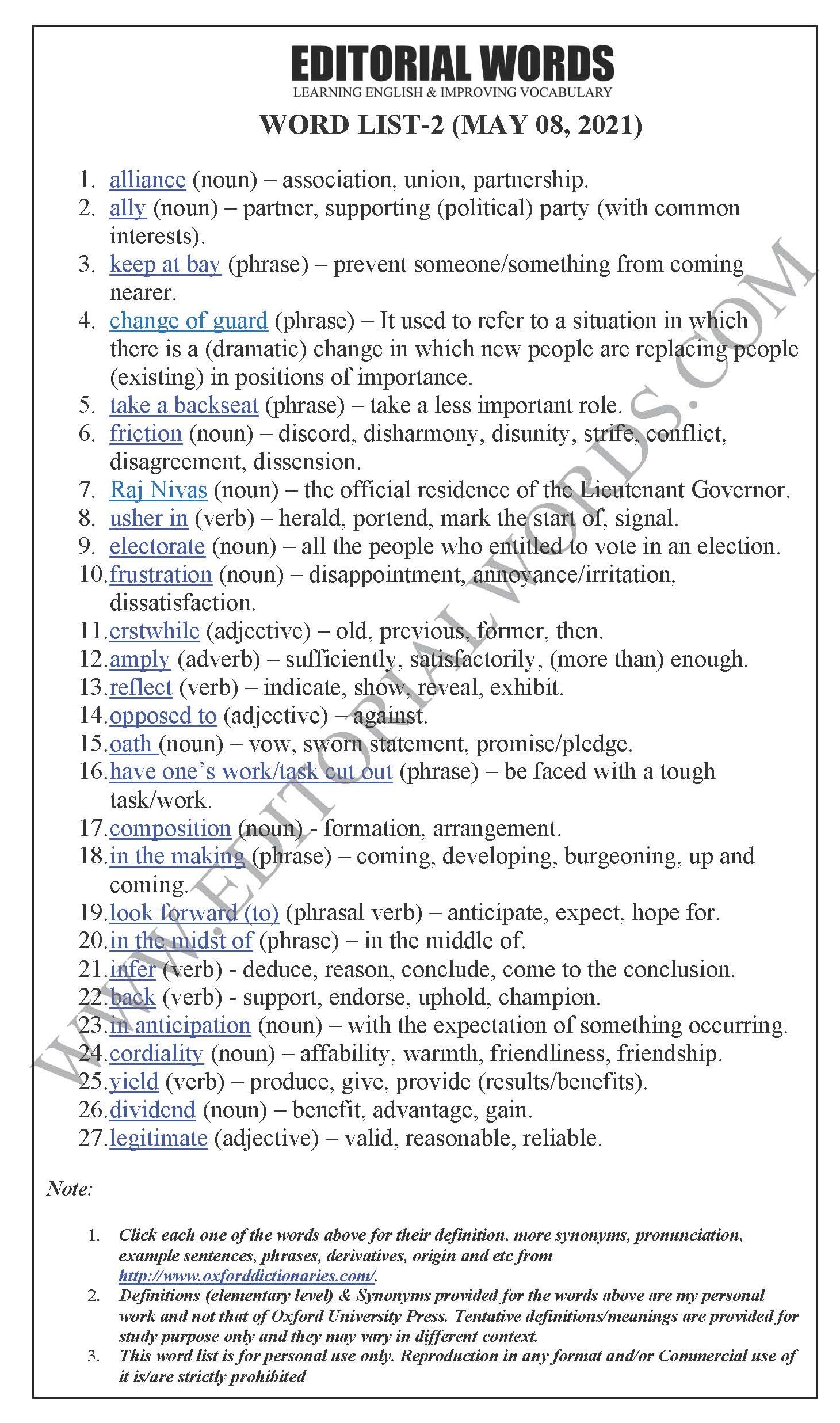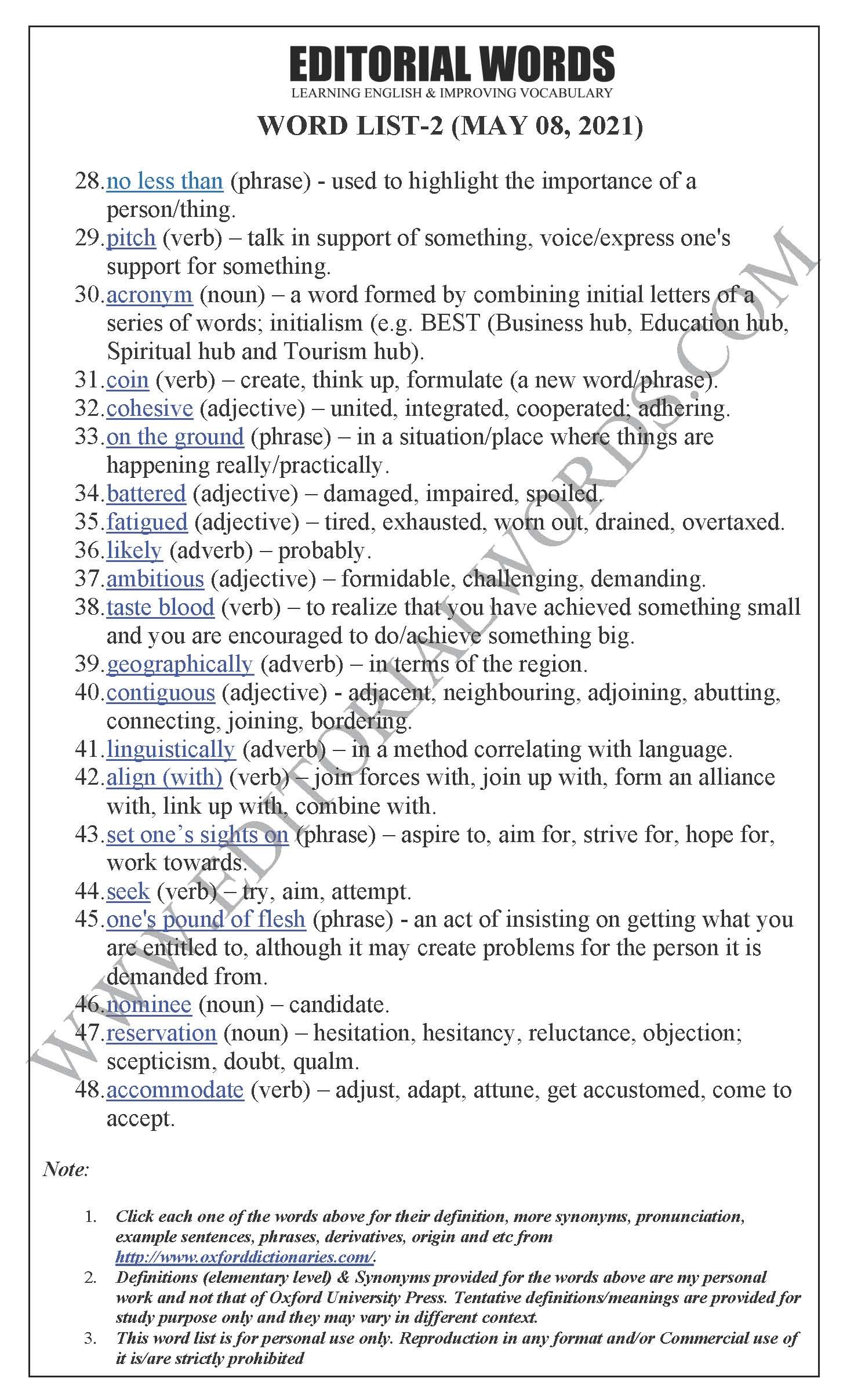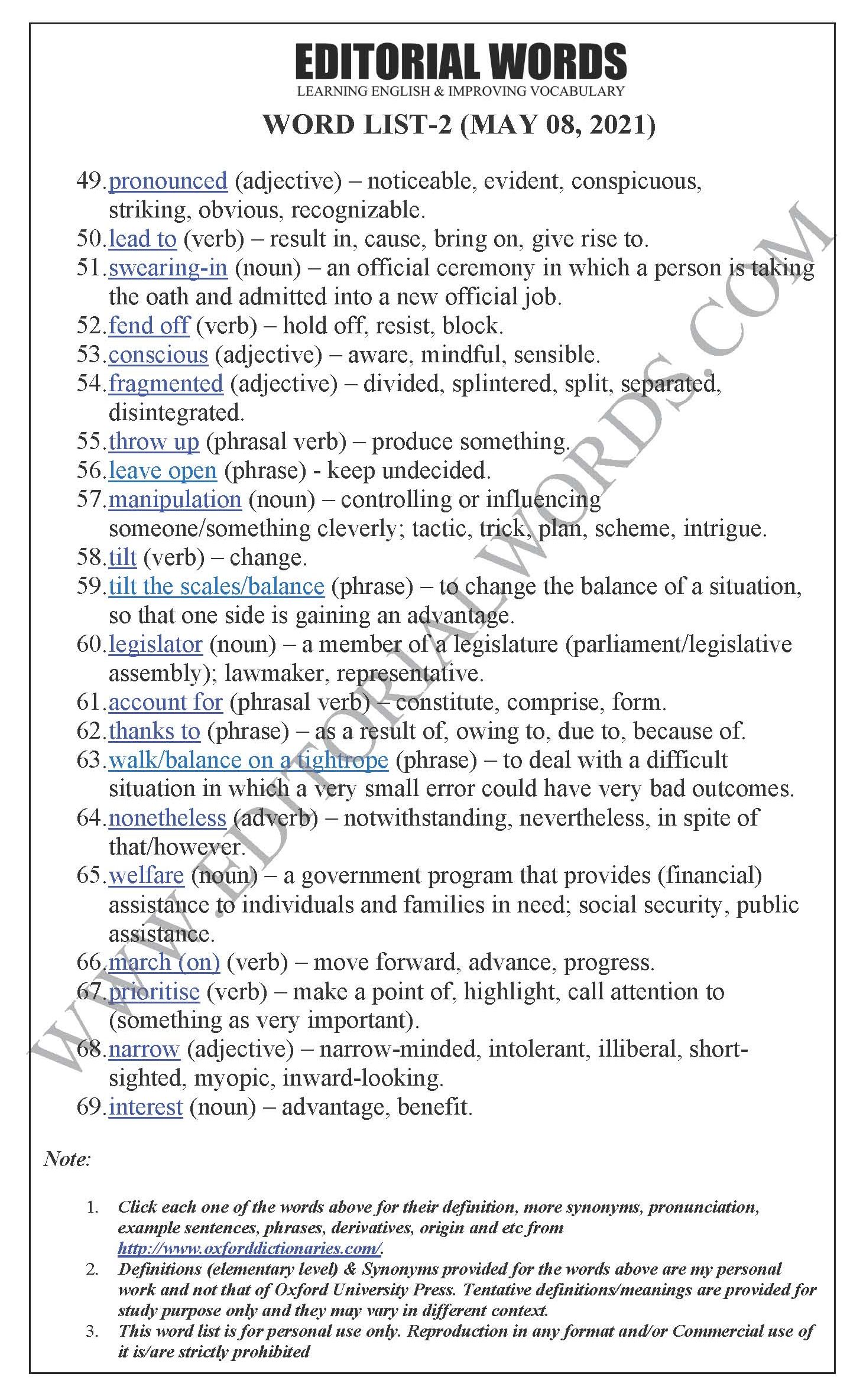 "Phrasal Verbs" We Learnt Last Week 
"Idioms & Phrases" We Learnt Last Week
"Important Definitions" We Learnt Last Wee
Recent Word Lists For The Hindu Editorial Articles
Recent Advanced Word Lists For The Hindu Lead Articles