The Hindu Editorial (A case of no case) – Jun 29, 2021
The sedition case against Lakshadweep film-maker Aisha Sultana has all the undesirable indicators of the misuse of the penal provision: intolerance towards any strident criticism of policy,… For further reading, visit "The Hindu". Below is today's word list-1 for The Hindu Editorial (A case of no case) – Jun 29, 2021.
To read this article, click here.
This preview is provided here with permission.
Courtesy: The Hindu
The Hindu Editorial (A case of no case) – Jun 29, 2021:
sedition (noun) – incitement (to riot/rebellion), agitation, trouble making/provocation (against the established government/authority).
impute (verb) – attribute

, ascribe, connect with, associate with.

seditious (adjective) – 

inciting, agitating, fomenting, troublemaking, provocative, inflammatory, agitational.

design (noun) – intention, aim, purpose, objective.

disturbing

(adjective) – worrying

, perturbing, troubling, concerning, upsetting, distressing.   

indicator (noun) – measure, signal, sign.
penal (adjective) – (of an activity) punishable by law; disciplinary

, punitive, corrective.

provision (noun) – clause, requirement, condition.
intolerance (noun) – bigotry, narrow-mindedness, dogmatism, illiberality, insularity, sensitivity

, oversensitivity

.
strident (adjective) – loud & harsh, forceful, discordant, vociferous, raucous

.  

tendency (noun) – inclination, disposition, penchant.
discern (verb) – come to know, find out, realize/recognize, understand.
non-existent (adjective) – missing

, absent; 

imaginary

, unreal.

the state (noun) – government

, the administration, the regime, the authorities, the establishment.

deliberate (adjective) – intentional, planned, conscious, purposeful.
resort to (noun) – use, utilization, recourse.
ingredient (noun) – element, part, component.
offence (noun) – crime, illegal/unlawful act, wrongdoing.

come as no surprise

(phrase) – something which is not surprising someone, but is as expected one.

anticipatory bail

 (noun) – Under Section 438 of the Criminal Procedure Code, the provision allows a person can request to get bail in anticipation of being accused of having committed a non-bailable offence in India.
on the ground (phrase) – in a situation/place where things are happening really/practically.

Section 124A of the IPC

 (noun) – Section 124A of the Indian Penal Code lays down the punishment for sedition.

Indian Penal Code (IPC)

 (noun) – The Indian Penal Code (IPC) is the official criminal code of India. It is a comprehensive code intended to cover all substantive aspects of criminal law. The draft was passed into law on 6 October 1860. The Code came into operation on 1 January 1862. The Indian Penal Code of 1860, subdivided into 23 chapters, comprises 511 sections. IPC deals with crimes and punishments.
penalise (verb) – punish

, discipline, mete out punishment to, sentence.

Section 153B of the IPC

(noun) – Section 153B of the Indian Penal Code seeks to punish imputations against national integration.
imputation (noun) – accusation, 

allegation, 

insinuation, charge.
integration (noun) – unification, consolidation, inclusion.
aggrieved (adjective) – resentful, distressed, unhappy, upset.
in the course of (phrase) – during, in the process of, in the time of.
heated (adjective) – vehement

, impassioned, intense, furious.

bring about (phrasal verb) – cause, create, give rise to, produce.

the Administrator

(noun) – Union Territories are administrated by the President acting to such extent, as he thinks fit, through an Administrator appointed by him.
unleash (verb) – let loose, release, untie, let something go uncontrollably.
bioweapon (noun) – a harmful biological agent (such as bacteria, viruses, and others) used to intentionally cause damage or death to people. 
relax (verb) – make something (rule/condition) less strict; moderate

, ease up, lessen.

quarantine (noun) – a process of separating out people, animals and things (such as plants) from others for a period of time in order to control/restrict the spread of a contagious disease; Quarantine is imposed to separate and restrict the movement of persons, who may have been exposed to infectious disease, but not yet known to be ill.
point out (phrasal verb) – identify, mention, indicate, draw attention to.
disaffection (noun) – dissatisfaction

, disgruntlement, discontent.

incite (verb) – prompt, induce, impel, influence.
ought to (modal verb) – must, should.
functionary (noun) – official, representative, agent, especially in a government or political party.
malice (noun) – ill will, hostility, hatred, hatefulness, bitterness, venom, evil intentions.
subvert (verb) – undermine, weaken, impair, damage.
noteworthy (adjective) – worthy of mention, worth taking a look at, interesting, important.
institution (noun) – starting, beginning.
disconcerting (adjective) – discomfiting, unsettling, disturbing.
call upon (phrasal verb) – demand, require, ask formally.
reiterate (verb) – repeat, say again, restate.
incitement (noun) – provocation, persuasion, inducement.
inclination (noun) – tendency

, disposition, proclivity, leaning.

disorder (noun) – unrest

, disruption, upheaval, turmoil, mayhem.

amount to (verb) – be equal to, be equivalent to, represent.
context (noun) – circumstances, conditions, situation.
vehement (adjective) – forceful, heated, or intense.
come about (phrasal verb) – happen

, occur, take place, transpire.

assume (verb) – accept

, undertake, take on (the power/responsibility).  

indeed (adverb) – in fact, actually, undeniably.
give up (phrasal verb) – stop

, cease, discontinue,

forgo, relinquish, renounce.
mandatory (adjective) – obligatory, compulsory, binding, required, requisite

, necessary, essential.

attribute (verb) – ascribe, assign, connect/associate with.
exponential (adjective) – rapid, 

quick

, 

fast.

bench (noun) – a court of law with a number of judges.

stay the order

(phrase) – stop a particular decision from being used; stay a particular action from taking place.
close down (phrasal verb) – close

, shut down, cease activity, come to a halt.

dairy (adjective) – relating to the products made from milk.

Animal Husbandry

 (noun) – the branch of agriculture concerned with the rearing (breed/raise) and care of animals that are raised for food, fibre or other purposes of benefit to humans.
propensity (noun) – tendency

, inclination, predisposition, readiness.

critic (noun) – censurer, attacker, fault-finder.
detractor (noun) – critic, fault-finder, censurer.
statute (noun) – act/law, regulation, rule (written & laid down by the legislature).
Note:
 1. Click each one of the words above for their definition, more synonyms, pronunciation, example sentences, phrases, derivatives, origin and etc from http://www.oxforddictionaries.com/.
2. Definitions (elementary level) & Synonyms provided for the words above are my personal work and not that of Oxford University Press. Tentative definitions/meanings are provided for study purpose only and they may vary in a different context. 
3. This word list is for personal use only. Reproduction in any format and/or Commercial use of it is/are strictly prohibited.
The Hindu Editorial (A case of no case) – Jun 29, 2021: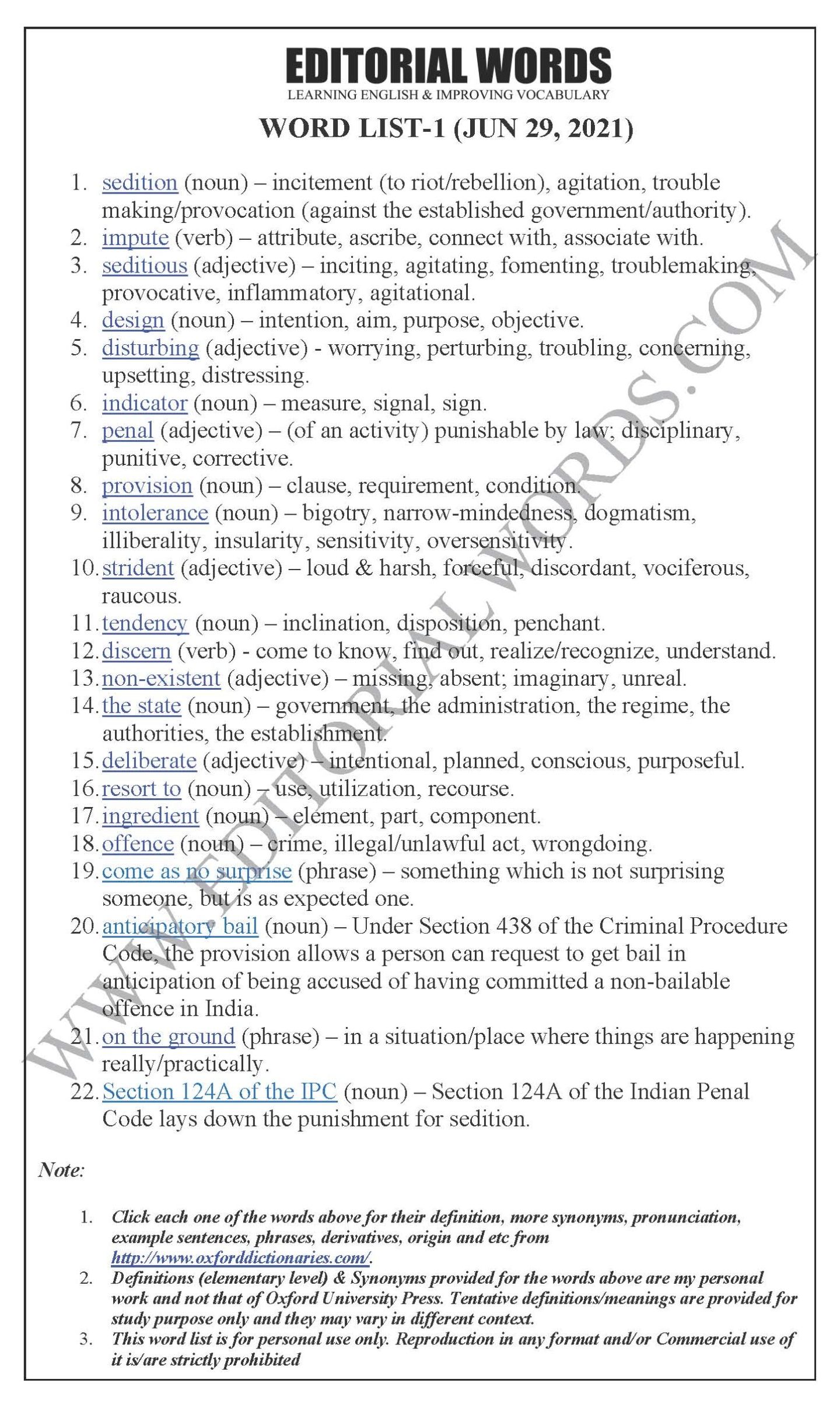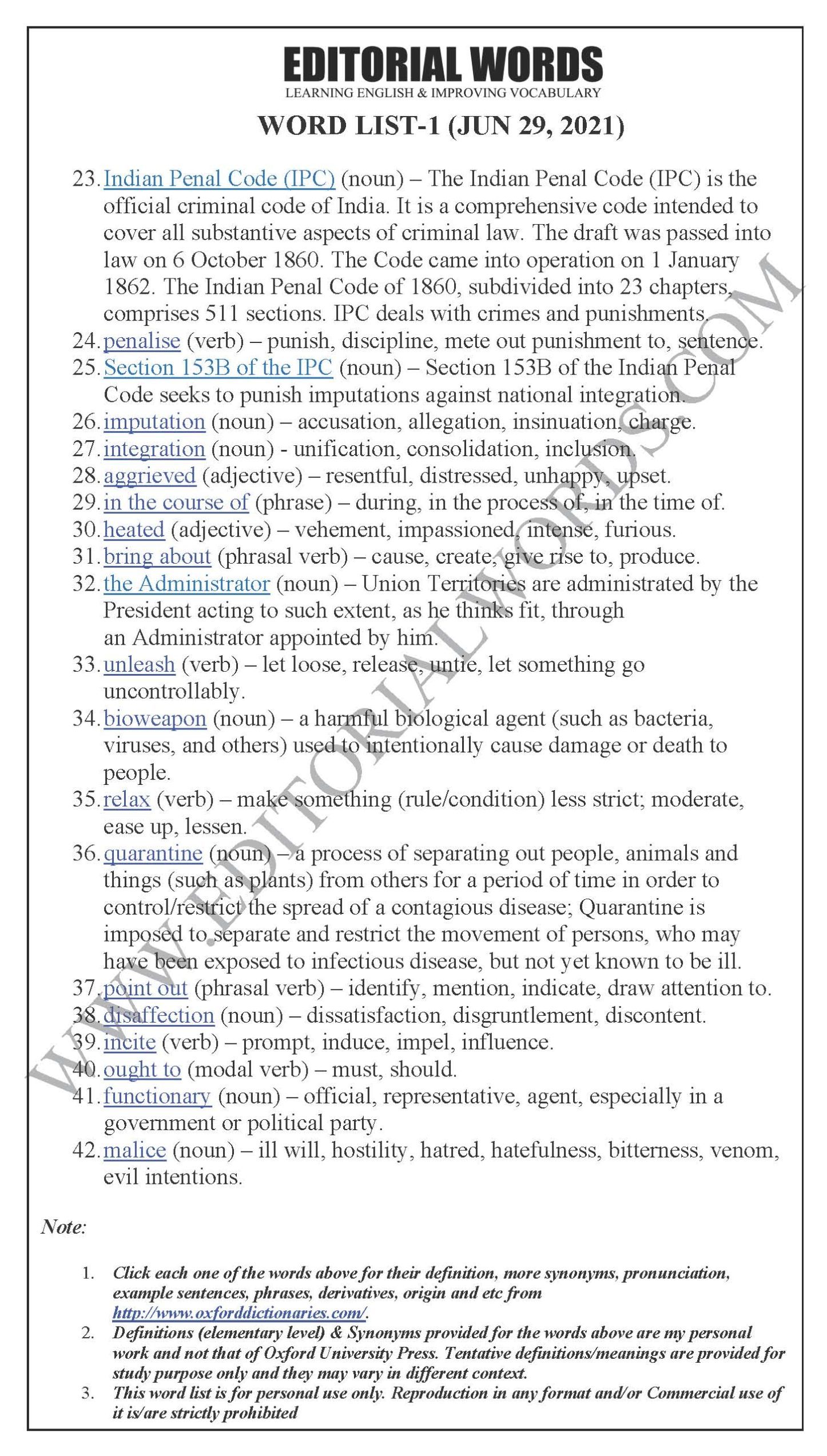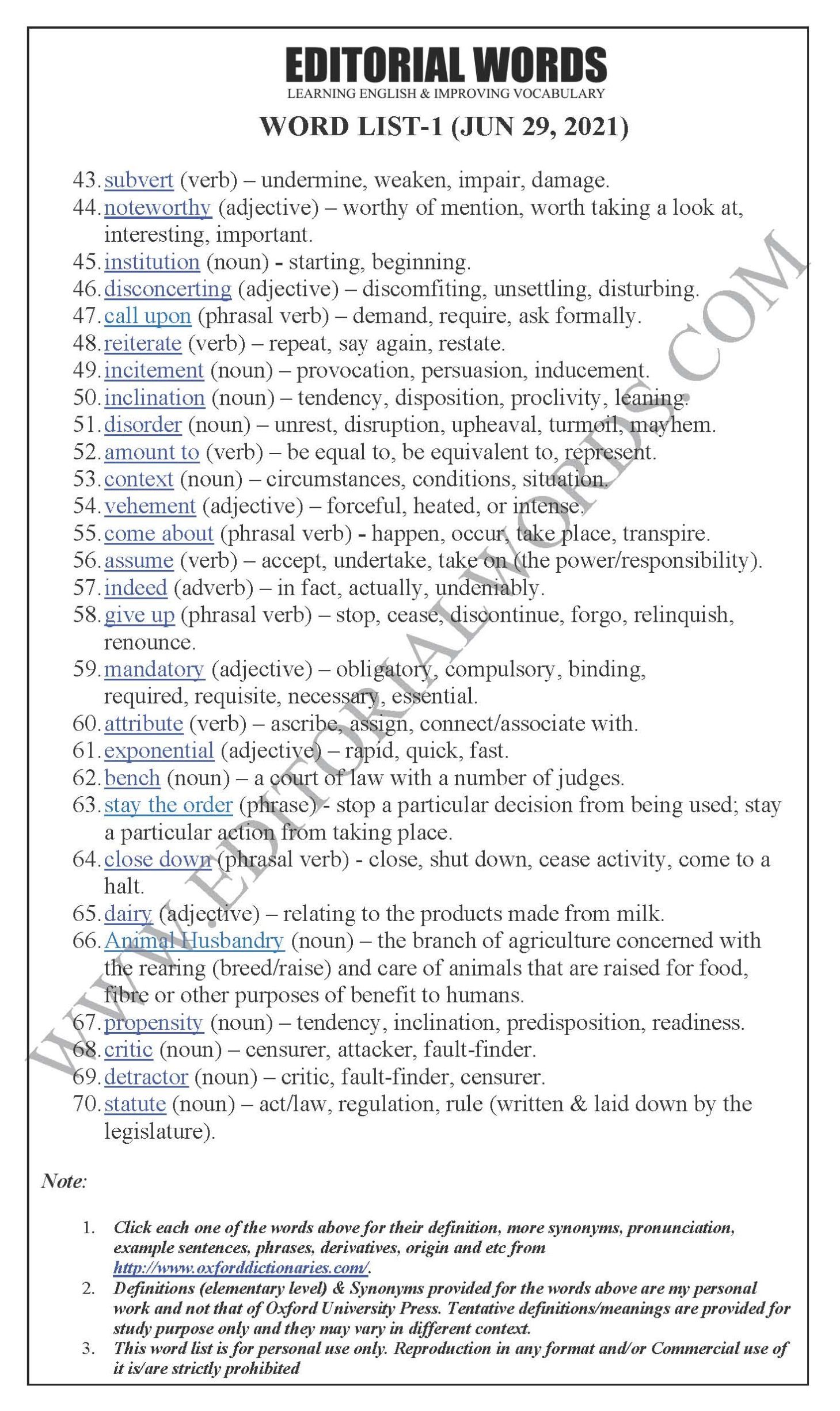 "Phrasal Verbs" We Learnt Last Week
"Idioms & Phrases" We Learnt Last Week
"Important Definitions" We Learnt Last Week
Recent Word Lists For The Hindu Editorial Articles
Recent Advanced Word Lists For The Hindu Lead Articles