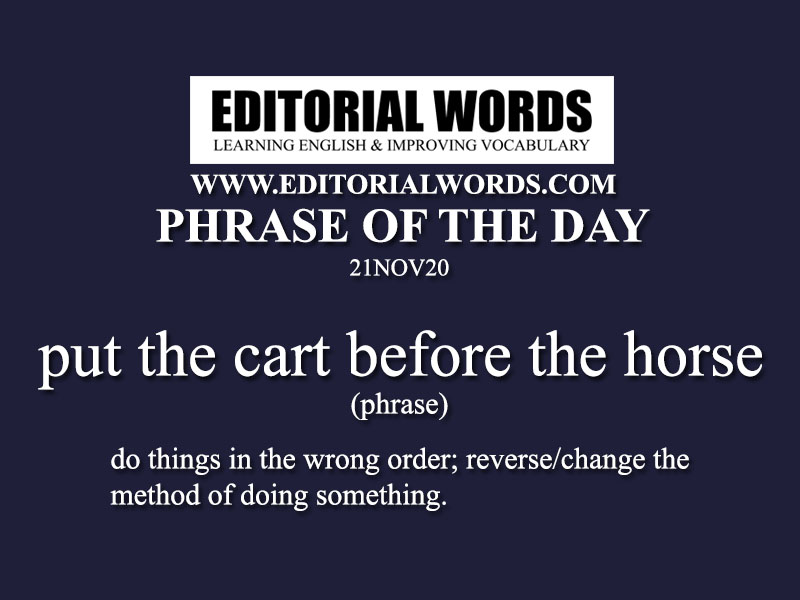 Today's "Phrase of the Day" is "put the cart before the horse" and its meaning is "do things in the wrong order; reverse/change the method of doing something".
Example Sentence: There was supposed to be a government review of Britain's foreign, security and military needs. But, as so often, Boris Johnson has put the cart before the horse. Boris Johnson's statement to parliament on future defence spending showed the prime minister at his worst. Mr Johnson has a spending plan but not a strategy. Most frustratingly of all, the post-Brexit strategic choices, which the government's own integrated review of foreign, defence and security policy was supposed to have resolved, all remained unaddressed.
This phrase is present in The Guardian article The Guardian view on UK defence plans: spending but no strategy and click here to read it.
Courtesy: The Guardian
"Phrasal Verbs" We Learnt Last Week
"Idioms & Phrases" We Learnt Last Week
"Important Definitions" We Learnt Last Week
Recent Word Lists For The Hindu Editorial Articles
Recent Advanced Word Lists For The Hindu Lead Articles