The Hindu Editorial (Pushing boundaries) – Feb 27, 2019
The Indian Air Force's strike on a Jaish-e-Mohammad terror training camp in Pakistan's Balakot delivers a robust but calibrated message. For further reading, visit "The Hindu". Below is today's word list-1 for The Hindu Editorial (Pushing boundaries) – Feb 27, 2019.
To read this article, click here.
This preview is provided here with permission.
Courtesy: The Hindu
Today's word list-1 for The Hindu Editorial (Pushing boundaries) – Feb 27, 2019:
robust (adjective) – powerful, strong, vigorous.
restrain (verb) – control, check/restrict, prevent/stop/curb.
calibrated (adjective) – carefully assessed, carefully regulated, carefully adjusted.
manifest (adjective) – clear/obvious, apparent, evident.
utterance (noun) – statement, expression, pronouncement/remark.
pre-emptive (adjective) – preventive, precautionary, protective.
imminent (adjective) – impending, approaching, on the way/about to happen.
personnel (noun) – employees, staff, workforce.
casualty (noun) – victim, fatality, dead and injured.
exhaust (verb) – use up, go through, finish.

there is no denying

 (phrase) – it is undoubtedly true.

draw a red line

(phrase) – red lines are about deterrence. The point of drawing a red line is to signal a strong, if the line were crossed, severe consequences would ensue (happen/occur).
recrimination (noun) – accusation, counter-charge, counterattack.
retaliatory (adjective) – termed as a revenge against someone.
set back (phrase) – check, obstruct, thwart.
tolerance (noun) – forbearance, toleration, sufferance.
call for (phrasal verb) – require, necessitate, need/demand.
fora (noun) – plural form of forum.
oversee (verb) – supervise, administer, manage.
on the ground (phrase) – in a situation/place where things are happening really/practically.
obviate (verb) – avoid, prevent, eliminate.
escalate (verb) – heighten, intensify, magnify.
triumphalism (noun) – an attitude or a belief that a particular doctrine, religion, culture, social system is superior to and should triumph all over others.
cloud (verb) – confuse, muddle; ruin/upset.

surgical strike

(noun) – the military attack aimed to cause damage on a particular target with small/no collateral damage to surroundings.
duly (adverb) – properly, correctly; punctually.
reach out (phrasal verb) – contact someone for help/assistance/cooperation.
bear the brunt (phrase) – to suffer or endure the worst part of something (force/burden/pressure) when a very bad or unpleasant thing happens.
jingoism (noun) – extreme/blind patriotism, xenophobia/chauvinism, extreme nationalism.
unleash (verb) – let loose, release, set free.
intelligence (noun) – (military &political) information, data, details.
deterrent (adjective) – relating to something which is aimed/intended to deter (stop/prevent) something else.
Note:  
 1. Click each one of the words above for their definition, more synonyms, pronunciation, example sentences, phrases, derivatives, origin and etc from http://www.oxforddictionaries.com/.bigotry

, narrow-mindedness
2. Definitions (elementary level) & Synonyms provided for the words above are my personal work and not that of Oxford University Press. Tentative definitions/meanings are provided for study purpose only and they may vary in different context. 
3. This word list is for personal use only. Reproduction in any format and/or Commercial use of it is/are strictly prohibited.
Today's word list-1 The Hindu Editorial (Pushing boundaries) – Feb 27, 2019: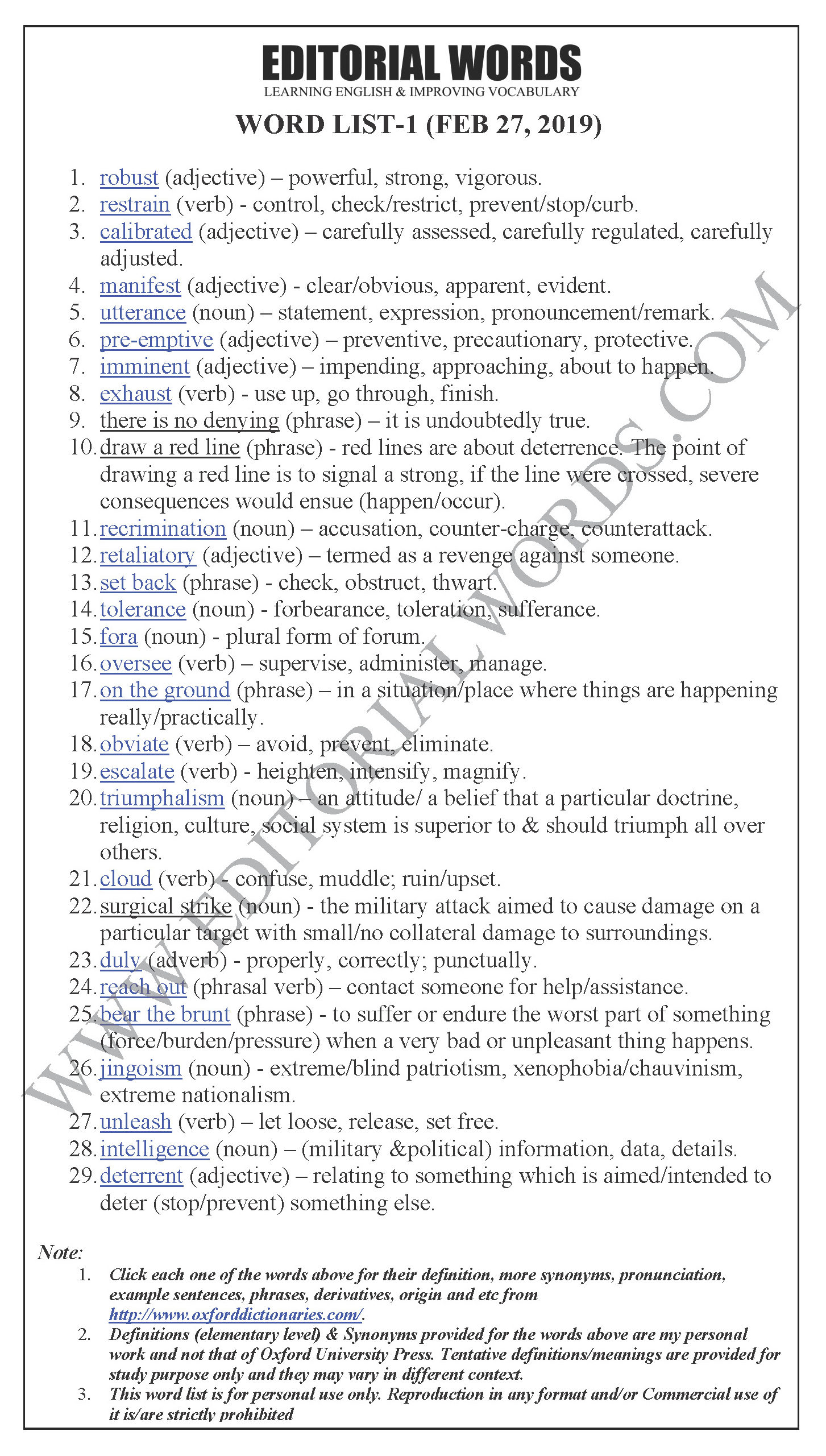 "Phrasal Verbs" We Learnt Last Week
"Idioms & Phrases" We Learnt Last Week
"Important Definitions" We Learnt Last Week
Recent Word Lists For The Hindu Editorial Articles
Recent Advanced Word Lists For The Hindu Lead Articles