The Hindu Editorial (Beyond criticism?) – Nov 10, 2018
Bullying film-makers into shelving projects or effecting cuts is not new in India. However, it is not often that a State government or… For further reading, visit "The Hindu". Below is today's word list-1 for The Hindu Editorial (Beyond criticism?) – Nov 10, 2018.
To read this article, click here.
This preview is provided here with permission.
Courtesy: The Hindu
Today's word list-1 The Hindu Editorial (Beyond criticism?) – Nov 10, 2018
:
uproar (noun) – outcry, protest; commotion/disturbance.
 streak (noun) – element, vein, trace.
intolerance (noun) – bigotry

, narrow-mindedness, illiberality/dogmatism.

bully (verb) – coerce

, intimidate, pressurize.

shelve (verb) – abandon, drop, cancel/eliminate.
resort to (verb) – use, utilize, turn to.
ostensibly (adverb) – apparently, seemingly, on the face of it.
rampage (noun) – wild/violent, running amok, berserk.
chorus (noun) – in unison, together, simultaneously/at the same time.
decry (verb) – denounce, condemn, criticize.
populist (adjective) – relating to the politicians who claim that they are representing the common/ordinary people.
tacit (adjective) – implicit, indirect, hinted.
endorsement (nun) – support, backing, approval.
climate (noun) – atmosphere, feeling, attitude.

touch the raw nerve

(phrase) – 

provoke

 a strong 

reaction

 by 

referring

 to a 

sensitive

 

subject.

blowback (noun) – the unexpected (bad & harmful) outcomes of a political situation.
dispensation (noun) – system, arrangement, organization.
renowned (adjective) – well known, famous

, much publicized.

veiled (adjective) – hidden, concealed, disguised/camouflaged.
snip (verb) – cut off, remove, trim/take off.
wilfully (adverb) – deliberately, purposefully.
curtail (verb) – reduce, decrease, lessen.
protagonist (noun) –   main character, mainstay, hero.
nurture (verb) – encourage, promote, develop/foster.
ire (noun) – anger, rage, fury/wrath.
irony (noun) – paradox, incongruity, peculiarity.
substance (noun) – significant subject, important matter/content, valid message.
nuance (noun) – variation, subtle difference, fine distinction.
orchestrate (verb) – mobilize, mastermind, choreograph/engineer.
ought to (modal verb) – must, should.
celluloid (noun) – cinema, motion pictures, films.
take the law in one's hands (phrase) – to punish someone for his/her wrongdoing according to one's own idea of justice and without consideration for the role of law enforcement authorities.
instil (verb) – introduce, fix, infuse/inculcate.
stifle (verb) – constrain, oppress, prevent/impede.
Note:  
 1. Click each one of the words above for their definition, more synonyms, pronunciation, example sentences, phrases, derivatives, origin and etc from http://www.oxforddictionaries.com/.bigotry

, narrow-mindedness
2. Definitions (elementary level) & Synonyms provided for the words above are my personal work and not that of Oxford University Press. Tentative definitions/meanings are provided for study purpose only and they may vary in different context. 
3. This word list is for personal use only. Reproduction in any format and/or Commercial use of it is/are strictly prohibited.
Today's word list-1 The Hindu Editorial (Beyond criticism?) – Nov 10, 2018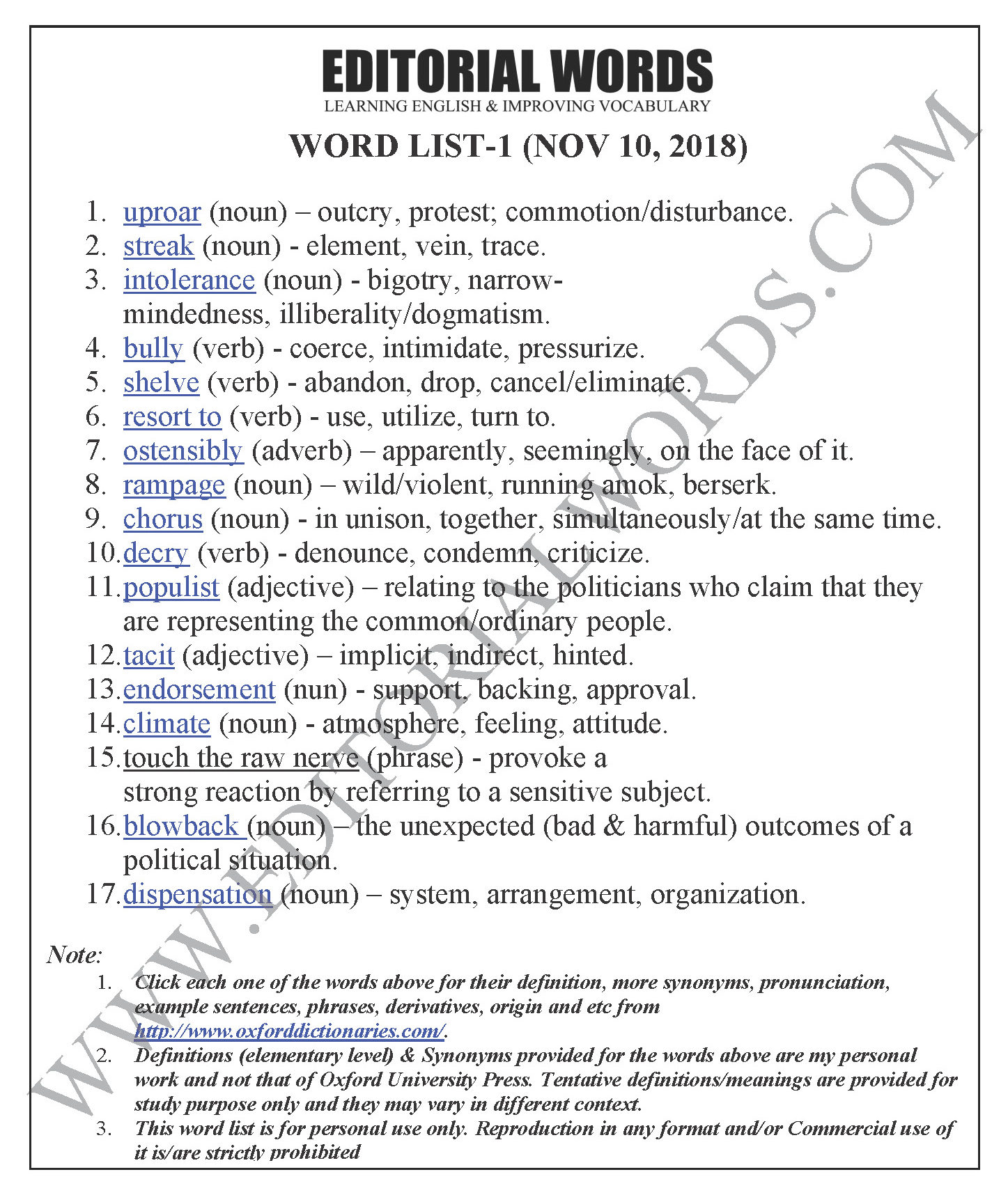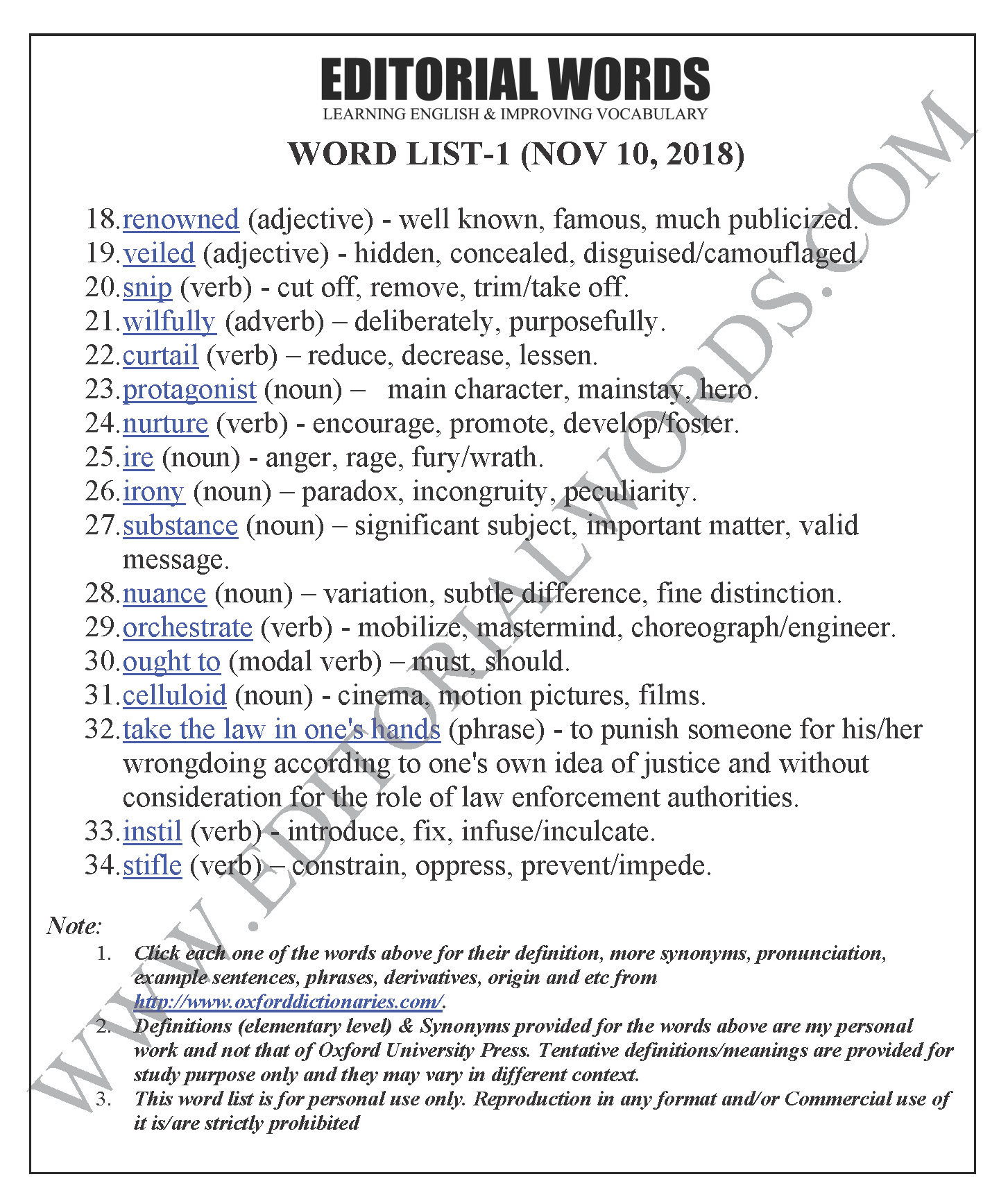 "Phrasal Verbs" We Learnt Last Week
"Idioms & Phrases" We Learnt Last Week
"Important Definitions" We Learnt Last Week
Recent Word Lists For The Hindu Editorial Articles
Recent Advanced Word Lists For The Hindu Lead Articles