The New York Times Editorial (Trump Imperils the Planet) – Dec 26, 2018
To read this editorial, click here.
Courtesy: The New York Times.
Advanced Word List-2 for The New York Times Editorial (Trump Imperils the Planet) – Dec 26, 2018
:
imperil (verb) – endanger, jeopardize, risk.
species(noun) – a group/breed/family of living organisms (animals & plants) with the individual having the same quality & can breed.

climate change

 (noun) – a long-term change in the Earth's climate, or of a region on Earth (Courtesy: NASA).
whoop (verb) – shout, roar, scream/cheer (due to joy/excitement).
weep (verb) – cry, shed tears, wail.
mounting (adjective) – increasing, growing, intensifying.
global warming (noun) – it is the unusually rapid increase in Earth's average surface temperature over the past century primarily due to the greenhouse gases released as people burn fossil fuels.
teeth (noun) – (genuine) power/effectiveness.
contentious (adjective) – controversial, disputable, debatable.
exhausting (adjective) – very tiring, draining, taxing.
barrel (verb) – hurry, race, run.
the point of no return (phrase) – the point beyond which someone must continue on his/her current course of action because turning back is physically impossible, prohibitively expensive, or dangerous.
virtuous (adjective) – righteous, ethical, lawful.
dispiriting (adjective) – disheartening, discouraging, demoralizing.
coda (noun) – concluding event, finale, ending/end.
retrograde (adjective) – unprogressive, negative, reverse/regressive.
backslide (verb) – weaken, relapse, deteriorate.
ominous (adjective) – threatening, menacing, forbidding.
greenhouse gas (noun) – heat trapping gas; a gas (such as water vapor, carbon dioxide, methane, nitrous oxide, etc) in the atmosphere that absorbs and emits radiation, causing greenhouse effect and warming of Earth's temperature. (Courtesy: VOA Learning English).

fossil-fuel

 (noun) – non renewable resources (or fossil fuels such as coal, oil and natural gas are formed from the buried /deposited organic materials).
wean (verb) – a

ccustom, adjust, adapt.

swift (adjective) – prompt, rapid/sudden, fast.
dismissiveness (noun) – showing disregard/indifference.
fealty (noun) – allegiance/adherence, faithfulness, obedience/loyalty.
conviction (noun) – position, stance, opinion/thought.
inevitably (adverb) – necessarily, inescapably, unavoidably.
zero-sum game (phrase) – zero-sum game is one in which no wealth is created or destroyed. So, in a two-player zero-sum game, whatever one player wins, the other loses.
defection (noun) – desertion, absconding, decamping.
predecessor (noun) – previous holder of the post; ancestor, antecedent.

biodiversity

 (noun) – the existence of a number and variety of species (plants & animals) in a particular geographic region/ environment.
cripple (verb) – ruin, destroy, wipe out.
envisage (verb) – foresee, predict, forecast.
rollback (noun) – reduction, cut, decrease.
whining (noun) – high-pitched sound/cry.
inhabit (verb) – live in, occupy.
executive order (noun) – an executive order is a tool Presidents use to make new policy. They can become law. Sometimes, Presidents use them to avoid apposition in Congress. (Courtesy: VOA Learning English).
cloud (noun) – threat, suspicion, trouble.
censure (noun) – condemnation, criticism, attack.
threshold (noun) – lower limit, starting point, the level (to react to something).
renewable energy (noun) – energy generated from the natural resources (such as water, wind, solar energy).
Note:
Visit www.oxforddictionaries.com to know the words' definition, more synonyms, pronunciation, example sentences, phrases, derivatives, origin and etc.

Definitions (elementary level) & Synonyms provided for the words above are my personal work and not that of Oxford University Press. Tentative definitions/meanings are provided for the study purpose only and they may vary in different context. 

This word list is for personal use only. Reproduction in any format and/or Commercial use of it is/are strictly prohibited.
Advanced Word List-2 for The New York Times Editorial (Trump Imperils the Planet) – Dec 26, 2018
: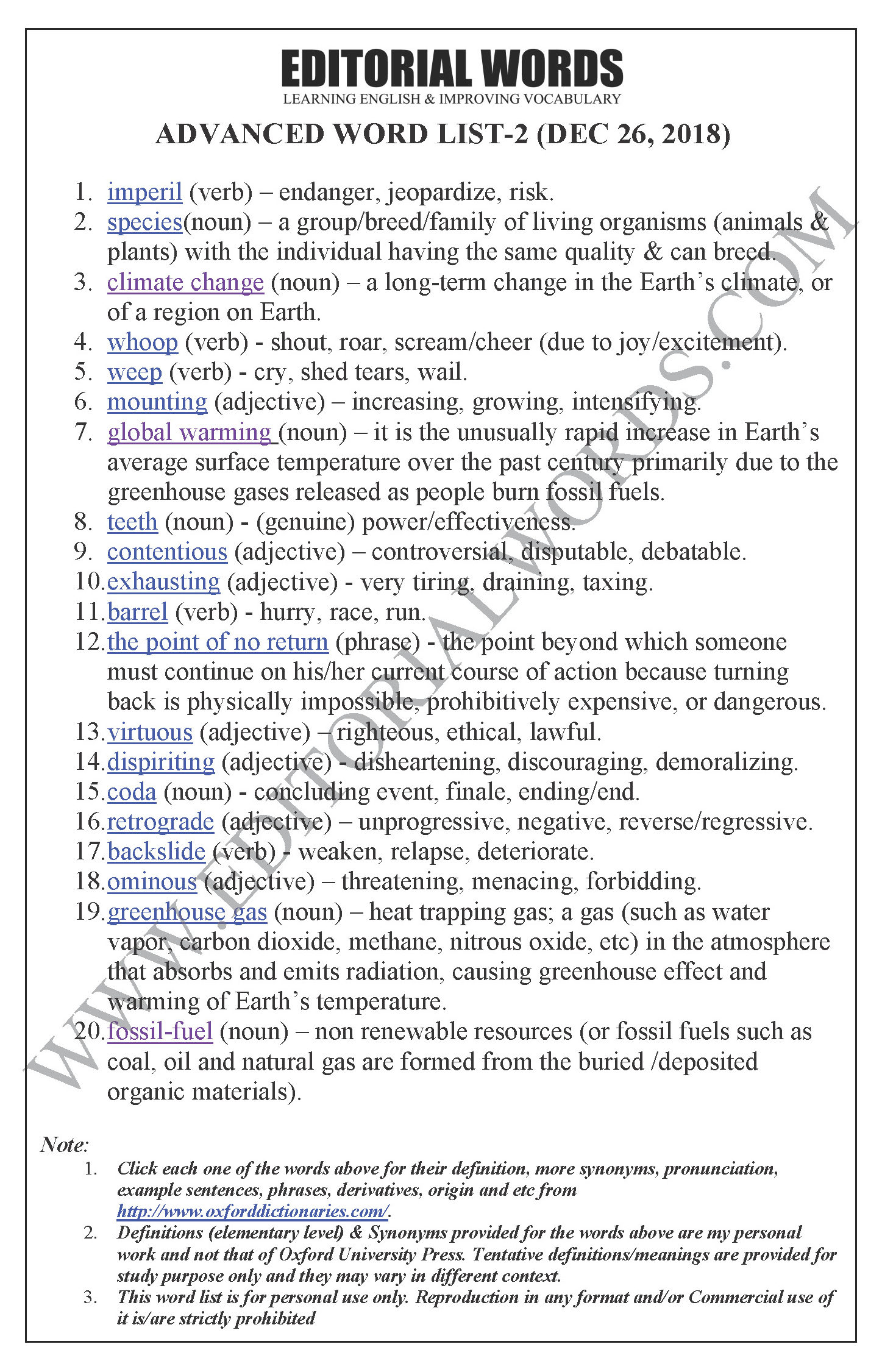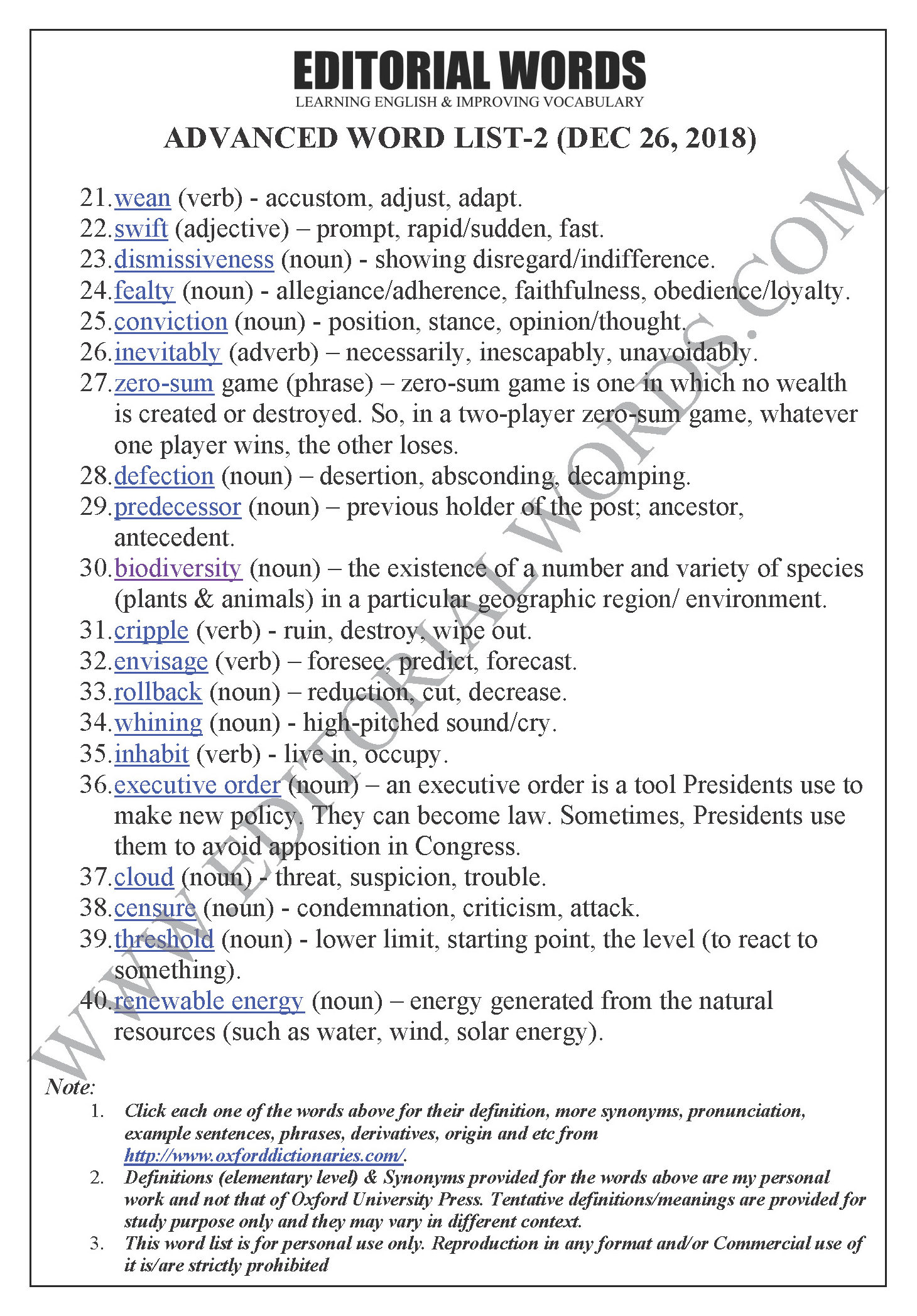 "Phrasal Verbs" We Learnt Last Week
"Idioms & Phrases" We Learnt Last Week