The Hindu Lead Article (Yet another fiasco in J&K) – Nov 27, 2018
Last week's dramatic development — of Jammu and Kashmir Governor Satya Pal Malik's decision to dissolve the Legislative Assembly immediately after rival parties staked claims to form a government — was so patently wrong as to be outrageous. For further reading, visit "The Hindu". Below is today's advanced word list-1 for The Hindu Lead Article (Yet another fiasco in J&K) – Nov 27, 2018.
To read this article, click here.
This preview is provided here with permission.  
Courtesy: The Hindu
Today's Advanced Word List 1 for The Hindu Lead Article (Yet another fiasco in J&K) – Nov 27, 2018
:
fiasco (noun) – failure, mess/disaster, catastrophe.
(downward) spiral (noun) – decrease, deterioration, decline/weakening.
stake a claim (phrase) – assert, declare, announce/state (ones right).
patently (adverb) – obviously, clearly, 

apparently/without doubt.

outrageous (adjective) – shocking, disgraceful, appalling/disgusting.
rhetorical (adjective) – bombastic, high-sounding/extravagant, oratorical.
cobble together (phrasal verb) – prepare hastily, put together roughly, patch together.
reverse (verb) – overrule, overturn, withdraw.
hastily (adverb) – quickly, hurriedly, swiftly/rapidly.
suspended animation (noun) – temporary cessation.
disingenuous (adjective) – dishonest, deceitful, double-dealing.
downright (adverb) – completely, totally, undeniably.
allegation (noun) – charge/claim, accusation; complaint.
plausibly (adverb) – reasonably, possibly, cogently.

level against 

(phrasal verb) – direct (an accusation).

confidence-building measures 

(noun) – confidence-building measures (CBMs) are planned procedures to prevent hostilities, to avert escalation, to reduce military tension, and to build mutual trust between countries.
horse-trading (noun) – it is normally used to indicate a hard & shrewd (clever) negotiation/bargaining between two bargaining (political) parties to show an understanding of the problem.
articulate (adjective) – effective, vocal, expressive.
give up (phrasal verb) – cede/renounce, relinquish/abandon, forgo.
open secret (noun) – a supposed secret which is actually known to all.
pretence (noun) – falsification, (false) impression/display, concoction.
fragile (adjective) – tenuous, weak, insecure.
absurd (adjective) – illogical, unreasonable/inappropriate; ridiculous.
absurdity (noun) – pointlessness, irrationality/illogicality, absurdness.
veil (verb) – conceal, hide, cloak/camouflage.
grounds (noun) – reason, cause, basis.
tarnish (verb) – spoil, ruin, damage.
cynicism (noun) – disbelief, pessimism, disillusion.
commentator (noun) – narrator, journalist, reporter.
vindicate (verb) – justify, warrant, confirm/ratify.
meddling (noun) – the act of interfering in other's matters needlessly.
volatile (adjective) – unpredictable, changeable, variable/inconstant.
topple (verb) – overthrow, oust, dethrone.
thwart (verb) – prevent, block, impede/hinder.
feasible (adjective) – practicable, viable, realistic.
skate (verb) – move, slide, slip.
redline (noun) – boundary, limit.
propriety (noun) – morality, correctness, decency.
pretext (noun) – a false reason/excuse given to do something by hiding the true purpose (which is usually a bad one).
coherent (adjective) – logical, reasonable, rational.
reconciliation (noun) – reunion, resolution, compromise.
grassroots (plural noun) – the most basic level of an organisation.
low-profile (adjective) – modest, quiet, unnoticeable.
revival (noun) – reintroduction, restoration, renewal.
garner (verb) – gather, collect, accumulate.
credit (noun) – commendation, acclaim, praise.
incarnation (noun) – embodiment, personification, exemplification.
counterinsurgency (COIN) (noun) – comprehensive political and military efforts taken to simultaneously defeat and contain insurgency/revolt (activities of of rebels, guerrillas, etc) and address its root causes.
gravely (adverb) – seriously, importantly, critically.
rhetoric (noun) – bombast, loftiness, hyperbole/extravagant language.
Note:   
Click each one of the words above for their definition, more synonyms, pronunciation, example sentences, phrases, derivatives, origin and etc from http://www.oxforddictionaries.com/.
Definitions (elementary level) & Synonyms provided for the words above are my personal work and not that of Oxford University Press. Tentative definitions/meanings are provided for study purpose only and they may vary in different context. 
This word list is for personal use only. Reproduction in any format and/or Commercial use of it is/are strictly prohibited.
Today's Advanc
ed Word List 1 for The Hindu Lead Article (Yet another fiasco in J&K) – Nov 27, 2018: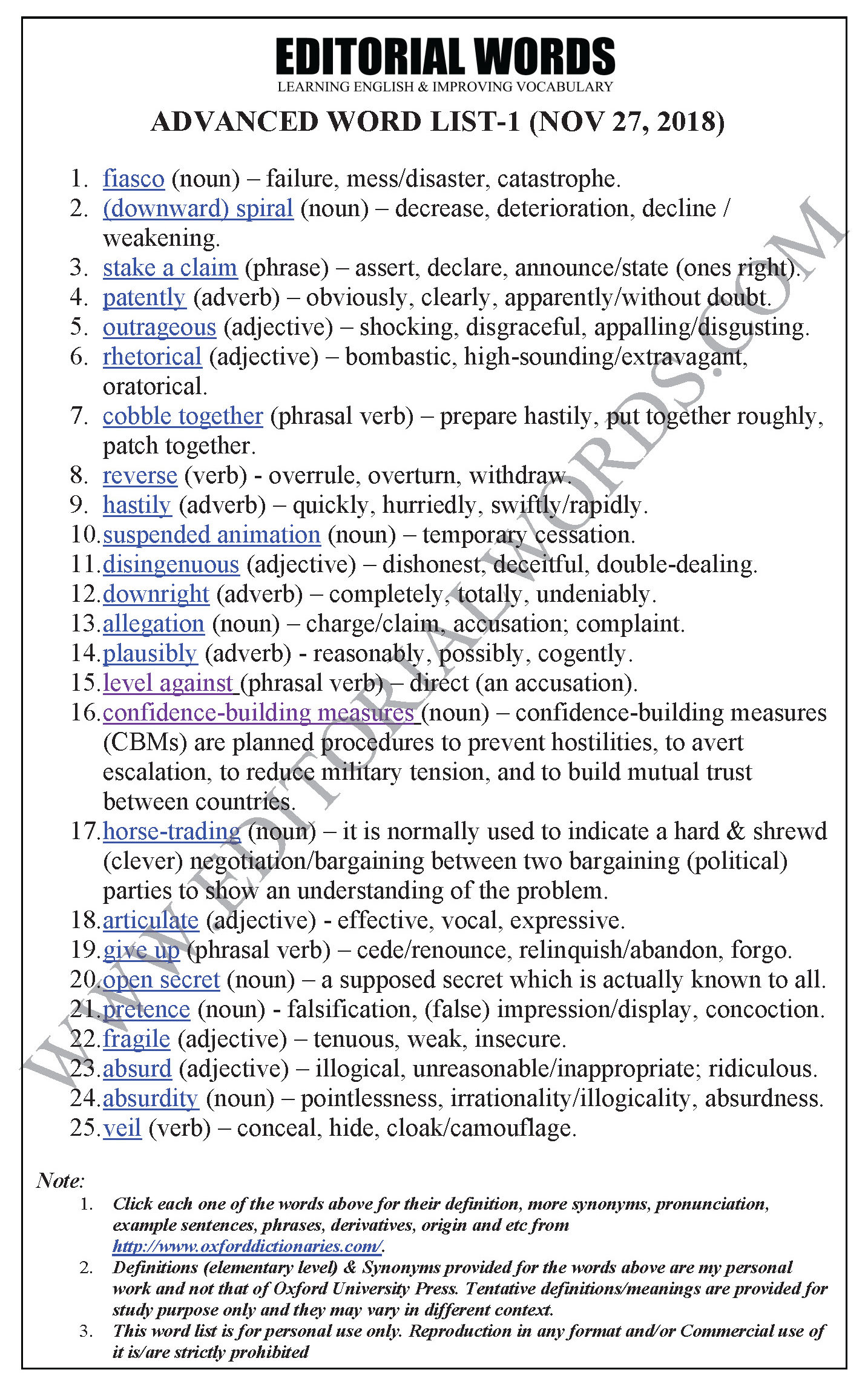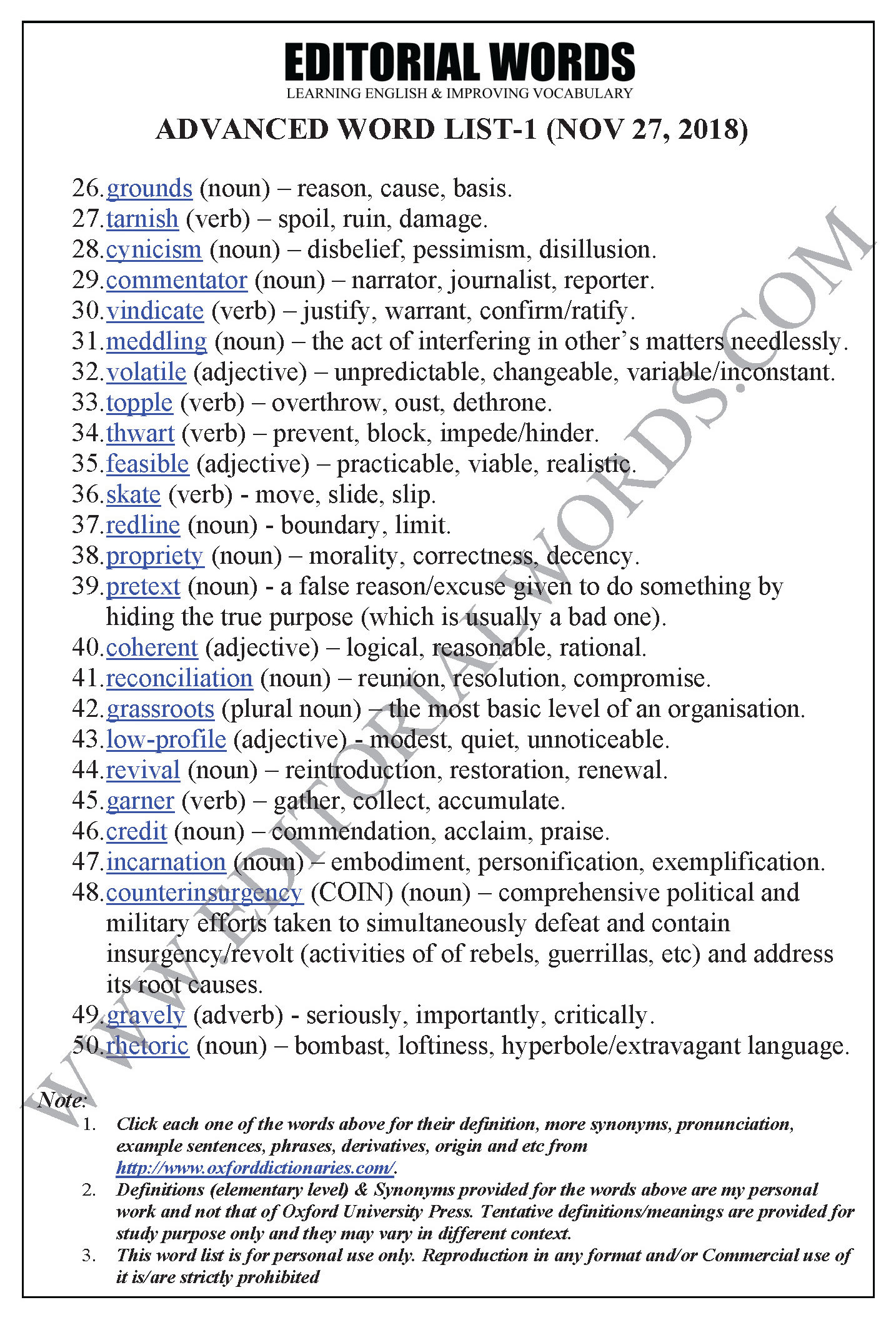 "Phrasal Verbs" We Learnt Last Week
"Idioms & Phrases" We Learnt Last Week
"Important Definitions" We Learnt Last Week
Recent Word Lists For The Hindu Editorial Articles
Recent Advanced Word Lists For The Hindu Lead Articles