The Hindu Lead Article (What has changed post-Balakot?) – Mar 20, 2019
The situation between India and Pakistan seems to have returned to the pre-Pulwama position. For further reading, visit "The Hindu". Below is today's advanced word list-1 for The Hindu Lead Article (What has changed post-Balakot?) – Mar 20, 2019.
To read this article, click here.
This preview is provided here with permission.  
Courtesy: The Hindu
Today's Advanced Word List 1 for The Hindu Lead Article (What has changed post-Balakot?) – Mar 20, 2019
:
proceed (verb) – carry on, continue, get ahead.
veto (noun) – rejection, declination, dismissal.
dispassionately (adverb) – composedly, rationally/sensibly, neutrally/impartially.
convoy (noun) – a group of vehicles or ships that are traveling together usually for protection.
fedayeen (plural noun) – militants who volunteer to die.
retaliation (noun) – revenge, vengeance, counter-attack.
punitive tariff (noun) – another name for retaliatory tariff; An extra tariff/tax that a country charges on import goods from another country to punish the another country for charging tax on its own export goods.
irrigation (noun) – the process of (artificially) supplying water to farm land to grow crops & plants.
pre-emptive (adjective) – preventive, precautionary, protective.

surgical strike

(noun) – the military attack aimed to cause damage on a particular target with small/no collateral damage to surroundings.
shallow (adjective) – insubstantial, lightweight, trivial.
business as usual (phrase) – routine, a normal pattern, a normal state of affairs.
shy away from (phrasal verb) – avoid, recoil, withdraw nervously (due to fear/surprise/pain).
up/raise the ante (phrase) –  to increase demands (in a tough condition) even though it has risks.
loom (verb) – be imminent/close, about to happen, impend/threaten.
downplay (verb) – playdown, underemphasize, understate/diminish.
provocation (noun) – prompting, inducement, incitement.
intrusion (noun) – encroachment, violation/infringement, infiltration.
scramble (verb) – struggle, rush/hurry, hasten.
hastily (adverb) – rapidly, quickly, without delay.
dog-fight (noun) – fight, conflict, struggle (between military aircraft).
ensue (verb) – result, follow, develop/arise.
statesmanship (noun) – statecraft, negotiations/discussions; the skilful management of a country's public affairs.
de-escalate (verb) – diminish, lessen/decrease, dwindle (the intensity of a conflict).
paucity (noun) – insufficiency, deficiency, shortage.
resort to (verb) – have recourse to, utilize, make use of.
exaggerated (adjective) – enlarged, overblown, magnified/overstated/inflated.
doctrinal (adjective) – standard, conventional, established.
restraint (noun) – control, restriction, limitation.
bluff (noun) –  fake, false show, deception/sham.
inflate (verb) – enhance, exaggerate, magnify.
casualty (noun) – victim, sufferer, loser.
glide range (noun) – movement range.

standoff missiles

(noun) – missiles which may be launched at a distance sufficient to allow attacking personnel to evade defensive fire from the target area.
resolve (noun) – determination, resolution, firmness of purpose.
promptly (adverb) – quickly, swiftly, rapidly.
clout (noun) – influence, power, control.

all-weather-friend

(noun) – an all-weather friend is someone who will stick by you no matter what. He will not desert you when the situation becomes bad.
stand by (phrasal verb) – be loyal to, stand up for, support/back, depend.
rhetoric (noun) – bombast, loftiness, hyperbole/extravagant language.
armchair (adjective)  – relating to a person with more theoretical knowledge than practical experience of a particular subject.
fever pitch (noun) – a condition of extreme excitement.
counterpart (noun) – equivalent.
overlook (verb) – fail to notice/observe,

 ignore, disregard.

cut short (phrasal verb) – shorten, curtail, end.
generous (adjective) – large/huge, ample, abundant
ratcheting up (noun) – increase in small parts.
strangulation (noun) – tightening, narrowing, shrinking.
deterrence (noun) – the act of deterring/stopping someone from doing something.
intelligence (noun) – (military &political) information, data, details.
radicalisation (noun) – the process of causing someone to follow radical ways particularly in politics ( & society).
the fog of war (phrase) – a

 state of confusion/disorder caused by war.

amplify (verb) – intensify, increase, raise.
Click each one of the words above for their definition, more synonyms, pronunciation, example sentences, phrases, derivatives, origin and etc from http://www.oxforddictionaries.com/.
Definitions (elementary level) & Synonyms provided for the words above are my personal work and not that of Oxford University Press. Tentative definitions/meanings are provided for study purpose only and they may vary in different context. 
This word list is for personal use only. Reproduction in any format and/or Commercial use of it is/are strictly prohibited.
Today's Advanc
ed Word List 1 for The Hindu Lead Article (What has changed post-Balakot?) – Mar 20, 2019
: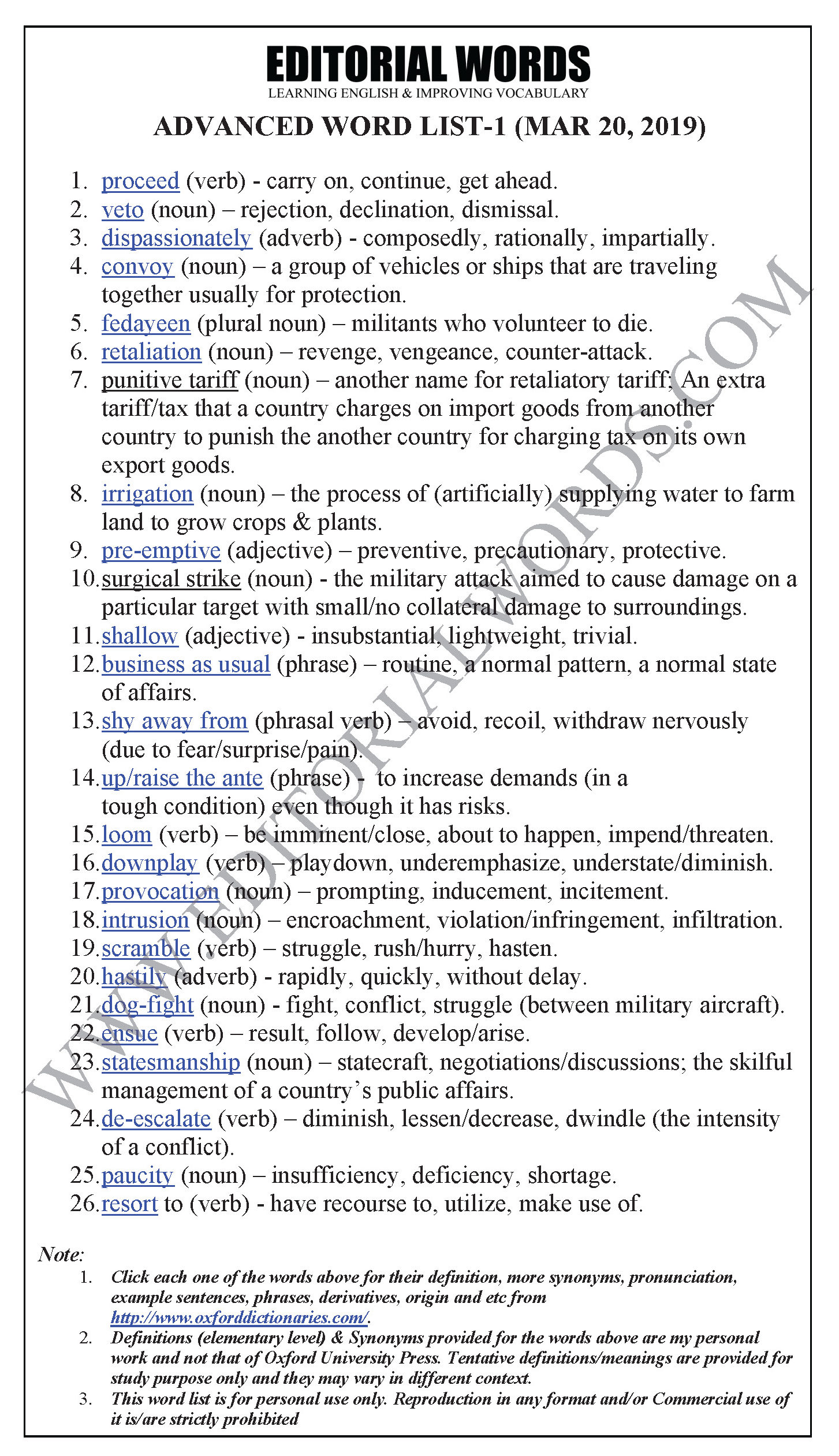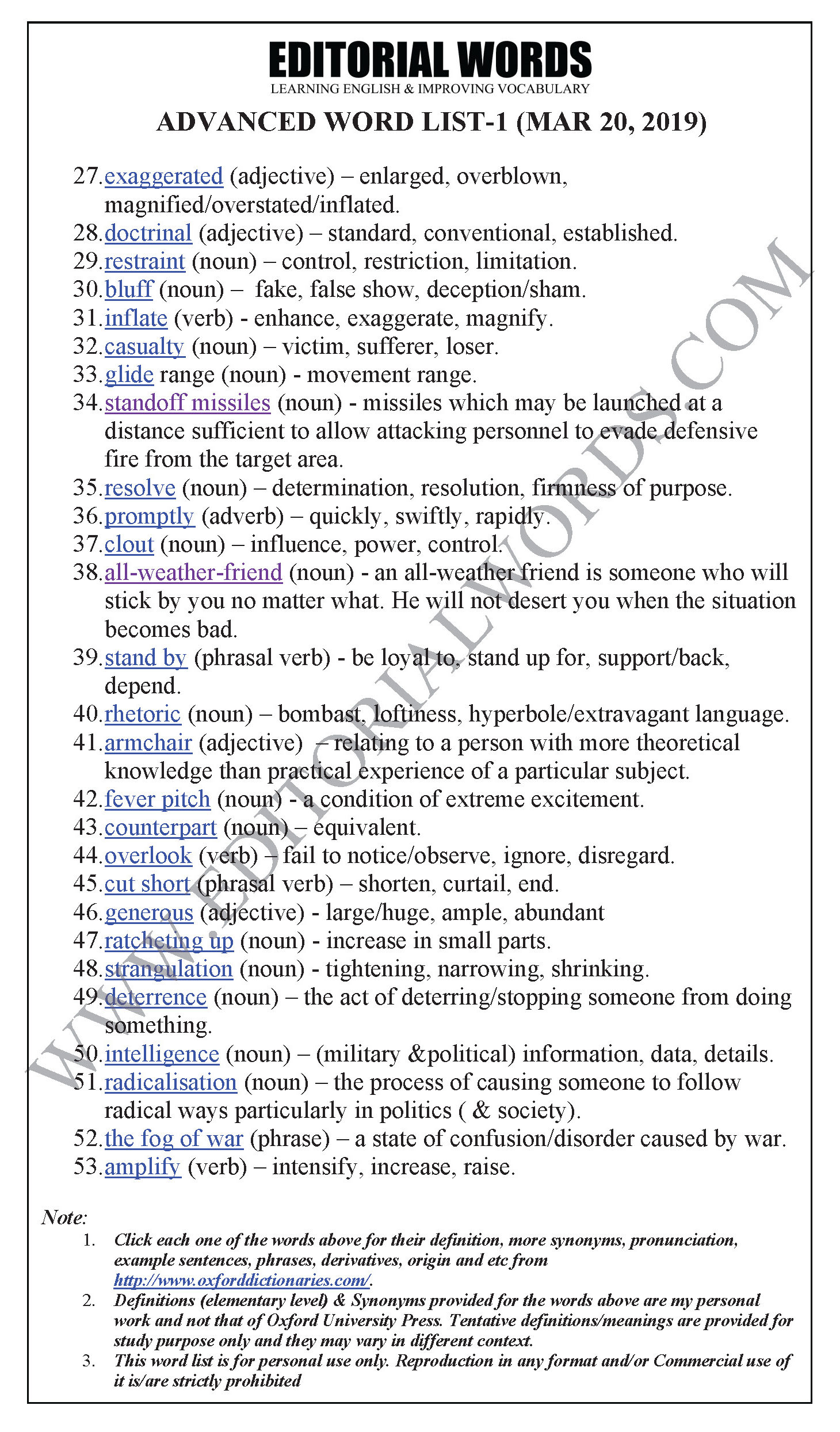 "Phrasal Verbs" We Learnt Last Week
"Idioms & Phrases" We Learnt Last Week
"Important Definitions" We Learnt Last Week
Recent Word Lists For The Hindu Editorial Articles
Recent Advanced Word Lists For The Hindu Lead Articles