The Hindu Lead Article (Undoing a legacy of injustice) – Aug 13, 2018
In 1871, the colonial regime passed the notorious Criminal Tribes Act. This law was based upon the racist British belief that… For further reading, visit "The Hindu". Below is today's advanced word list-1 for The Hindu Lead Article (Undoing a legacy of injustice) – Aug 13, 2018.
To read this article, click here.
This preview is provided here with permission.  
Courtesy: The Hindu
Today's Advanced Word List 1 for The Hindu Lead Article (Undoing a legacy of injustice) – Aug 13, 2018
:
strike down (phrasal verb) – abolish, annul, nullify  (a law or regulation).
notorious (adjective) – infamous, ill-famed, well known (for something bad).
reign of terror (phrase) – a period during which people are under harsh suppression the ruling party.
stigma (noun) – shame, disgrace, dishonour.
dehumanisation (noun) – an act of preventing a person of human qualities.
nomadic (adjective) – wandering, roaming, travelling/rambling. Nomads are people who have no permanent home, travel from place to place in search of food (for them and their animals).
itinerant (adjective) – travelling, roaming, wandering (place to place).
by virtue of (phrase) – because of, on account of,  as a result of.
vagrancy (noun) – homelessness, nomadism, travelling (vagrant means wanderer/begger, a person with out a permanent home and employment).
coerce (verb) – pressure, force, compel/influence.
glaring (adjective) – obvious, flagrant, blatant.
minutiae (noun) – details, niceties/finer points, particulars.
vicious (adjective) – serious, dangerous, dreadful.
solicit (verb) – ask, beg, seek.
alms (noun) – offerings or handouts such as food or money.
pretence (noun) –  false appearance, guise, outward form/false show.
subsistence (noun) – survival, living, livelihood.
prejudice (noun) – bigotry, bias, intolerance/discrimination.
underlie (verb) – be the fundamental, be the basics, be the cause.
sedentary (adjective) – desk-bound, inactive, stationary.
someone's clutches (phrase) – power, control, domination.
truncate (verb) – shorten, cut/cut short, curtail.
cordon sanitaire (noun) – a French phrase literally meaning "sanitary cordon"; a guarded area which restricts people's movement in and out of it.
pluralism (noun) – (of people) the practice exist in harmony irrespective of various differences.
preside over (verb) – be in charge of, be responsible for, be accountable for, manage,  lead.
concede (verb) – admit, acknowledge, accept.
arbitrary (adjective) – capricious, whimsical, personal/subjective.
manifestation (noun) – display, indication, evidence.
colonialism (noun) – the act of controlling & exploiting a country/territory (& its people) by another country/territory.

call into question

 (phrase) – doubt, distrust, challenge.
punitive(adjective) – disciplinary, corrective, penal.
defunct(adjective) – no longer existing, inoperative, non-functioning.
rehabilitation (noun) – the action of bringing (someone or something) back to a normal.
marginalise (verb) – treat as insignificant, treat as unimportant, neglect.
Note:   
Click each one of the words above for their definition, more synonyms, pronunciation, example sentences, phrases, derivatives, origin and etc from http://www.oxforddictionaries.com/.

Definitions (elementary level) & Synonyms provided for the words above are my personal work and not that of Oxford University Press. Tentative definitions/meanings are provided for study purpose only and they may vary in different context. 

This word list is for personal use only. Reproduction in any format and/or Commercial use of it is/are strictly prohibited.
Today's Advanced Word List 1 for The Hindu Lead Article (Undoing a legacy of injustice) – Aug 13, 2018: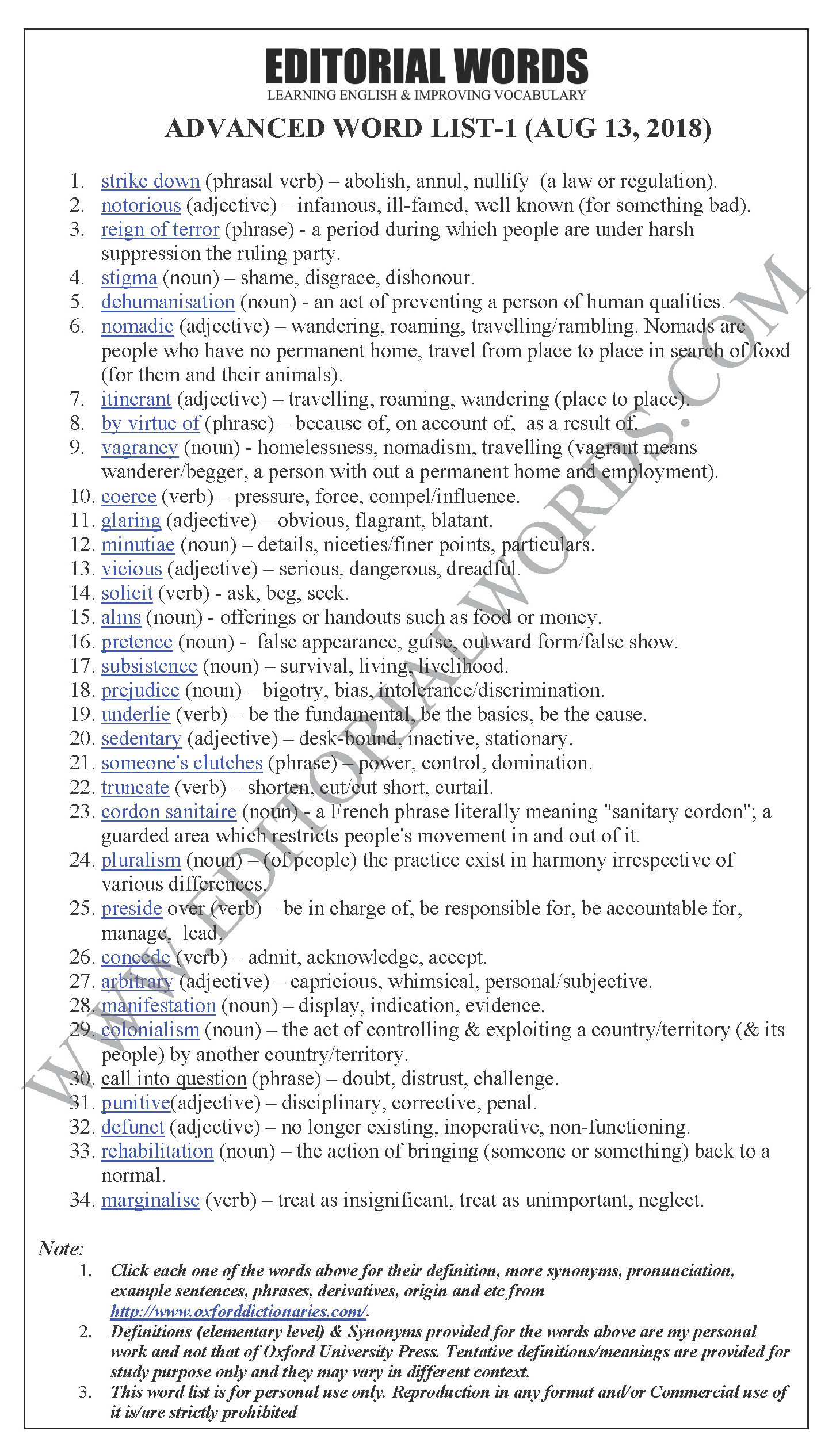 "Phrasal Verbs" We Learnt Last Week
"Idioms & Phrases" We Learnt Last Week