The Hindu Lead Article (The shape of the jobs crisis) – Feb 13, 2019
Job creation has slowed since 2011-12, the year of the last published National Sample Survey Office (NSSO) labour force survey. For further reading, visit "The Hindu". Below is today's advanced word list-1 for The Hindu Lead Article (The shape of the jobs crisis) – Feb 13, 2019.
To read this article, click here.
This preview is provided here with permission.  
Courtesy: The Hindu
Today's Advanced Word List 1 for The Hindu Lead Article (The shape of the jobs crisis) – Feb 13, 2019
:
demographic dividend

 (noun) – it is defined as a boost in economic productivity that occurs when there are growing numbers of people in the workforce relative to the number of dependents (or) it is the accelerated development that can arise when a population has a relatively large proportion of working-age people coupled with effective human capital investment.

unorganised sector

 (noun) – unorganized sector means an enterprise owned by individuals or self-employed workers and engaged in the production or sale of goods or providing service of any kind whatsoever, and where the enterprise employs workers, the number of such workers is less than ten (Courtesy: Ministry of Labour and Employment, India).
untenable (adjective) – unacceptable, unjustifiable, illogical.
grim (adjective) – depressing

, distressing, upsetting.

disguised (adjective) – concealed, obscured; made unrecognizable.
abound in (verb) – be full of, overflow with, have in large numbers.
wherewithal (noun) – resources, means.
withstand (verb) – tolerate, bear, stand up to.
disheartened (adjective) – hopeless, distressed, hungry.
fall out (phrasal verb) – get out/move out of line.
reflection (noun) – indication

, display' proof/evidence

.
mounting (adjective) – increasing, growing, intensifying.
retrogression (noun) – a return to a previous lower state; reversion, regression.
attest (verb) – indicate, show, reveal/display.
cohort (noun) – group, generation, category/section.
absolute (adjective) – complete, total/entire, out-and-out, outright.
whopping (adjective) – huge, massive, very large.
lumpen (adjective) – unthinking, stupid, foolish.
fodder (noun) – a raw material for a specific use.
entrant (noun) – new member, beginner, newcomer.
decelerate (verb) – slow down, reduce speed, slack up.
underpin (verb) – strengthen, support, bolster up.
ride (verb) – progress, proceed; be supported by.
let alone (phrase) – to say nothing of; not to mention.

political fodder

(noun) –  something used for a (particular) political purpose.
Note:  
Click each one of the words above for their definition, more synonyms, pronunciation, example sentences, phrases, derivatives, origin and etc from http://www.oxforddictionaries.com/.
Definitions (elementary level) & Synonyms provided for the words above are my personal work and not that of Oxford University Press. Tentative definitions/meanings are provided for study purpose only and they may vary in different context. 
This word list is for personal use only. Reproduction in any format and/or Commercial use of it is/are strictly prohibited.
Today's Advanc
ed Word List 1 for The Hindu Lead Article (The shape of the jobs crisis) – Feb 13, 2019
: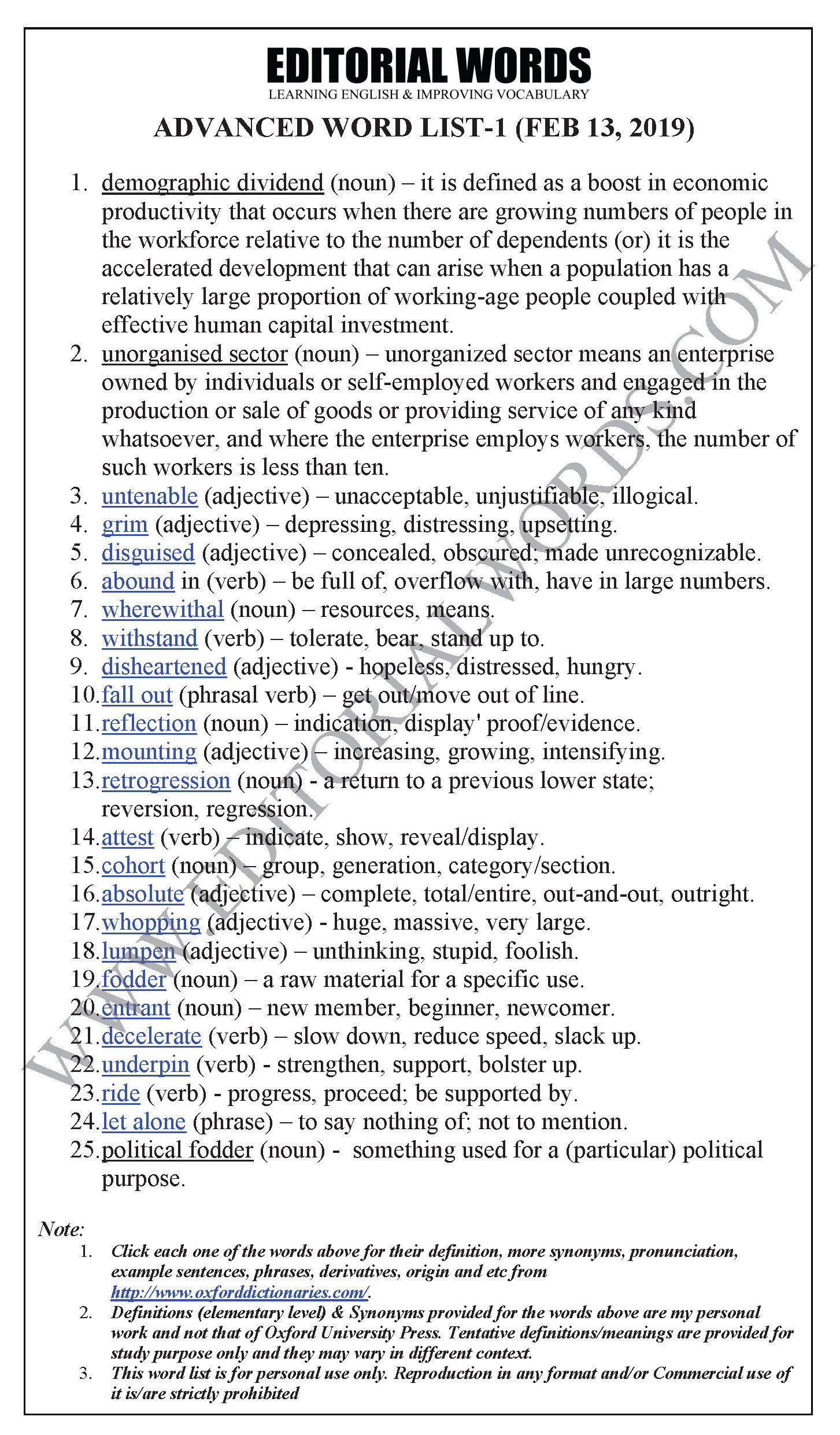 "Phrasal Verbs" We Learnt Last Week
"Idioms & Phrases" We Learnt Last Week
"Important Definitions" We Learnt Last Week
Recent Word Lists For The Hindu Editorial Articles
Recent Advanced Word Lists For The Hindu Lead Articles