The Hindu Lead Article (The rise and rise of Boris Johnson) – Aug 11, 2018
Last year, during a visit to Myanmar, Britain's then Foreign Secretary, Boris Johnson, visited the Shwedagon Paya, one of Buddhism's most sacred sites,… For further reading, visit "The Hindu". Below is today's advanced word list-1 for The Hindu Lead Article (The rise and rise of Boris Johnson) – Aug 11, 2018.
To read this article, click here.
This preview is provided here with permission.  
Courtesy: The Hindu
Today's Advanced Word List 1 for The Hindu Lead Article (The rise and rise of Boris Johnson) – Aug 11, 2018
:
playbook (noun) – strategies.
pander (verb) – indulge, gratify, satisfy/fulfil.
prejudice (noun) – bigotry, partiality, intolerance/discrimination.
bumbling (adjective) – incompetent, amateurish, unskilful.
invocation (noun) – citation, mention, appeal/reference to.
catch off guard (phrase) – surprise someone when not expected (in a good or bad way) to feel confused.
gaffe (noun) – blunder, mistake, error.
clock up (phrasal verb) – win, triumph, achieve.
pepper with (verb) – cover with, fill with, spot/sprinkle.
headbutt (noun) – a violent attack/hit on someone with the top of (your) head.
outcry (noun) – protest/clamour, complaints, commotion.
abysmal (adjective) – very bad, poor, appalling.
plight (noun) – difficult situation, trouble/difficulty, quandary.
faux pas (noun) – French meaning "false step; gaffe, blunder, mistake.
naive (adjective) – denoting (someone's) lack of experience/knowledge; inexperienced/natural, innocent.
savvily (adverb) – astutely, shrewdly, perceptively.
deliberate (adjective) – intentional, conscious, planned.
in the face of (phrase) – when confronted with; despite, notwithstanding, regardless of.
call for (phrasal verb) – demand, necessitate, need/reason for.
the whip (noun) – an appointed representative of a legislative body by a particular political party to 

enforce

 

discipline among its members during legislative assembly proceedings

oppressive (adjective) – harsh, repressive, domineering/autocratic.
slur (noun) – insult, misrepresentation, allegation/insinuation.
anti-semitism (noun) – prejudice, partiality, hostility (against Jews).
islamophobia (noun) – the fear, hatred of, or prejudice against, the Islamic religion or Muslims generally, especially when seen as a geopolitical force.
effusive (adjective) – gushy, unrestrained, demonstrative/expansive.
undermine (verb) – weaken, damage, hinder/hurt.
strike a chord (phrase) – cause/arouse someone to feel emotion/sympathy.
figurehead (noun) – titular head, nominal leader, leader in name only (without power).

Mogg-mentum

(noun) – an online conservative campaign and grassroots movement supporting Jacob Rees-Mogg (a British politician).
arc (noun) – development, movement, resolution.
martyr (noun) – a person who displays that he is suffering from/in distress in order to obtain sympathy.
far from (phrase) – not, not at all, nowhere near.
Note:   
Click each one of the words above for their definition, more synonyms, pronunciation, example sentences, phrases, derivatives, origin and etc from http://www.oxforddictionaries.com/.

Definitions (elementary level) & Synonyms provided for the words above are my personal work and not that of Oxford University Press. Tentative definitions/meanings are provided for study purpose only and they may vary in different context. 

This word list is for personal use only. Reproduction in any format and/or Commercial use of it is/are strictly prohibited.
Today's Advanced Word List 1 for The Hindu Lead Article (The rise and rise of Boris Johnson) – Aug 11, 2018: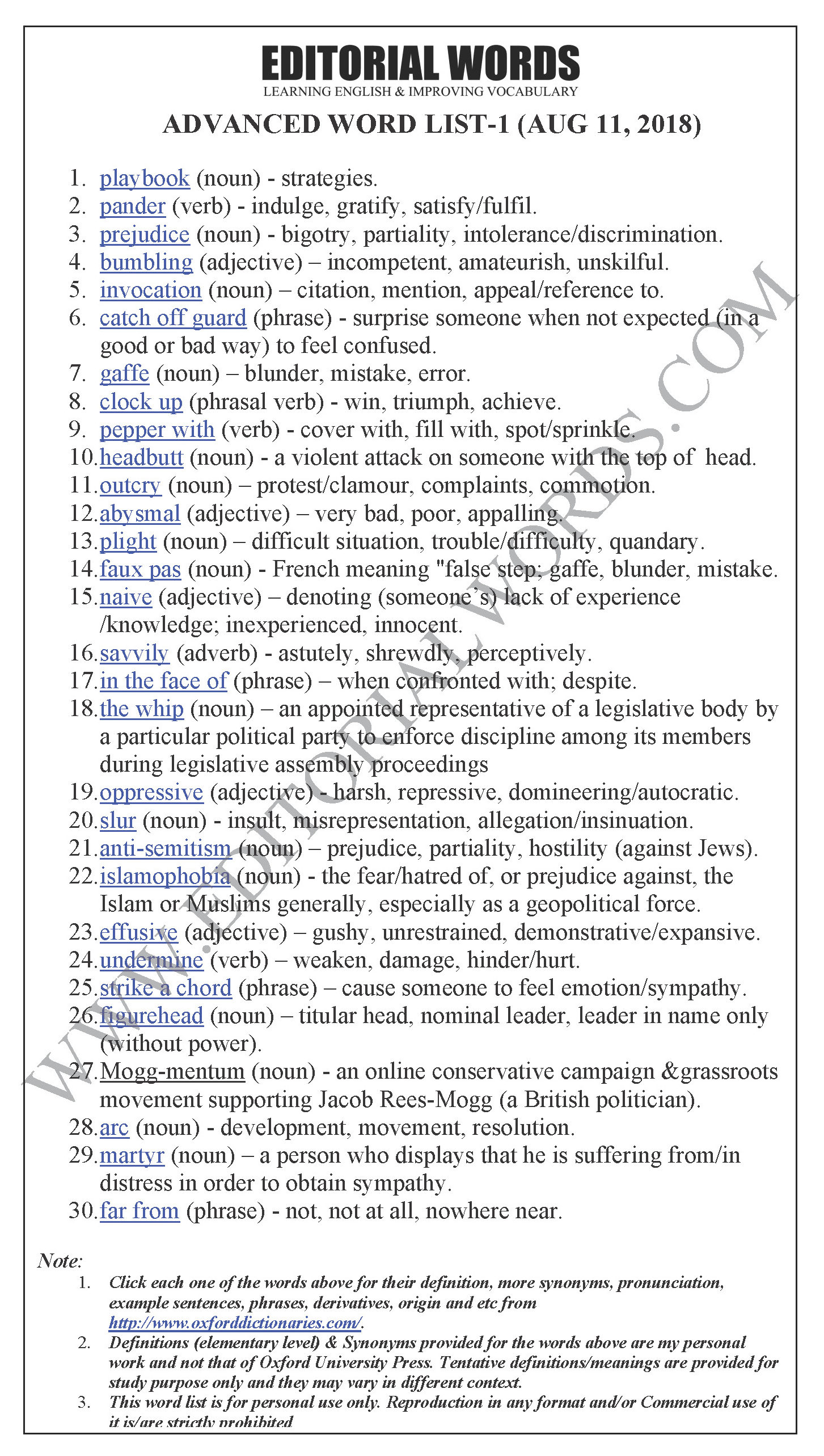 "Phrasal Verbs" We Learnt Last Week
"Idioms & Phrases" We Learnt Last Week