The Hindu Lead Article (The algebra of Opposition unity) – Nov 10, 2018
Karnataka has done it a second time in a year, this year. The coming together of the Congress and Janata Dal (Secular), post-poll in May 2018, and the inauguration of the H.D. Kumaraswamy-led coalition government was its first contribution to opposition consolidation. For further reading, visit "The Hindu". Below is today's advanced word list-1 for The Hindu Lead Article (The algebra of Opposition unity) – Nov 10, 2018.
To read this article, click here.
This preview is provided here with permission.  
Courtesy: The Hindu
Today's Advanced Word List 1 for The Hindu Lead Article (The algebra of Opposition unity) – Nov 10, 2018
:
goad (noun) – stimulus, incentive, encouragement.
impart (verb) – communicate, covey, set forth.
impetus (noun) – stimulus, boost, inspiration.
opportunism (noun) – expediency/exploitation, taking advantage, pragmatism.
dismay (noun) – surprise/shock, upset, distress.
apposite (adjective) – appropriate, suitable, fitting.
precursor (noun) – forerunner

, predecessor.

arithmetic (noun) – calculation, reckoning, tally.
fence-sitter (noun) – someone who be neutral on something.
albeit (conjunction) – though, even though, however.

draw to a close

 (phrase) – to come to an end.
fortitude (noun) – spirit, character, temperament.
arsenal (noun) – weapons, arms.
polarisation (noun) – separation of two contrasting groups (based on different opinions/beliefs).
patronage (noun) – backing/support, advocacy, assistance/protection.

sanatanist

(noun) – someone who is religiously adhering to aspects of Sanatana Dharma.
reach out (phrasal verb) – hold out, extend, outstretch.
concordat (noun) – a formal agreement, treaty, accord.
tenacious (adjective) – firm, strong, purposeful.
cripple (verb) – injure, damage, disable.
accommodation (noun) – compromise/settlement; adjustment, adaptation.
nothing short of (phrase) – almost; little less than.
tenacity (noun) – persistence, determination, perseverance.
pawn (verb) – a chess piece of the smallest size and value.
knight (noun) – horse's head shape chess piece.
castle (noun) – rook; fortress/fort/battlement shape chess piece.
nucleate (verb) – form a nucleus.

wish away

 (phrasal verb) – try to stop/eliminate something (problem) just by wishing that it did not exist.
astute (verb) – shrewd, clever, smart.
protégé (noun) – a young person who is taught and helped by someone who has a lot of knowledge and experience; student, trainee.
secularism (noun) – the belief that religion should not have a strong influence in education or other public parts of society.
rain-check (noun) – pass, authorization, licence/permit.
on the same page (phrase) – in agreement.
pragmatic (adjective) – empirical, realistic/actual, practical.
overture (noun) – move, approach, signal/advances.
take time by the forelock (phrase) – seize an opportunity.
look at (verb) – regard, consider, think of.
diligence (noun) – carefulness, attentiveness, rigour.
binary (noun) – something having two parts.
countervailing (adjective) – counteracting; equal, matching (force) which reduces the effect.
implausible (adjective) – unlikely, questionable, doubtful.
fluke (noun) – chance, coincidence, accident,k.
portent (noun) – sign, indication, signal; significance

/importance

.
imperative (noun) – necessary condition, requisite, requirement.
immiserate (verb) – cause to become poor.
monopolist (noun) – a business that has a monopoly.
redeem (verb) – fulfil, carry out, execute (a promise).
pathologies (noun) –  (of social) abnormality/deviation/malfunction.
infirmity (noun) – weakness, uncertainty, inconstancy.
embellish (verb) – elaborate, exaggerate, gild.
cast (noun) – form ,shape, template.
knit (verb) – unite, combine, join together.
alleviation (noun) – lessening, reduction; mitigation.
bluff (noun) – deception, pretence, sham.
sectarian (adjective) – denoting a sect (a group of people); factional, partisan.
rhetoric (noun) – bombast, loftiness, hyperbole/extravagant language.
hollow (adjective) – meaningless, empty, valueless/futile.
hubris (noun) – excessive pride, feeling of superiority, self-confidence.
Note:   
Click each one of the words above for their definition, more synonyms, pronunciation, example sentences, phrases, derivatives, origin and etc from http://www.oxforddictionaries.com/.
Definitions (elementary level) & Synonyms provided for the words above are my personal work and not that of Oxford University Press. Tentative definitions/meanings are provided for study purpose only and they may vary in different context. 
This word list is for personal use only. Reproduction in any format and/or Commercial use of it is/are strictly prohibited.
Today's Advanc
ed Word List 1 for The Hindu Lead Article (The algebra of Opposition unity) – Nov 10, 2018: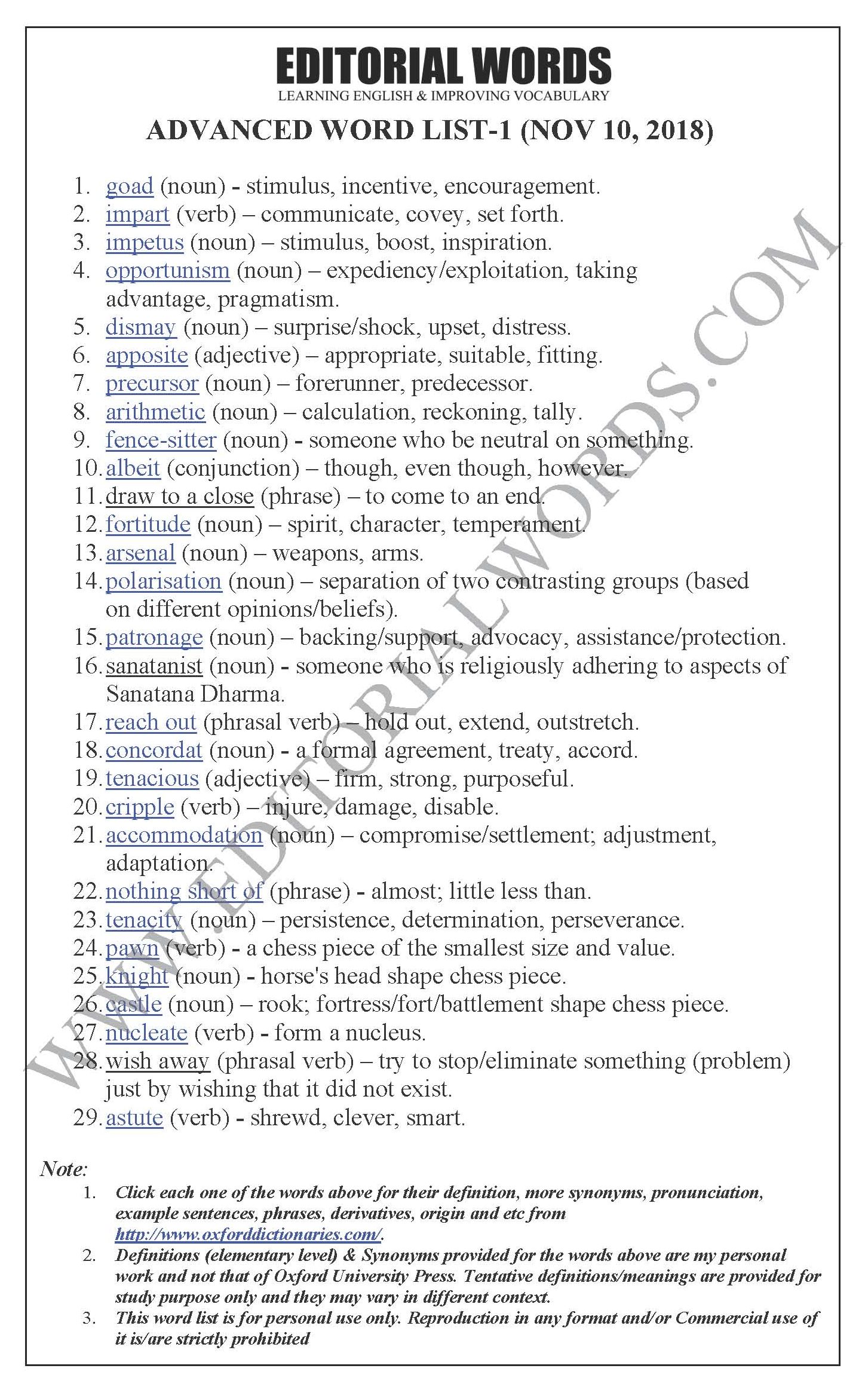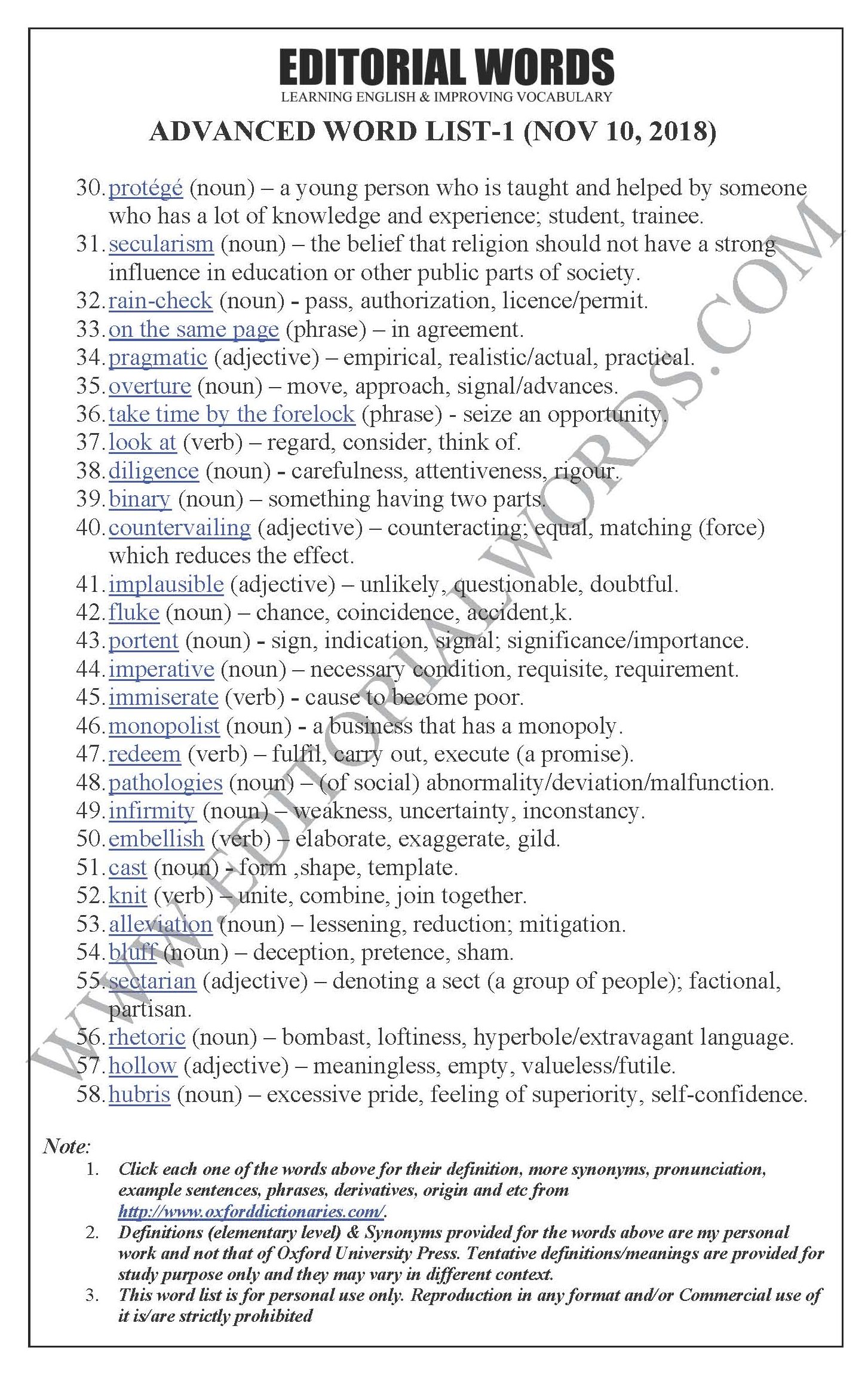 "Phrasal Verbs" We Learnt Last Week
"Idioms & Phrases" We Learnt Last Week