The Hindu Lead Article (Surveying India's unemployment numbers) – Feb 09, 2019
Monthly measurement of the unemployment rate is one of the requirements of the Special Data Dissemination Standard (SDDS) of the International Monetary Fund (IMF). For further reading, visit "The Hindu". Below is today's advanced word list-1 for The Hindu Lead Article (Surveying India's unemployment numbers) – Feb 09, 2019.
To read this article, click here.
This preview is provided here with permission.  
Courtesy: The Hindu
Today's Advanced Word List 1 for The Hindu Lead Article (Surveying India's unemployment numbers) – Feb 09, 2019
:
demonetisation (noun) – the act of deprive currency unit (note/coin) of its status as money.
bear the brunt (phrase) – to suffer or endure the worst part of something (force/burden/pressure) when a very bad or unpleasant thing happens.
comply with (verb) – abide by, adhere to, conform to.
take exception (phrase) – object, raise an objection.
with respect to (phrase) – with regard to, with reference to, in connection with.
shambles (noun) – complete mess, disorder/disarray, disorganization.
befit (verb) – appropriate/proper to, suitable for, consistent with

demographic dividend

 (noun) – it is defined as a boost in economic productivity that occurs when there are growing numbers of people in the workforce relative to the number of dependents (or) it is the accelerated development that can arise when a population has a relatively large proportion of working-age people coupled with effective human capital investment.
compliance (noun) – observation, adherence, conformity.
household (noun) – family, house.
well-being (noun) – welfare, good health, comfort/happiness.
comprehensive (adjective) – complete/full, thorough, extensive.
fidelity (noun) – accuracy, exactness, precision.
obviate (verb) – avoid, prevent, eliminate.
respondent (noun) – litigator, opponent, disputant.
preceding (adjective) – previous, prior, earlier.
interpret (verb) – understand, construe, read/take.
findings (noun) – conclusion/result; resolution, decision

.

vitiate (verb) – spoil, impair, destroy.
give up (phrasal verb) – forgo, abandon, stop trying.
aftermath (noun) – consequence, result/outcome, repercussion.
imply (verb) – say indirectly, suggest, hint.
reflection (noun) – thought/thinking, consideration, opinion.
exodus (noun) – mass departure, evacuation, leaving/exit.
underline (verb) – underscore, emphasize, highlight.
bias (verb) – prejudice, influence; distort

, skew.

brunt (noun) – burden, pressure, strain.
jolt (noun) – shock, surprise, upset.
drive away (phrasal verb) – disband, separate, dispel/break up.
substantial (adjective) – real, true, actual.
shrink (verb) – reduce/diminish, lessen, dwindle.
in spite of (phrase) – despite, notwithstanding, regardless of.
bias (noun) – prejudice

, partiality, bigotry/discrimination

.
impediment (noun) – hindrance, obstruction, barrier.
window (noun) – opportunity, chance, opening.
citizenry (noun) – all the people/citizens (of a place/country considered as a whole).
in the dark (phrase) – uninformed about, unaware of, ignorant of/unacquainted with.
Note:  
Click each one of the words above for their definition, more synonyms, pronunciation, example sentences, phrases, derivatives, origin and etc from http://www.oxforddictionaries.com/.
Definitions (elementary level) & Synonyms provided for the words above are my personal work and not that of Oxford University Press. Tentative definitions/meanings are provided for study purpose only and they may vary in different context. 
This word list is for personal use only. Reproduction in any format and/or Commercial use of it is/are strictly prohibited.
Today's Advanc
ed Word List 1 for The Hindu Lead Article (Surveying India's unemployment numbers) – Feb 09, 2019
: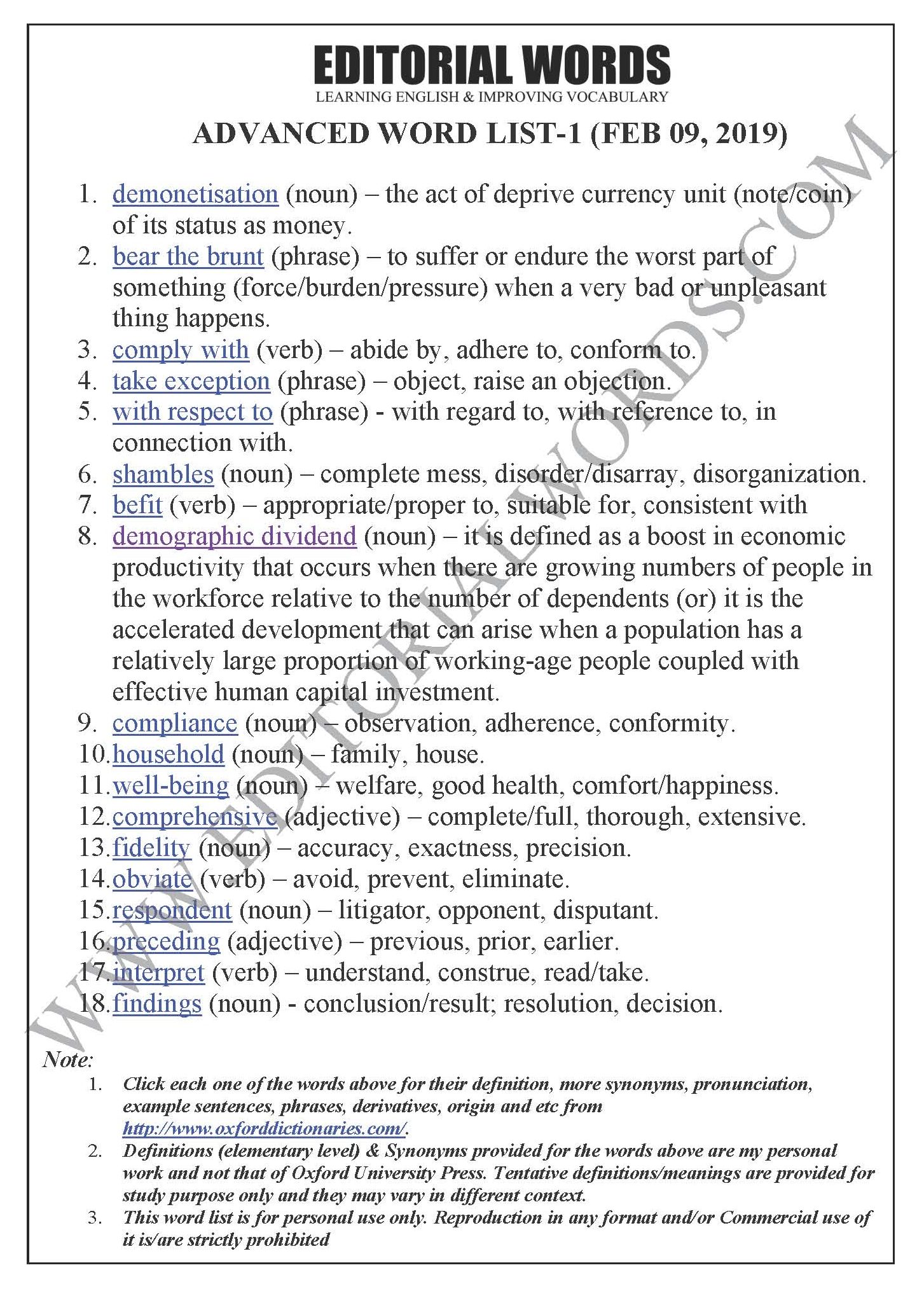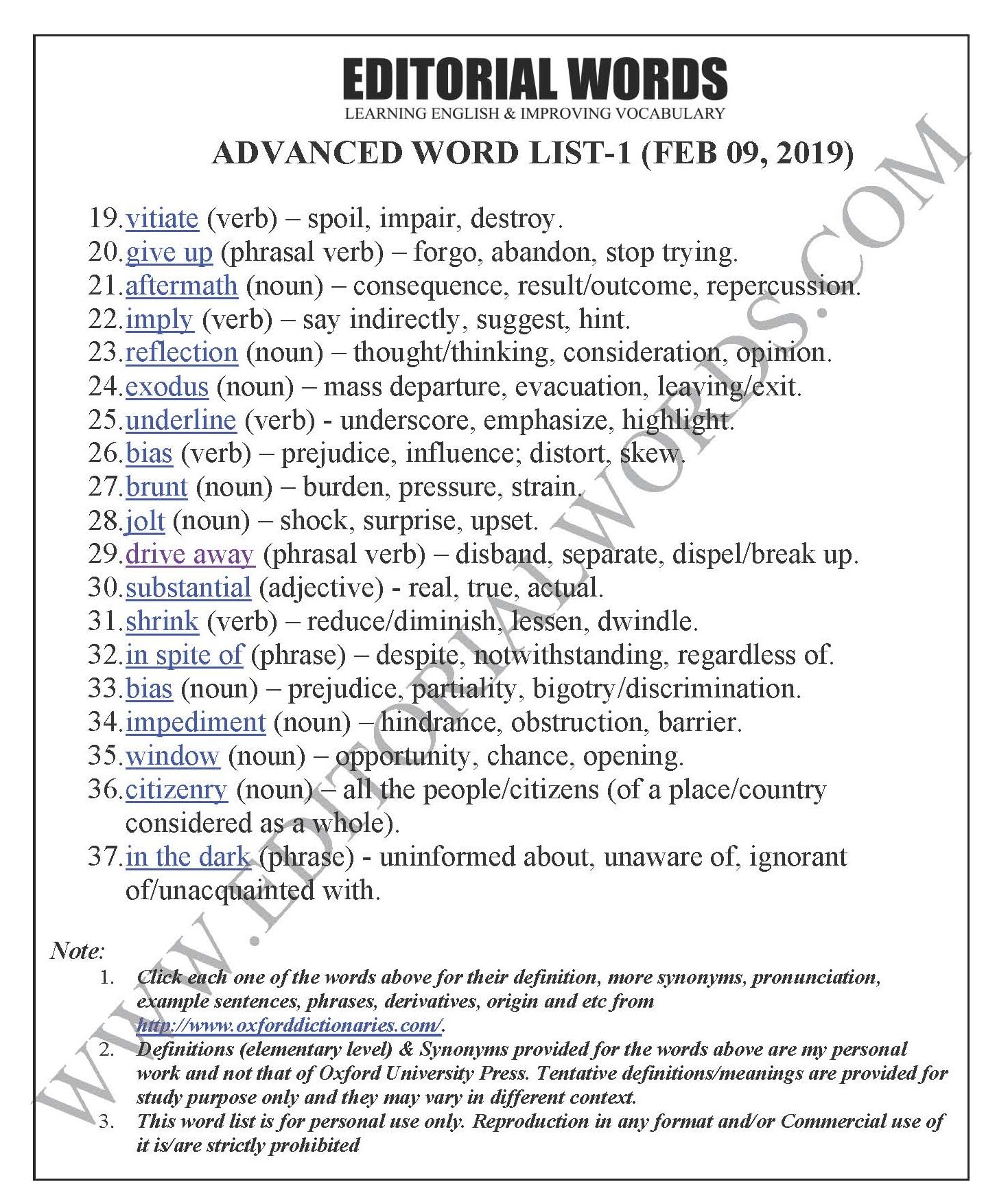 "Phrasal Verbs" We Learnt Last Week
"Idioms & Phrases" We Learnt Last Week
"Important Definitions" We Learnt Last Week
Recent Word Lists For The Hindu Editorial Articles
Recent Advanced Word Lists For The Hindu Lead Articles