The Hindu Lead Article (Russian games in Syria) – Jun 13, 2018
As the new Cold War gets hotter, Russia now faces a big dilemma in West Asia of defending its allies. For further reading, visit "The Hindu". Below is today's advanced word list-1 for The Hindu Lead Article (Russian games in Syria) – Jun 13, 2018.
To read this article, click here.
This preview is provided here with permission. 
Courtesy: The Hindu
Today's Advanced Word List 1 for The Hindu Lead Article (Russian games in Syria) – Jun 13, 2018
:
wind down (phrasal verb) –  come to an end, diminish, lessen.
disentangle (verb) – disconnect, disengage, detach.
dilemma (noun) – difficulty, problem, conundrum.
brink (noun) – edge/verge/end (of something).
de facto (adjective) – actual, existing, real.

breathe down

(phrasal verb) – follow closely & trouble/annoy.
turnaround (noun) – an unexpected change.
militia (noun) – armed forces, military unit, soldiery (from the civil population to support main forces).
on the ground (phrase) – in a situation/place where things are happening really/practically.
salvage (verb) – save, rescue, protect.
bolster (verb) – strengthen, support, boost/reinforce.
get caught up in (phrasal verb) – become involved in something (unintentionally).
lasting (adjective) – permanent, long-term, long-lived.
radical (adjective) – fundamental, basic, essential.
common ground (phrase) – shared opinions (or interests).
in full swing (phrase) – at the highest level of activity.
play down (phrasal verb) – underemphasize, downplay, understate.
autonomous (adjective) – self-governing/ruling, independent, sovereign.
reliant (noun) – dependent on someone/something.
wary (adjective) – cautious

, careful, circumspect.

tame (adjective) – mediocre, ordinary, uninspiring.
sanctions (noun) – action taken, or an order given to force a country to obey international laws by limiting or stopping trade with that country, by not allowing economic aid for that country, etc (Courtesy: VOA Learning English).
overlook (verb) – fail to notice/observe,

 ignore, disregard.

provocation (noun) – prompting, inducement, incitement.
drone (noun) – unmanned aircraft /missile.
pull out (phrasal verb) – withdraw, leave,  get out.
counterpart (noun) – a person who serves the same job/function but in a different location; equivalent.
entrenchment (noun) –

infringement, encroachment, intrusion.

deconfliction

(noun) – the act of changing the flight path of a craft or weapon to reduce the chance of an accidental collision.
receptive (adjective) – open-minded, responsive, flexible.
vulnerability (noun) – infirmness, weakness, frailty.
throw a spanner into (phrase) – prevent, stop, obstruct.
biting (adjective) – harsh, cruel, savage/bitter.
antagonise (verb) – alienate, estrange, make hostile/make unfriendly.
cast a shadow on (phrase) – spoil, diminish, let down.
conflagration (noun) – a large and destructive crisis (fire).
overhang (noun) – a situation which is lingering, indecisive and it is also having (a negative effect).
creep (noun) – slow steady movement.
Note:   
Click each one of the words above for their definition, more synonyms, pronunciation, example sentences, phrases, derivatives, origin and etc from http://www.oxforddictionaries.com/.

Definitions (elementary level) & Synonyms provided for the words above are my personal work and not that of Oxford University Press. Tentative definitions/meanings are provided for study purpose only and they may vary in different context. 

This word list is for personal use only. Reproduction in any format and/or Commercial use of it is/are strictly prohibited.
Today's Advanced Word List 1 for The Hindu Lead Article (Russian games in Syria) – Jun 13, 2018: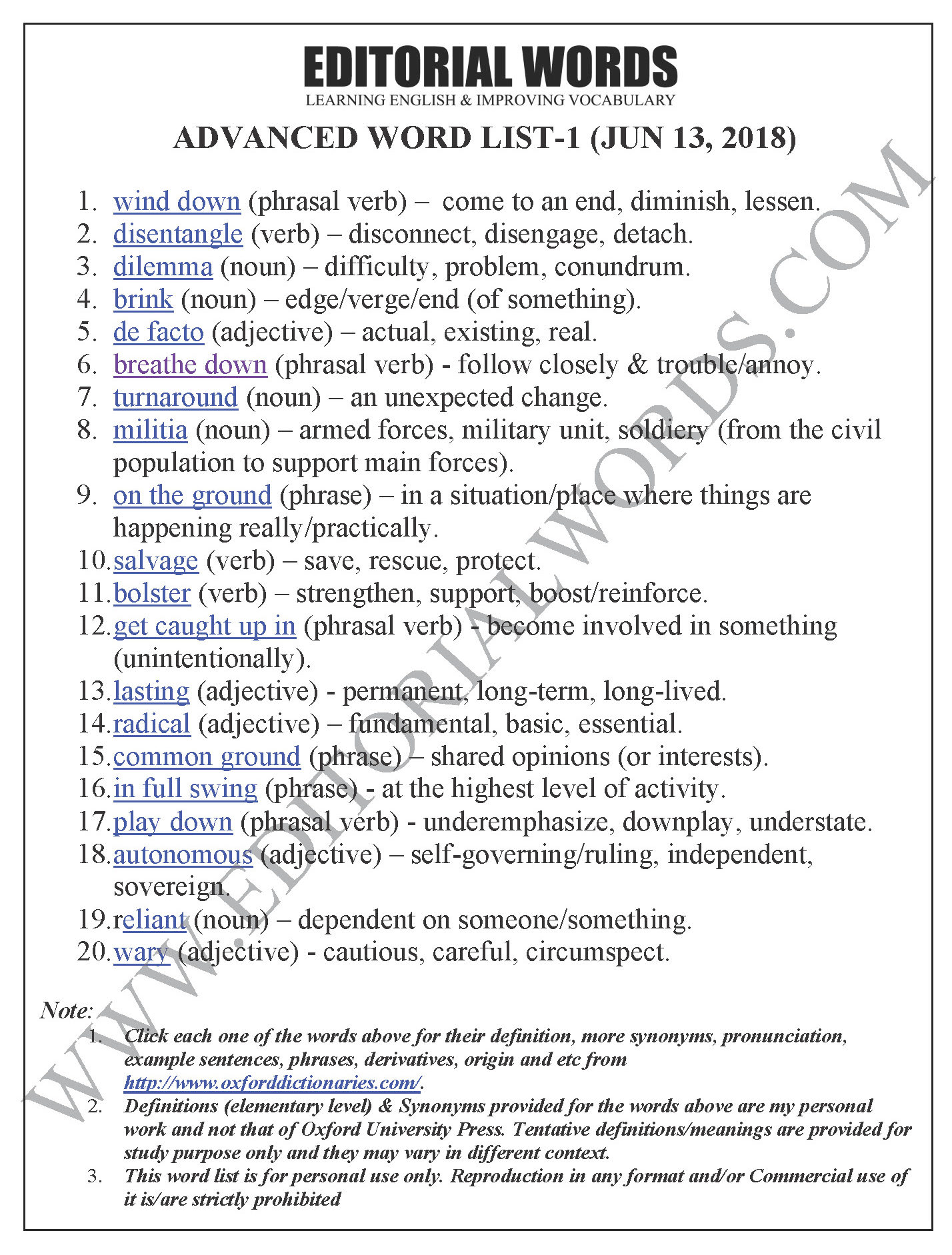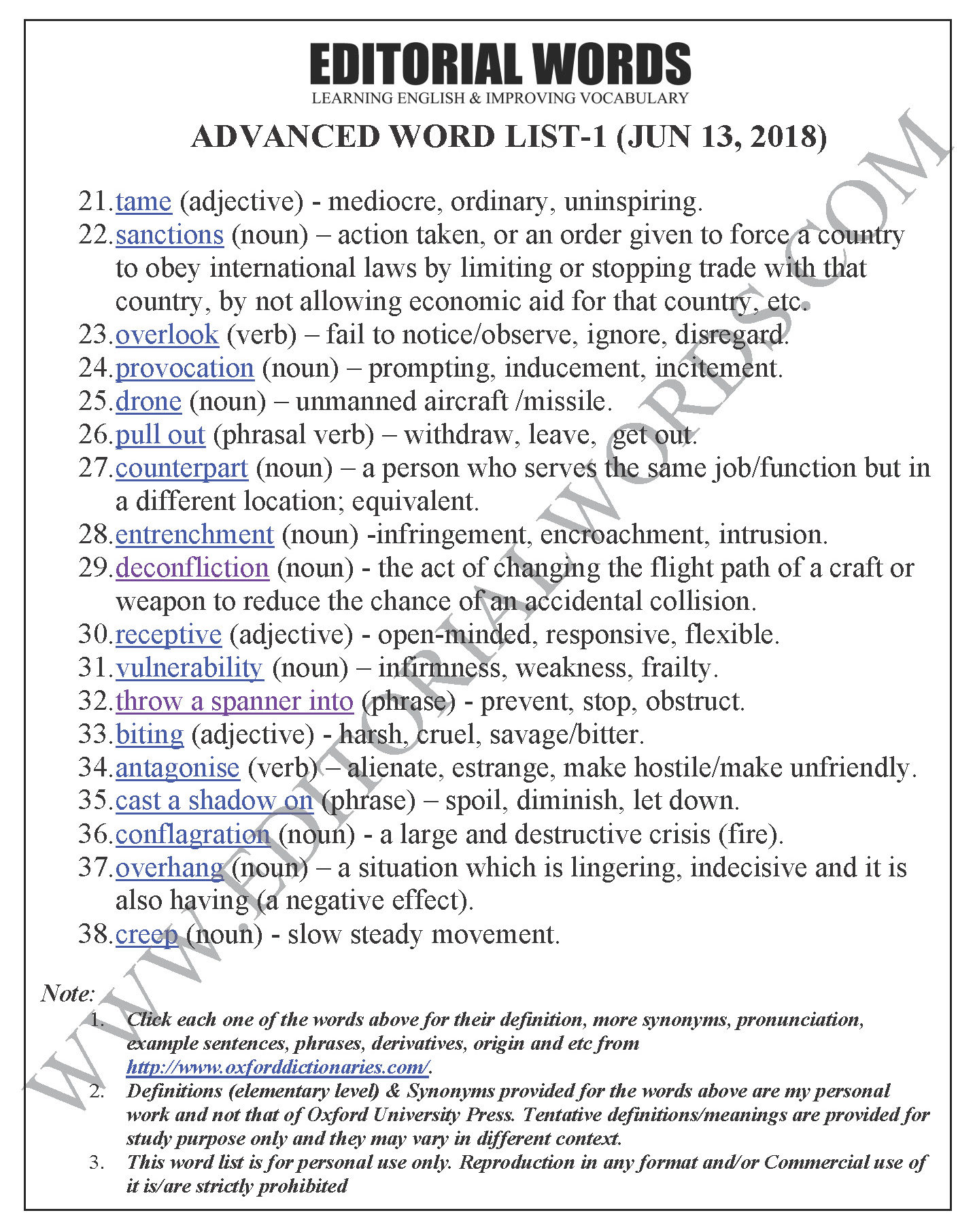 "Phrasal Verbs" We Learnt Last Week
"Idioms & Phrases" We Learnt Last Week