The Hindu Lead Article (Polls and polarisation politics) – Oct 11, 2018
The political discourse, as Assembly elections approach, is slipping to new lows. For further reading, visit "The Hindu". Below is today's advanced word list-1 for The Hindu Lead Article (Polls and polarisation politics) – Oct 11, 2018.
To read this article, click here.
This preview is provided here with permission.  
Courtesy: The Hindu
Today's Advanced Word List 1 for The Hindu Lead Article (Polls and polarisation politics) – Oct 11, 2018
:
polarisation (noun) – separation of two contrasting groups (based on different opinions/beliefs).
press ahead (phrasal verb) – to continue doing something even if it is tough.
counter (verb) – oppose, confront, resist.
narrative (noun) –  report narration about a particular condition in which a series of things are happening.
discourse (noun) –  address, speech, debate.
infiltrator (noun) – intruder, outsider.
termite (noun) – an insect that eats & destroys wood.
lynching (noun) – an act of punishing/killing someone by hanging for claimed offence by the group of people without legal trail.
in the face of (phrase) – despite, notwithstanding, regardless of.
unravel (verb) – reveal, clarify, resolve.
stem from (phrasal verb) – originate from, arise from, come from.
dividend (noun) – benefit, advantage, gain.
harbinger (noun) – indicator, announcer, herald.
disenchant (verb) – disappoint,  let down/fed up, dissatisfy.
refurbish (verb) – redevelop, renew, reconstruct.
high pitched (adjective) – shrill, loud, penetrating (sound).
rhetoric (noun) – bombast, loftiness, hyperbole/extravagant language.
uproot (verb) – eradicate, eliminate, remove.
stick to (phrasal verb) – adhere to/abide by, keep, hold to.
snatch (verb) –  seize, capture, take hold of.
acidic (adjective) – bitter, sharp/strong, harsh.
echo (verb) – repeat, say again, restate/reiterate.

surgical strike

 (noun) – the military attack aimed to cause damage on a particular target with small/no collateral damage to surroundings.
tenor (noun) – the general content/meaning.
combative (adjective) – aggressive, contentious, belligerent.
commentator (noun) – narrator, journalist, reporter.
forefront (verb) – be a vanguard, be the leading position, be the driving force.
dispensation (noun) – system, arrangement, organization.
indispensable (adjective) – essential, crucial, necessary.
embedded (adjective) – ingrained, established.
at the heart (phrase) – basically, fundamentally, essentially.
quest (noun) – search, hunt, pursuit.
consolidation (noun) – strengthening, reinforcement, stabilization.
pitch (noun) – level, intensity, point.
divisive (adjective) – alienating/isolating, estranging, discordant.
grassroots (plural noun) –  the most basic level of an organisation.
consensus (noun) – (general) opinion, view; agreement/concurrence.
pertain to (verb) – concern, relate to, affect.
break away from (phrasal verb) – leave, split with, separate from.
divorce (verb) – separate, disjoin, split.
landscape (noun) – the distinctive features of a field of activity.
regression (noun) – a return to a previous lower state; retrogression, reversion.
majoritarianism (noun) – a philosophy that states that a majority (sometimes categorized by religion, language, social class, or some other identifying factor) of the population is entitled to a certain degree of primacy (priority) in society, and has the right to make decisions that affect the society.
episodic (adjective) – intermittent, periodic, uneven/patchy.
continuum (noun) – a series of things with a particular quality, but differed by minute angles.
petty (adjective) – trivial, unimportant, insignificant.
perpetrate (verb) – commit, carry out, perform/execute (a harmful/illegal action).
vigilante (noun) – a member of the self-appointed group which officially punishing crimes.
marginalised (adjective) –relating to the people treated as insignificant/unimportant/neglected.
make up (phrasal verb) – fabricate, formulate, plan/devise.
fete (verb) – celebrate, glorify, honour.
sustenance (noun) – means of support, subsistence, support.
conflation (noun) – an act of combining two/more information, ideas, etc.
well-thought-out (adjective) – carefully considered and planned.
plurality (noun) – a large number of people.
pave the way for (phrase) – prepare for, make provision for, precede.
vibrant (adjective) – spirited, full of life, determined.
be cut out (phrase) – be suitable, be right, be designed (for particular work).
disparate (adjective) – contrasting, different, dissimilar.
thrust (noun) – the principal purpose/intention, significance, essence.
contention (noun) –  assertion, argument, claim.
secularism (noun) – the belief that religion should not have a strong influence in education or other public parts of society.
Note:   
Click each one of the words above for their definition, more synonyms, pronunciation, example sentences, phrases, derivatives, origin and etc from http://www.oxforddictionaries.com/.
Definitions (elementary level) & Synonyms provided for the words above are my personal work and not that of Oxford University Press. Tentative definitions/meanings are provided for study purpose only and they may vary in different context. 
This word list is for personal use only. Reproduction in any format and/or Commercial use of it is/are strictly prohibited.
Today's Advanc
ed Word List 1 for The Hindu Lead Article (Polls and polarisation politics) – Oct 11, 2018: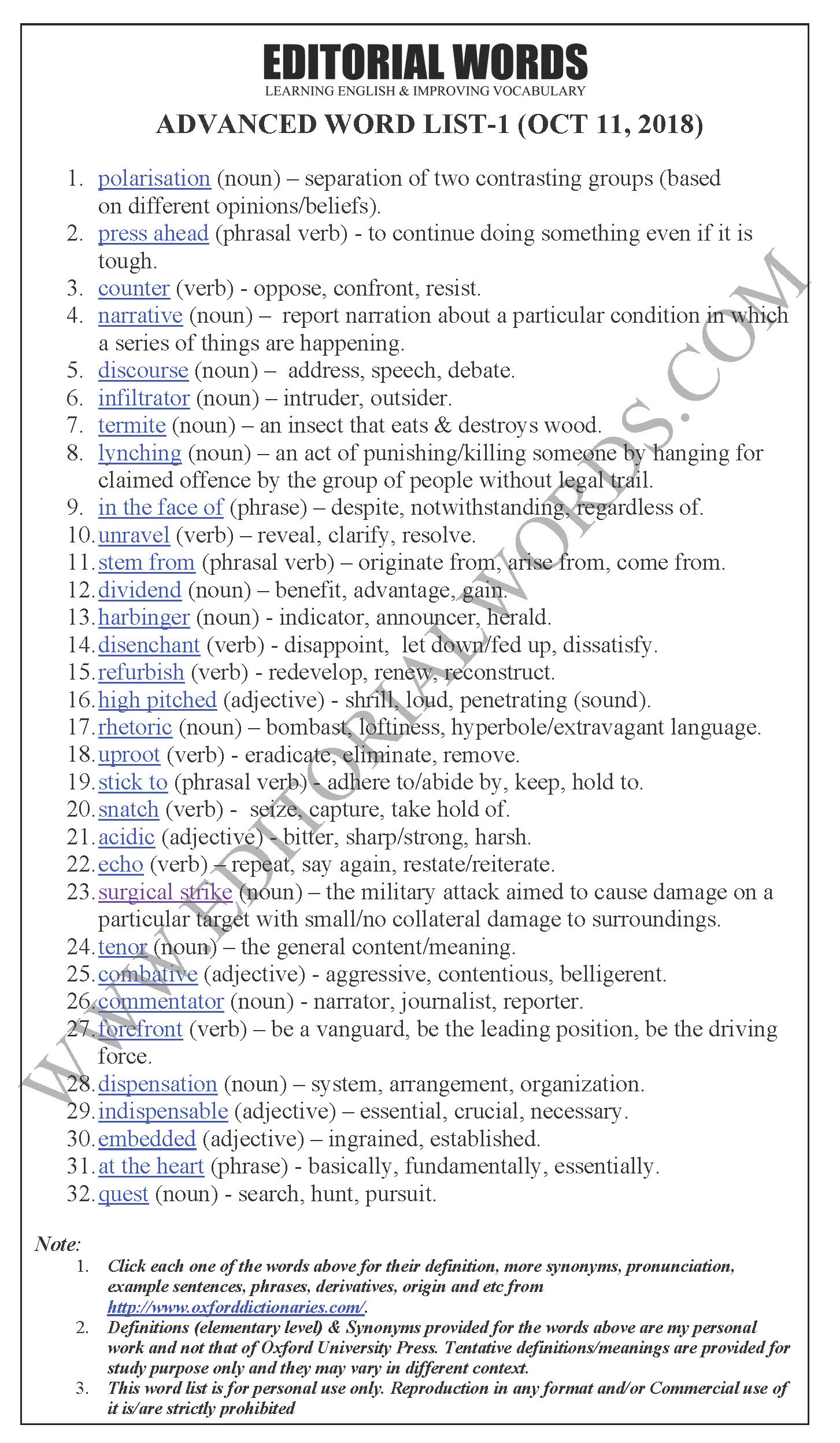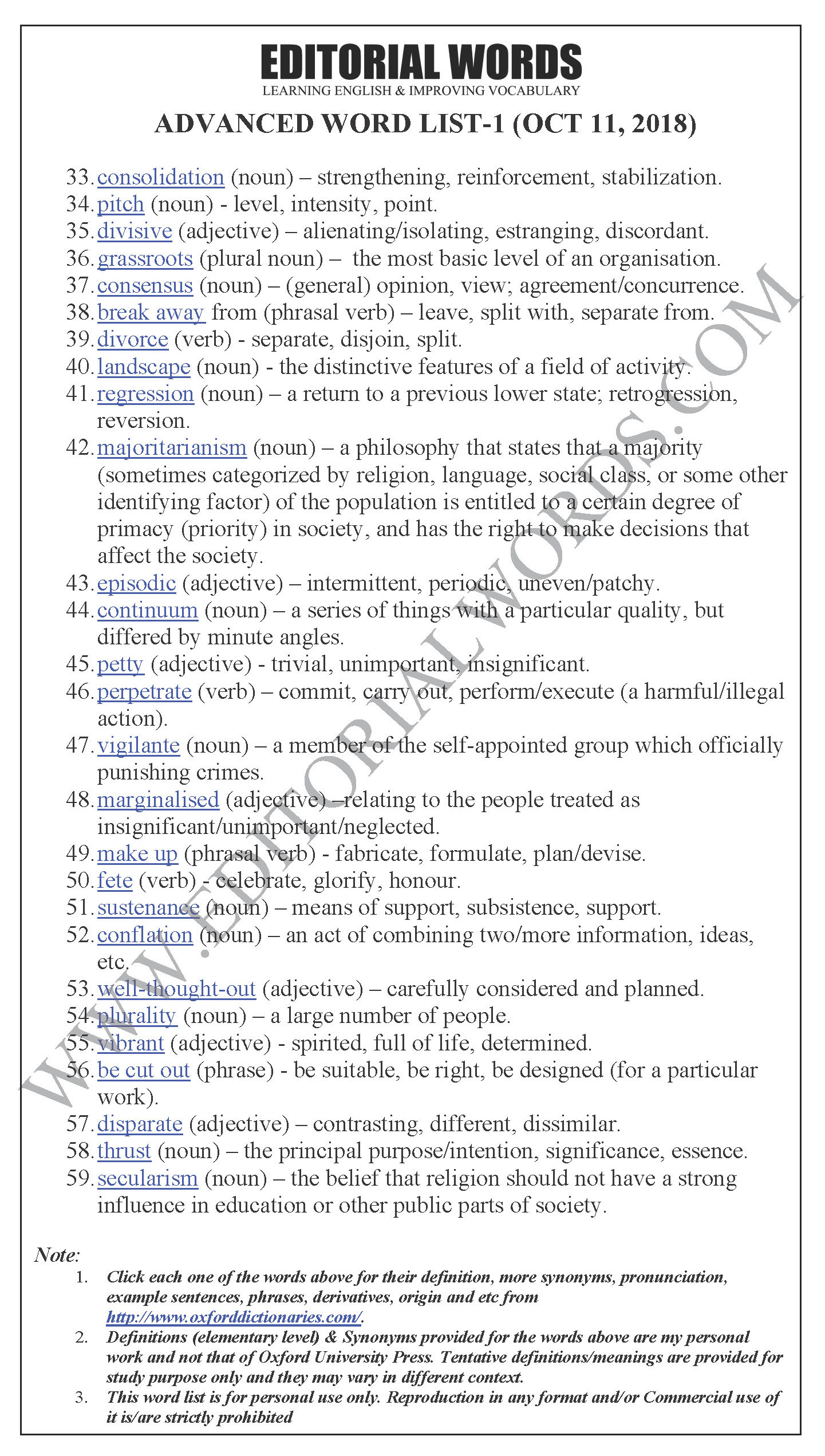 "Phrasal Verbs" We Learnt Last Week
"Idioms & Phrases" We Learnt Last Week