The Hindu Lead Article (No freedom without equality at Sabarimala) – Jan 12, 2019
When Bindu Ammini and Kanakadurga's entry into the Ayyappa Temple at Sabarimala on January 2 elicited a 'purification ritual' from the shrine's priests (picture),… For further reading, visit "The Hindu". Below is today's advanced word list-1 for The Hindu Lead Article (No freedom without equality at Sabarimala) – Jan 12, 2019.
To read this article, click here.
This preview is provided here with permission.  
Courtesy: The Hindu
Today's Advanced Word List 1 for The Hindu Lead Article (No freedom without equality at Sabarimala) – Jan 12, 2019
:
undermine (verb) – weaken, compromise, subvert.
elicit (verb) – obtain, bring forth/bring out, draw out.
undo (verb) – revoke, c

ancel, negate.

supposedly (adverb) – seemingly, apparently, reportedly.
akin (adjective) – similar, related, parallel.
side with (verb) – support, favour, uphold.
hardliner (noun) – a group/a political party with people who support a strict ideas and they are extreme & uncompromising.
under the guise of (phrase) – outward appearance; pretence, false show, disguise.
orthodox (adjective) – comply with the traditional and established beliefs, principles, practices, especially in religion; conservative

, traditional.

fossil (noun) – fogey/conservative, traditionalist, conformist.

push back

 (phrasal verb) – postpone, stall, delay.
stricture (noun) – constraint, restriction, impediment/obstacle.
outright (adverb) – instantly, immediately, straight away.
intimidation (noun) – frightening, threatening, oppression.
princely states (noun) – Native States, existed in India before the partition of India in 1947.
stigmatise (verb) – discredit, dishonour, disparage.
point blank (adverb & adjective) – directly, straight, frankly.
disgust (verb) – shock, sicken, displease/dissatisfy.
resilience (noun) – strength, toughness; the capacity to recover quickly from difficulties.
discrimination (noun) – prejudice, bias/bigotry, intolerance/inequity.
alienate (verb) – set/drive apart, separate, disunite.
disillusion (verb) – disenchant, discontent, disappoint.
efficacy (noun) – effectiveness, efficiency, power/ability to give estimated results.
the end of one's tether (phrase) – not knowing which way to turn, unable to cope; having no energy left with.
let go (phrase) – dismiss, relinquish, give up.
hierarchical (adjective) – relating to the hierarchy (social order/ranking).
impulse (noun) – (strong & sudden) urge/instinct, compulsion, need.
sully (verb) – damage, tarnish, spoil.
deem (verb) – regard as, consider; think/judge.
reiterate (verb) – repeat, say again, restate.
fittingly (adverb) – in a way something is suitable for certain condition.
momentous (adjective) – significant, important, crucial/critical.
egalitarian (adjective) – common, equal, fair.
outlaw (verb) – ban, prohibit, forbid.
enshrine (verb) – to enclose in, preserve, treasure, protect (as valuable).
charter (noun) – constitution, body of law, system of rules.
precedent (noun) – previous example/instance, prior instance, exemplar.
misogynistic (adjective) – firmly biased against women.
patriarchy (noun) – a family/group/society/community/government controlled by a man/a group of men, descent described through male line of the family.

hard to swallow

(phrase) – difficult to accept something; doubtful, dubious, eccentric.
counterpart (noun) – equivalent.
procession (noun) – parade, march, progression; a group of people moving in an orderly way.
en masse (adverb) – in a mass, all together, as a group.
oppress (verb) – trouble, discourage, depress.
qua (conjunction) – Latin word; as (being).
grounds (noun) – reason/factor, cause, basis.
be at the receiving end  (phrase) – be subjected to something.
embrace (verb) – accept, approve, adopt.
emulate (verb) – imitate, follow, take as an example.
radical (noun) – unorthodox, unfamiliar, uncommon.
stoke (verb) – incite, encourage, fuel.
conservatism (noun) – an act of following traditional values and ideas.
reactionary (adjective) – conservative, rightist, right-wing.
regressive (adjective) – negative, unprogressive, retrograde.
warrant (verb) – justify, vindicate, validate/call for.
contravene (verb) – violate, infringe, break/breach.
writ (noun) – court order, decree.
explicitly (adverb) – clearly, unequivocally, without any doubt.
capacious (adjective) – extensive, substantial, vast/huge.
inherently (adverb) – naturally, basically, intrinsically.
bounds (noun) – boundaries, confines, limits.
renaissance (noun) – revival, new beginning, reappearance.
persuasion (noun) – coercion, inducement, prompting.
enlightenment (noun) – understanding, insight, knowledge/awareness.
throw open (phrasal verb) – make something accessible/attainable suddenly & fully.
Note:   
Click each one of the words above for their definition, more synonyms, pronunciation, example sentences, phrases, derivatives, origin and etc from http://www.oxforddictionaries.com/.
Definitions (elementary level) & Synonyms provided for the words above are my personal work and not that of Oxford University Press. Tentative definitions/meanings are provided for study purpose only and they may vary in different context. 
This word list is for personal use only. Reproduction in any format and/or Commercial use of it is/are strictly prohibited.
Today's Advanc
ed Word List 1 for The Hindu Lead Article (No freedom without equality at Sabarimala) – Jan 12, 2019
: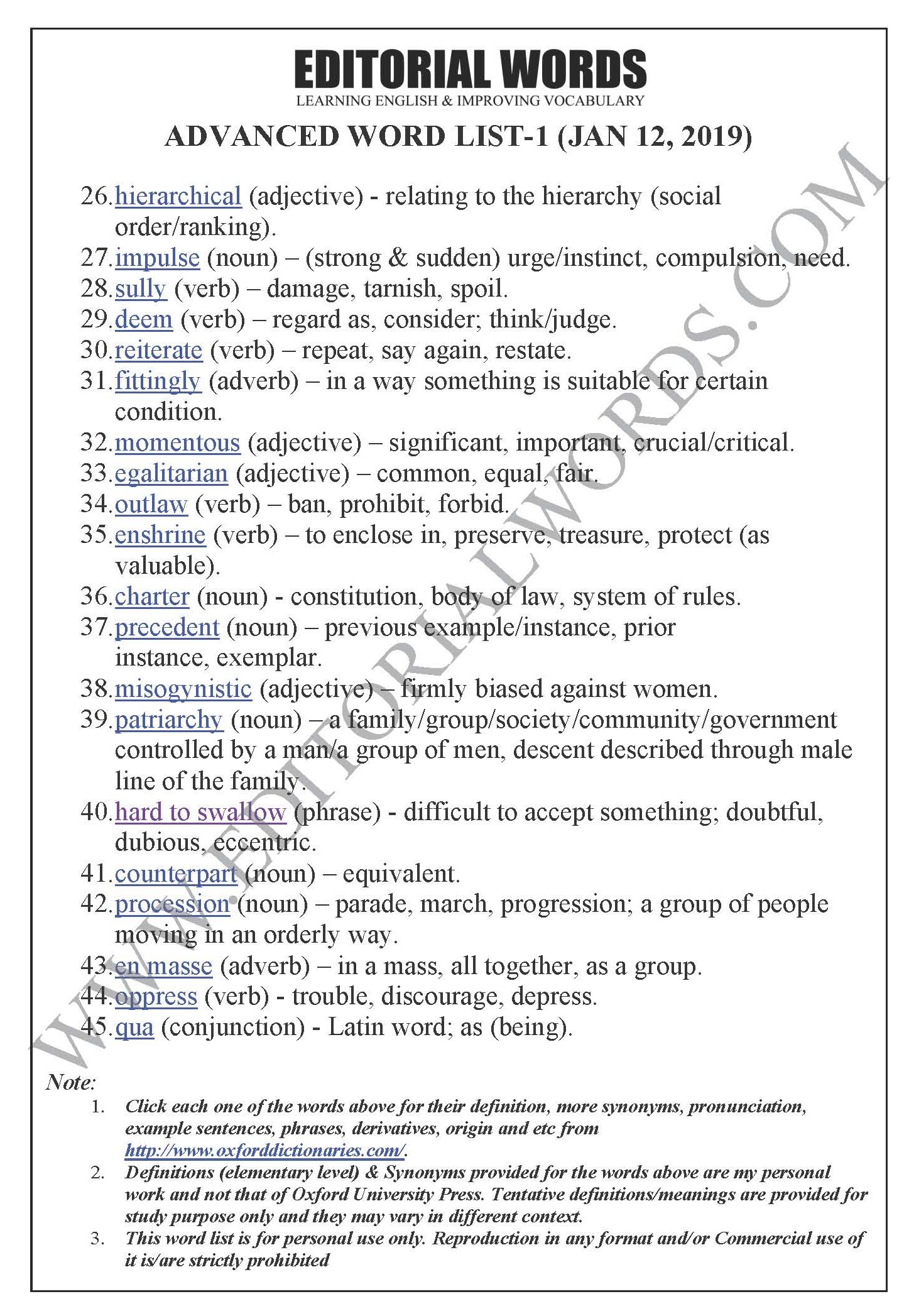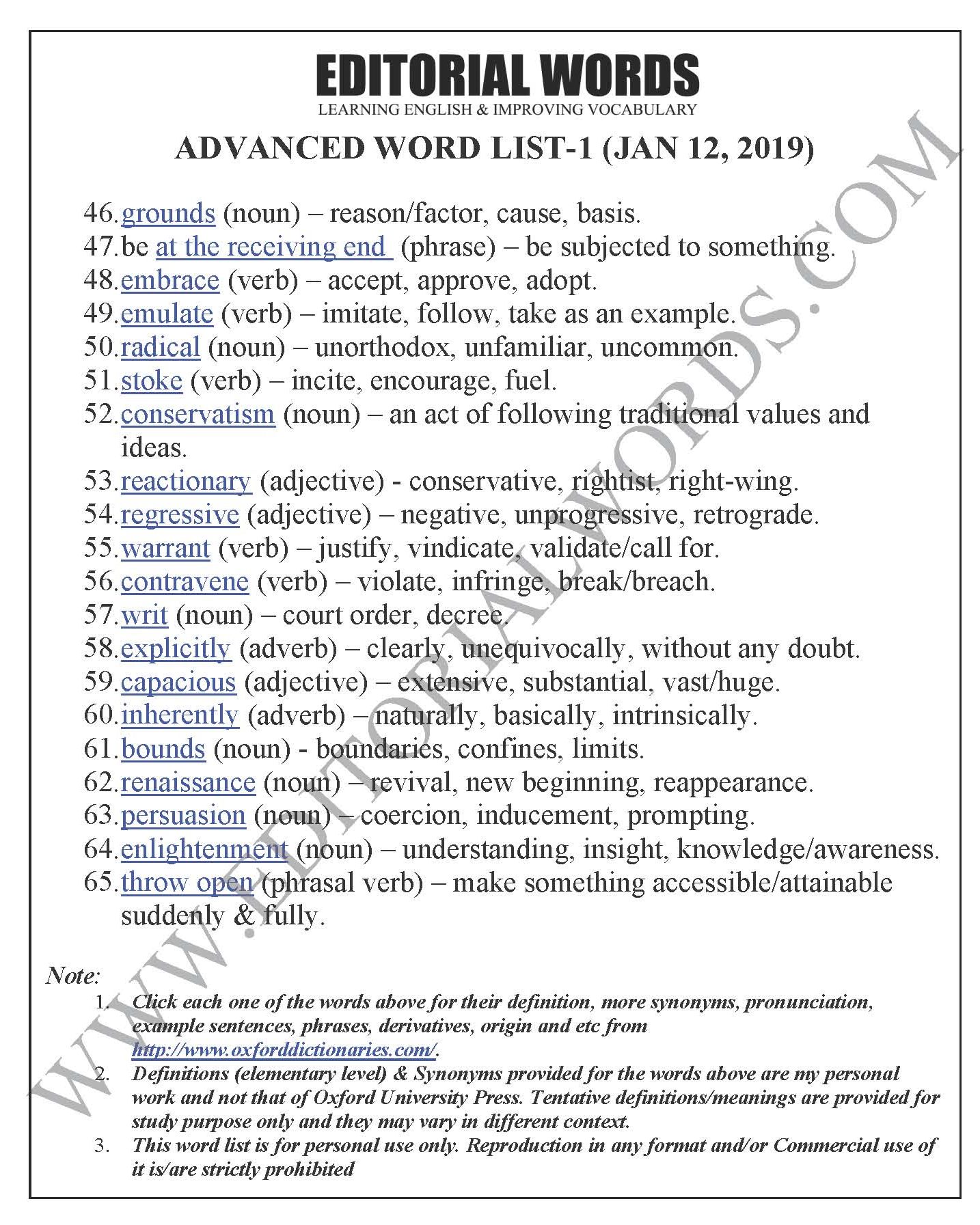 "Phrasal Verbs" We Learnt Last Week
"Idioms & Phrases" We Learnt Last Week
"Important Definitions" We Learnt Last Week
Recent Word Lists For The Hindu Editorial Articles
Recent Advanced Word Lists For The Hindu Lead Articles