The Hindu Lead Article (Making peace with Naya Pakistan) – Sep 03, 2018
The election of the eminent Pakistani cricketer, Imran Khan, as Prime Minister (albeit through a flawed election) has rekindled hopes among committed democrats in South Asia,… For further reading, visit "The Hindu". Below is today's advanced word list-1 for The Hindu Lead Article (Making peace with Naya Pakistan) – Sep 03, 2018.
To read this article, click here.
This preview is provided here with permission.  
Courtesy: The Hindu
Today's Advanced Word List 1 for The Hindu Lead Article (Making peace with Naya Pakistan) – Sep 03, 2018
:
make peace with (phrase) – to restore friendly relations with someone.
forge (verb) – build, form, create.
albeit (conjunction) – though, even though, however.
rekindle (verb) – revive, renew, restore.
dawn (noun) – beginning, start, initiation.
travails (noun) – ordeal, trouble; painful effort.
optimistic (adjective) – positive, confident, hopeful.
be lace with (verb) – strengthen, fortify, reinforce.
tinge (noun) – trace, touch/hint, flavour.
moot (verb) – questionable, problematic, controversial.
at the outset (phrase) – at the beginning.
neophyte (noun) – beginner, learner, novice.

pay a price

 (phrase) – experience the bad/unpleasant result of something.
machinations (noun) – schemes/plots, intrigues, conspiracies.
deep state (noun) – shadow government; influential decision-making bodies believed to be within government and it can be any agencies (e.g., military or any other).
replete with (adjective) – filled with, well supplied/stocked with, overloaded.
embody (verb) – incorporate, include, contain.
content (adjective) – contented, satisfied, pleased.
reiterate (verb) – repeat, say again, restate.
hackneyed (adjective) – overused, clichéd, common/ordinary.
spout (verb) – discharge, emit, issue.
alleviate (verb) – reduce, control, mitigate/moderate.
drumbeat (noun) – resounding, reverberation, echo.
infamy (noun) – bad name, bad reputation, condemnation.
tongue-in-cheek (adverb) – frisky, lively, high-spirited.
endear (verb) – inspire, attract, cherish/charm.
change_colour (phrase) – transform, change, alter.
dispensation (noun) – system, arrangement, organization.
holdover (noun) – someone who remains in a position from the past.
hold_out (phrasal verb) – keep going, survive, continue.
conjecture (noun) – guess, speculate/surmise, think.
cater to (verb) – provide for, accommodate, serve/entertain.
folly (noun) – foolishness, thoughtlessness, lack of foresight.
notwithstanding (preposition) – in spite of, despite, regardless of.
preponderant (adjective) – predominant, more powerful, superior.
co-opt (verb) – incorporate, assimilate, integrate/subsume.

gone are the days

(phrase) – to mean the time in the past that we could not find/get again.
insidious (adjective) – stealthy, tricky, underhand/dishonest.
repertoire (noun) – collection, stock, range.
trample on (verb) – treat with contempt, disregard/take for granted, encroach on.
euphoria (noun) – elation, excitement, delight/happiness.
milieu (noun) – environment, background, atmosphere.
room_for_manoeuvre (noun) – space/freedom to plan or act with an aim & interest.
lull (verb) –  mitigate, alleviate, pacify.
complacency (noun) – self-satisfaction, self-admiration; carelessness.
embark on (verb) – begin, start, undertake.
shibboleth (noun) – tradition, practice, procedure.
entrenched (adjective) – ingrained, established, embedded.
in the light of (phrase) – considering, taking into account, keeping in mind.
tailor (verb) – adapt, adjust, modify/change (for a particular purpose).
rally (verb) – gather, organize, join.
coexistence (noun) – concurrence, coincidence, synchrony.
step_in (phrasal verb) – intervene, intercede, become involved.
whomsoever (relative pronoun) – whosoever; formal term for whoever.
galvanise (verb) – inspire, spur, encourage.
implicitly (adverb) – completely, absolutely, totally.
cultivate (adjective) – improve, elevate, develop.
constituency (noun) – a group of people with common interests.
populism (noun) – related to policies that supposedly represent the opinions of ordinary people .
Note:   
Click each one of the words above for their definition, more synonyms, pronunciation, example sentences, phrases, derivatives, origin and etc from http://www.oxforddictionaries.com/.
Definitions (elementary level) & Synonyms provided for the words above are my personal work and not that of Oxford University Press. Tentative definitions/meanings are provided for study purpose only and they may vary in different context. 
This word list is for personal use only. Reproduction in any format and/or Commercial use of it is/are strictly prohibited.
Today's Advanced Word List 1 for The Hindu Lead Article (Making peace with Naya Pakistan) – Sep 03, 2018: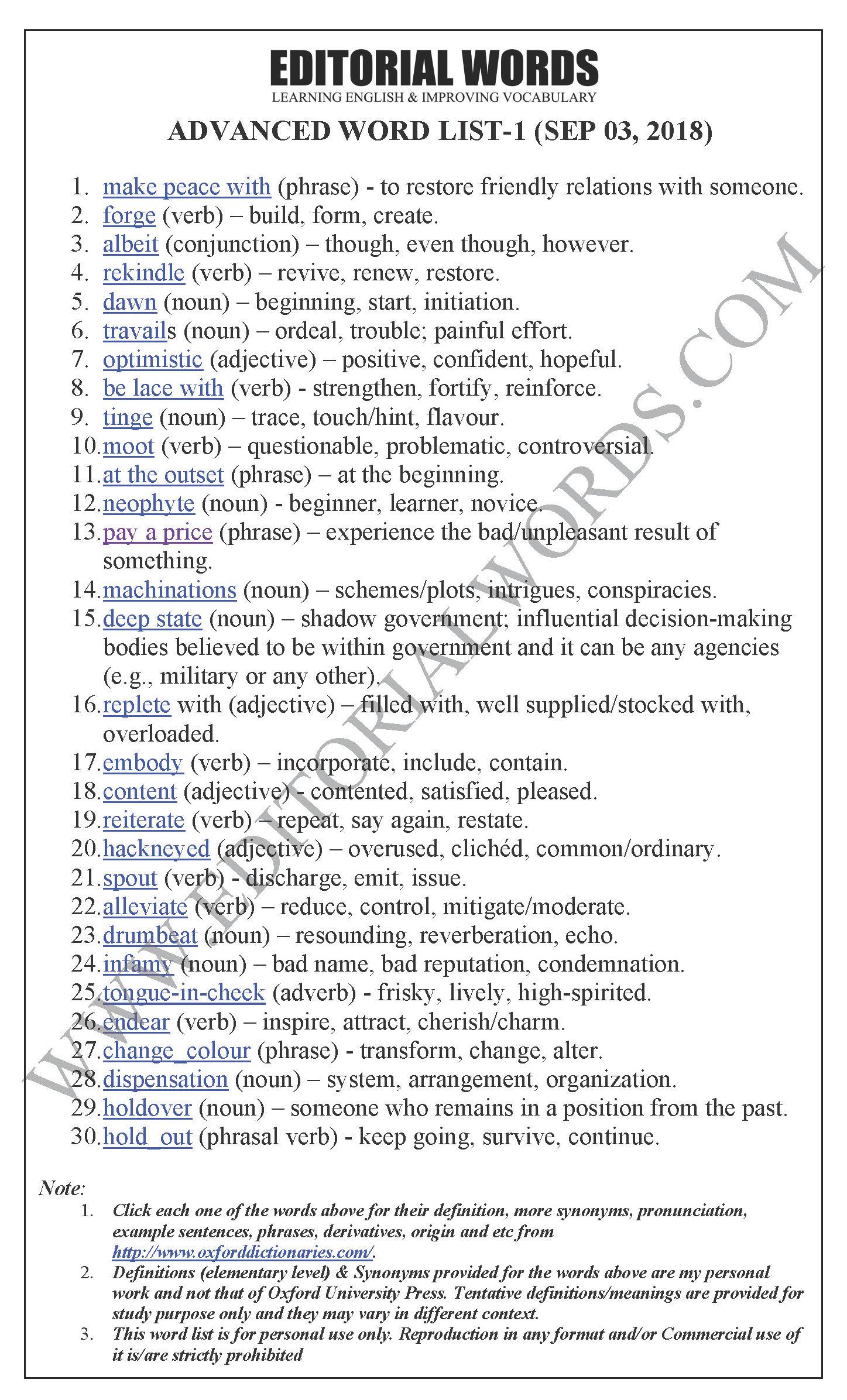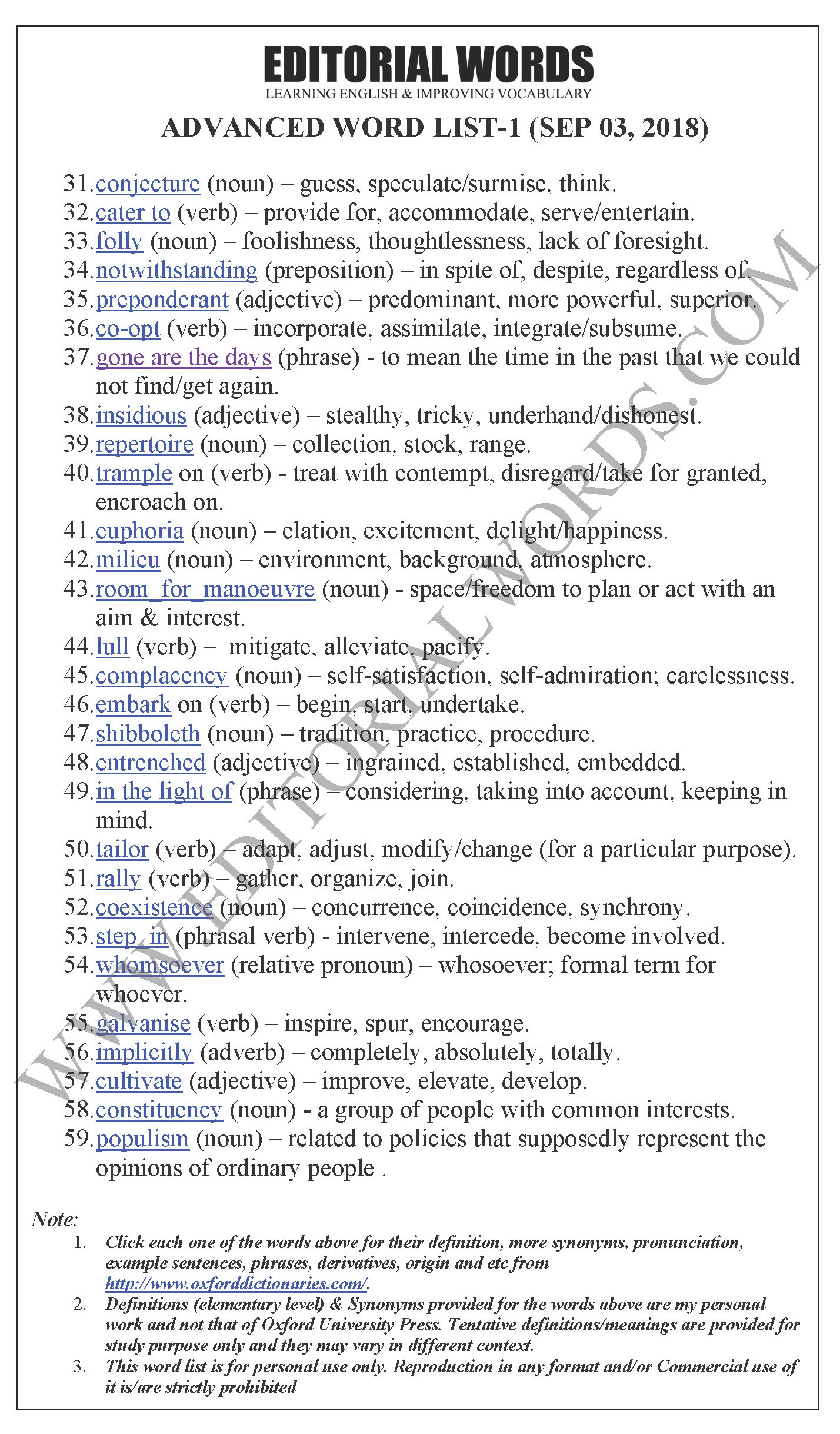 "Phrasal Verbs" We Learnt Last Week
"Idioms & Phrases" We Learnt Last Week