The Hindu Lead Article (India stares at water scarcity) – Jan 23, 2019
But something else, something urgent, something is already upon us. For further reading, visit "The Hindu". Below is today's advanced word list-1 for The Hindu Lead Article (India stares at water scarcity) – Jan 23, 2019.
To read this article, click here.
This preview is provided here with permission.  
Courtesy: The Hindu
Today's Advanced Word List 1 for The Hindu Lead Article (India stares at water scarcity) – Jan 23, 2019
:
stare (verb) – look fixedly, gaze, watch closely.
scarcity (noun) – shortage, lack, insufficiency.
drought (noun) – lack/dry spell, lack of rain, shortage of water.
pluralism (noun) – (of people) the practice exist in harmony irrespective of various differences.
federalism (noun) – a system of government in which establishments such as states or provinces share power with a national government.
let down (phrasal verb) – fail to support, disappoint, abandon/neglect.
peninsular (adjective) – describing a part of land surrounded by water on its three sides, but connected to the mainland.
onset (noun) – start, beginning/opening, appearance.
dwell on (phrasal verb) – linger over, think about, mull over.
tidings (noun) – news, report; information.
lie at (verb) – be situated, be located, be placed.
threshold (noun) – lower limit, starting point, the level (to react to something).
aquifer (noun) – an underground layer of water-bearing rock.
plummet (verb) – fall steeply/sharply, plunge, tumble.
wither (verb) – diminish, dwindle, weaken/lessen; cease to exist.
livestock (noun) – farm animals (cattle, goats & etc).
sputter (verb) –  make a noise, crack/buzz, hiss.

water-rationing

(noun) – regular supplying of a fixed amount of water to a family like other food supplies/provisions .
time and again (phrase) – frequently, often, repeatedly.
redemptively (adverb) – compensatingly, offsettingly.
nudge (verb) – encourage, prompt, stimulate/coax.
prod (verb) – prompt, encourage, persuade.
famine (noun) – scarcity of food, food shortages; paucity/poverty.
scant (adjective) – little, minimal, negligible/meagre.
relentless (adjective) – persistent, continuing, constant.
calibre (noun) – standard, level/grade, quality.
veracity (noun) – truthfulness, accuracy, correctness.
deficit (noun) – shortfall, deficiency, shortage.
aggravate (verb) – worsen/make worse, exacerbate, compound.
chronically (adverb) – in a persistent way, long-standingly, constantly.
power-outage (noun) – power cut, power supply failure.
torment (verb) – afflict, distress, plague.
agrarian (adjective) – relating to cultivating/farming.

loan waiver

 (noun) – the borrower (farmer) is exempted from repayment of loan due to a poor monsoon or natural calamity and the Centre or State governments which offer loan waiver, will take over the liability of farmers and repay the banks.
aphasia (noun) – a mental condition in which people are with brain damage and so the ability to grasp the meaning of spoken words is chiefly impaired.
amnesia (noun) – forgetfulness, poor memory, tendency to forget.
parched (adjective) – dried up, waterless, scorched/arid.
sharded (adjective) – fragmented, broken.
panting (adjective) – out of breath.
drooping (adjective) – weakening , languishing; dejected.

anti-incumbency

 (noun) – a situation which is against elected officials currently in power; discontent against ruling government/ party in power.
ouster (noun) – dismissal, expulsion, overthrow/removal.
impatience (noun) – discontent, dissatisfaction/displeasure; restlessness.
rage (verb) – be angry, be furious/ incensed; oppose/protest strongly.
oust (verb) – overthrow, remove, overturn.
four-square (adverb) – firmly, resolutely, strongly in support of someone.
prequel (noun) – a literary, dramatic, or movie work whose story precedes that of a previous work, by focusing on events that occur before the original narrative.
illusion (noun) – appearance, impression, imitation.
L'affaire (noun) – French word meaning "the case".
mess-up (noun) – muddle, jumble, tangle.
take for granted (adjective/phrase) – relating to something which got much less appreciation due to its over familiarity.
falter (verb) – stagger, stumble/flounder, halt/pause.
lopsidedness (noun) – unevenness, one-sidedness, asymmetrical one.
prodigality (noun) – an act of spending money/other resources carelessly.
in the midst of (phrase) – in the middle of.
Note:  
Click each one of the words above for their definition, more synonyms, pronunciation, example sentences, phrases, derivatives, origin and etc from http://www.oxforddictionaries.com/.
Definitions (elementary level) & Synonyms provided for the words above are my personal work and not that of Oxford University Press. Tentative definitions/meanings are provided for study purpose only and they may vary in different context. 
This word list is for personal use only. Reproduction in any format and/or Commercial use of it is/are strictly prohibited.
Today's Advanc
ed Word List 1 for The Hindu Lead Article (India stares at water scarcity) – Jan 23, 2019
: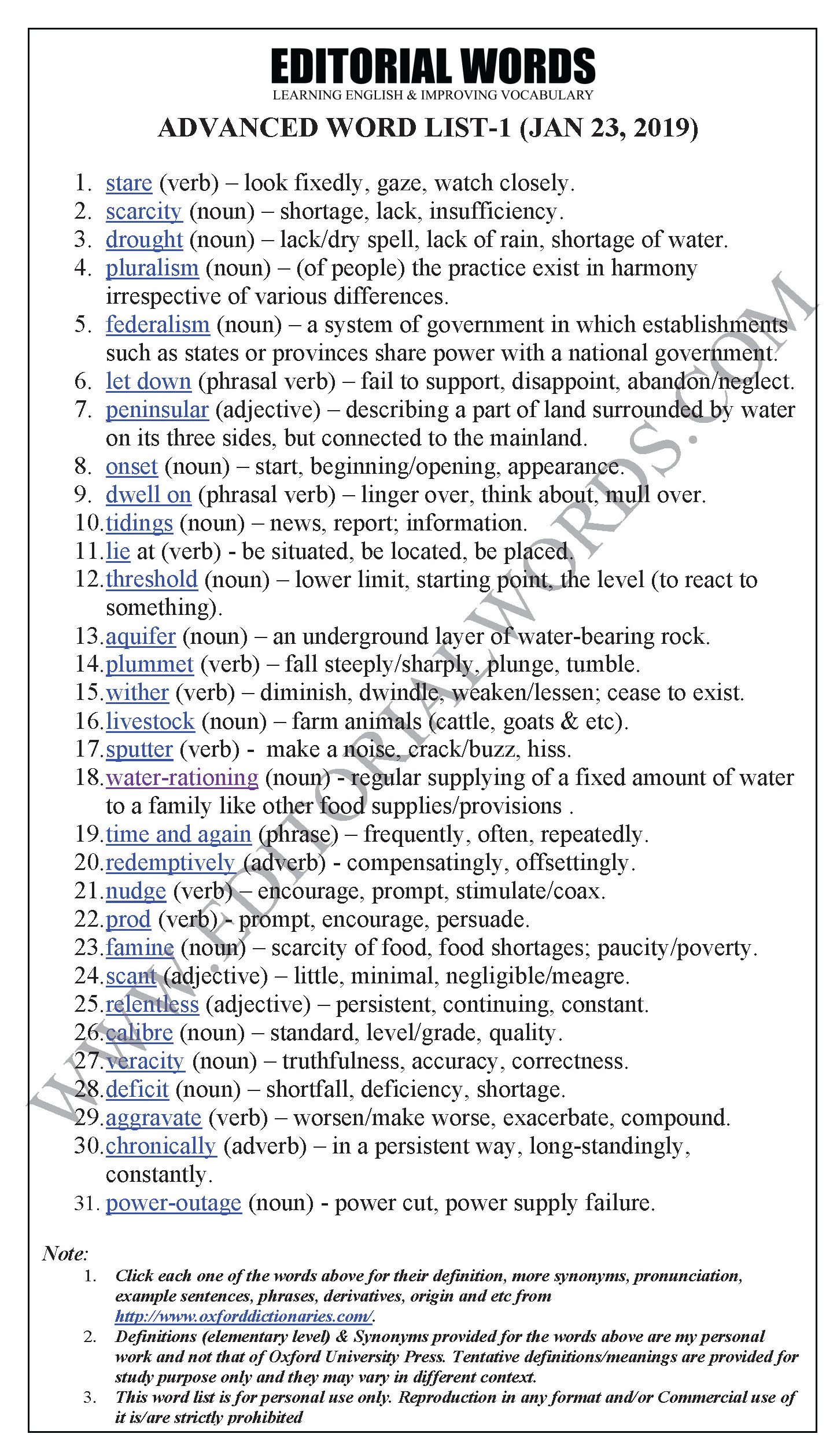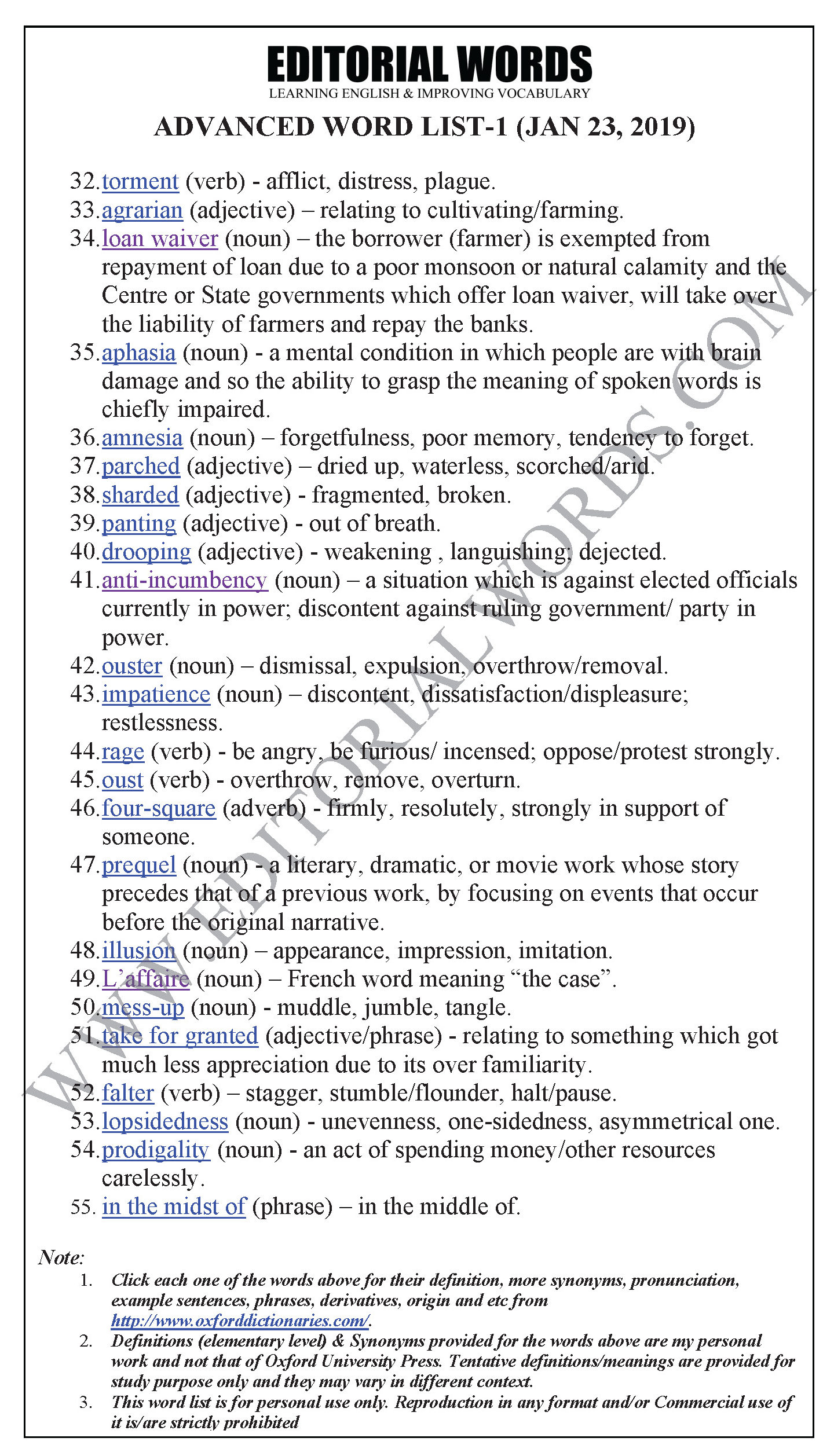 "Phrasal Verbs" We Learnt Last Week
"Idioms & Phrases" We Learnt Last Week
"Important Definitions" We Learnt Last Week
Recent Word Lists For The Hindu Editorial Articles
Recent Advanced Word Lists For The Hindu Lead Articles