The Hindu Lead Article (Getting the economy back on track) – Nov 17, 2018
Economics is a technical subject of interdependent variables and parameters, that allows for objective mathematical and statistical analysis. For further reading, visit "The Hindu". Below is today's advanced word list-1 for The Hindu Lead Article (Getting the economy back on track) – Nov 17, 2018.
To read this article, click here.
This preview is provided here with permission.  
Courtesy: The Hindu
Today's Advanced Word List 1 for The Hindu Lead Article (Getting the economy back on track) – Nov 17, 2018
:
objective (adjective) – factual, actual/real, empirical.
ignorant (noun) – unaware, unfamiliar with

, unacquainted with

.

put a spin (and gloss) on

(phrase) – to alter/change a real report or narrative to one's advantage.
imminent (adjective) – close/near, upcoming, impending.
retrievable (adjective) – reclaimable, recoverable, restorable/curable.
turnaround (noun) – an unexpected change.
loom (verb) – be imminent/close, impend, threaten.
credible (adjective) – convincing, acceptable; reasonable/valid.

incentive-driven

(adjective) – motivating, encouraging, stimulating.
reality check (noun) – something which helps us to see a situation with the real facts than ideas, concepts, hopes & etc.
obvious (adjective) – crystal clear, perceivable, distinct.
demonetisation (noun) – the act of deprive currency unit (note/coin) of its status as money.
intrusive (adjective) – interrupting, unwanted, inescapable.
obnoxious (adjective) – very unpleasant; disagreeable, annoying/irritating/disgusting.
gong (noun) – chime, alarm, bell (a circular piece of metal producing a loud sound when struck with a hammer).
reverberate (verb) – (of a loud noise) echo, repeat; have effects.

non-performing assets

(NPAs) (noun) – bad loans, troubled accounts, stressed loans; an account where principal and/or interest remains overdue for a period of time.
unviable (adjective) – not capable/feasible.
contagion (noun) – the spreading of a bad and dangerous idea.
abysmally (adverb) – extremely bad way.
commensurately (adverb) – appropriately, relatively, proportionately.
grossly (adverb) – flagrantly, obviously; extremely/excessively.
steeply (adjective) – sharply, suddenly, largely.
nevertheless (adverb) – in spite of that, nonetheless, however.
adversity (noun) – a difficult situation; hardship, difficulty.
adverse (adjective) –  unfavourable, disadvantageous.
crunch (noun) – critical point, crux, crisis.

foreign exchange reserve

 or forex (noun) – Foreign exchange. Forex (exchange) reserves are the amounts of assets /money in foreign currencies that a country has in its central bank (in India, it is Reserve bank of India).
galvanise (verb) – inspire, spur, encourage.
thrust (noun) – the principal purpose/intention, significance, essence.
coercion (noun) – force, pressure, enforcement.
concomitant (adjective) – associated, related, connected.
coefficient (noun) – factor, multiplier.
imperative (adjective) – important, crucial, critical/essential.
incentivise (verb) – encourage, motivate, galvanize.
optimism (noun) – hopefulness, confidence, positiveness.
squarely (adverb) – precisely, exactly, directly.
blueprint (noun) – model, plan, template/framework.
Socialism (noun) – it can be defined as "a system of social organization in which private property and the distribution of income are subject to social control". In other words, it's a state-controlled economy in which the state controls the means of production: factories, offices, resources, and firms. There are also forms of socialism in which the means of production are controlled and owned by workers.
triumvirate (noun) – a group of three powerful or notable people/things.
Note:   
Click each one of the words above for their definition, more synonyms, pronunciation, example sentences, phrases, derivatives, origin and etc from http://www.oxforddictionaries.com/.
Definitions (elementary level) & Synonyms provided for the words above are my personal work and not that of Oxford University Press. Tentative definitions/meanings are provided for study purpose only and they may vary in different context. 
This word list is for personal use only. Reproduction in any format and/or Commercial use of it is/are strictly prohibited.
Today's Advanc
ed Word List 1 for The Hindu Lead Article (Getting the economy back on track) – Nov 17, 2018: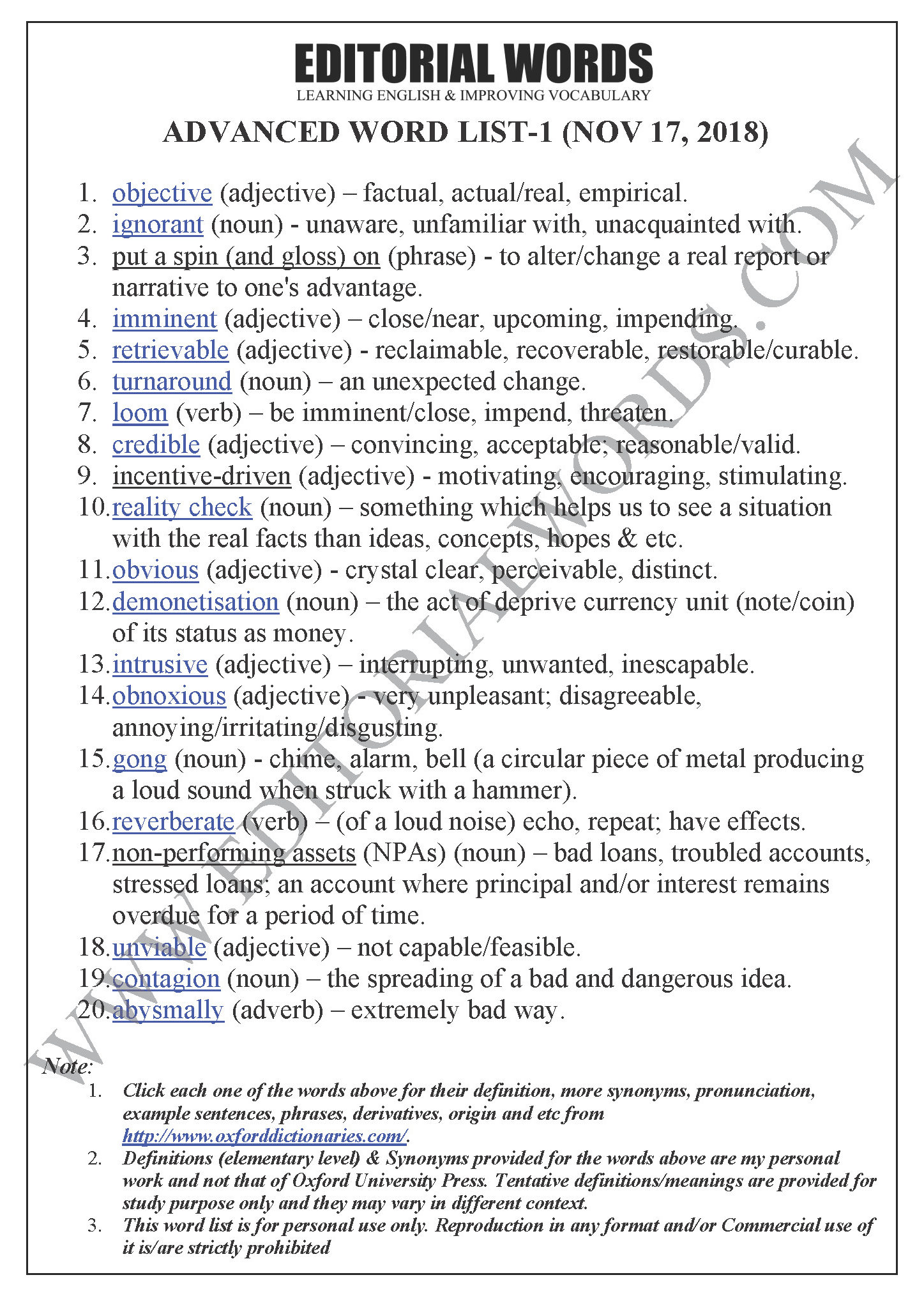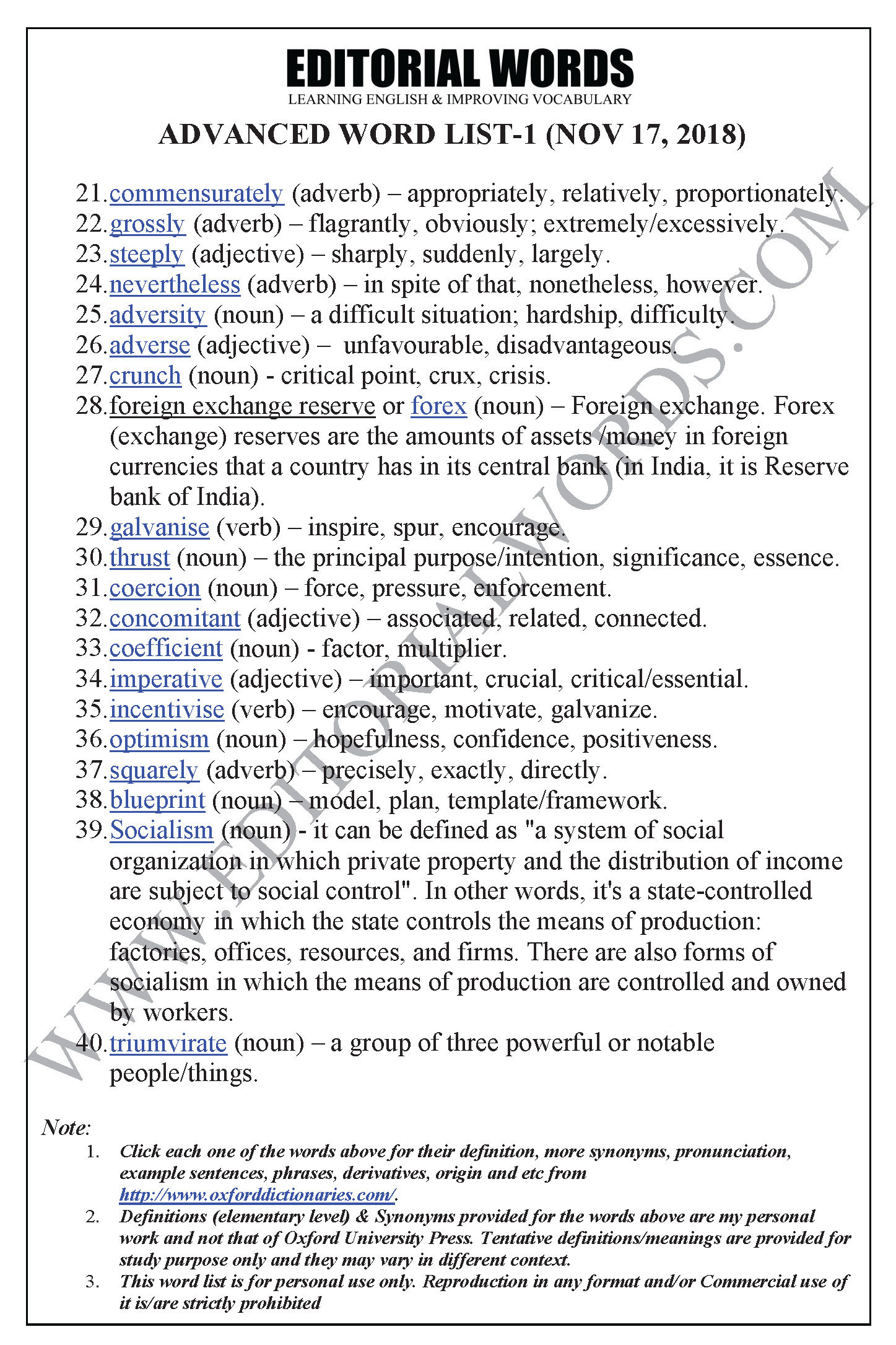 "Phrasal Verbs" We Learnt Last Week
"Idioms & Phrases" We Learnt Last Week
"Important Definitions" We Learnt Last Week
Recent Word Lists For The Hindu Editorial Articles
Recent Advanced Word Lists For The Hindu Lead Articles