The Hindu Lead Article (Everyone is afraid of data) – Feb 12, 2019
Over the past two weeks, headlines have focused on declining employment between 2011-12 and 2016-17; loss of jobs under the National Democratic Alliance government,… For further reading, visit "The Hindu". Below is today's advanced word list-1 for The Hindu Lead Article (Everyone is afraid of data) – Feb 12, 2019.
To read this article, click here.
This preview is provided here with permission.  
Courtesy: The Hindu
Today's Advanced Word List 1 for The Hindu Lead Article (Everyone is afraid of data) – Feb 12, 2019
:
suppress (verb) – conceal, hide, censor/redact.
demonetisation (noun) – the act of deprive currency unit (note/coin) of its status as money.
suppression (noun) – concealment, restraint, holding back.
incite (verb) – stir up, provoke, egg on.
passion (noun) – rage, temper, outburst of anger.
differential (adjective) – different, dissimilar, contrasting.
hold up (phrasal verb) – delay, obstruct, impede/thwart.
in a poor light (phrase) – to give a poor impression.
recur (verb) – happen again, occur again, repeat.
misquote (verb) – misreport, misrepresent, misstate.
appetite (non) – craving, longing, desire/liking.
incessant (adjective) – unending/permanent, constant/continual, unabating.
demographer (noun) – an expert in the statistical study of populations, especially human beings.
bureaucratic (adjective) – institutional, procedural, official/governmental.
exile (noun) – banishment

, expulsion, deportation.

bottle up (phrasal verb) – suppress, repress, restrain.
genie (noun) – a guardian, protective or magical spirit; an all-powerful spirit (a "jinni") residing in a magical oil lamp of Aladdin.
malnutrition (noun) – undernourishment, undernutrition, poor/unhealthy/inadequate diet.
warrant (verb) – justify, vindicate, validate/call for.
cherry pick (verb) – pick and choose; look at the various things that are on display and select the best or the most valuable from among them. (Courtesy: The Hindu Know Your English)

stunting

 (noun) – low height for age. Stunted children typically have short heights and low body masses for their age group.
wasting (noun) – low weight for height. Wasted children who are thin for their height.

stunted

 (adjective) – relating to children who are too short for their age.
bare bones (noun) – the fundamental framework/structure/ of something.
rear (verb) – breed, raise (animals).
livestock (noun) – farm animals (cattle, goats & etc).
attrition (noun) – wearing away, weakening/debilitation; reduction of work force or the strength of someone.
vicious (adjective) – serious, dangerous, dreadful.
fuel (verb) – encourage, intensify, nurture.
suspicion (noun) – misgiving, doubt/qualm, scepticism.
onus (noun) – responsibility, duty, burden.
squarely (adverb) – precisely, exactly, directly.
in a hurry (phrase) – doing things quickly/hastily/rapidly.
augment (verb) – upgrade, boost, improve.
academia (noun) – the community related to the education, research, etc.
Note:  
Click each one of the words above for their definition, more synonyms, pronunciation, example sentences, phrases, derivatives, origin and etc from http://www.oxforddictionaries.com/.
Definitions (elementary level) & Synonyms provided for the words above are my personal work and not that of Oxford University Press. Tentative definitions/meanings are provided for study purpose only and they may vary in different context. 
This word list is for personal use only. Reproduction in any format and/or Commercial use of it is/are strictly prohibited.
Today's Advanc
ed Word List 1 for The Hindu Lead Article (Everyone is afraid of data) – Feb 12, 2019
: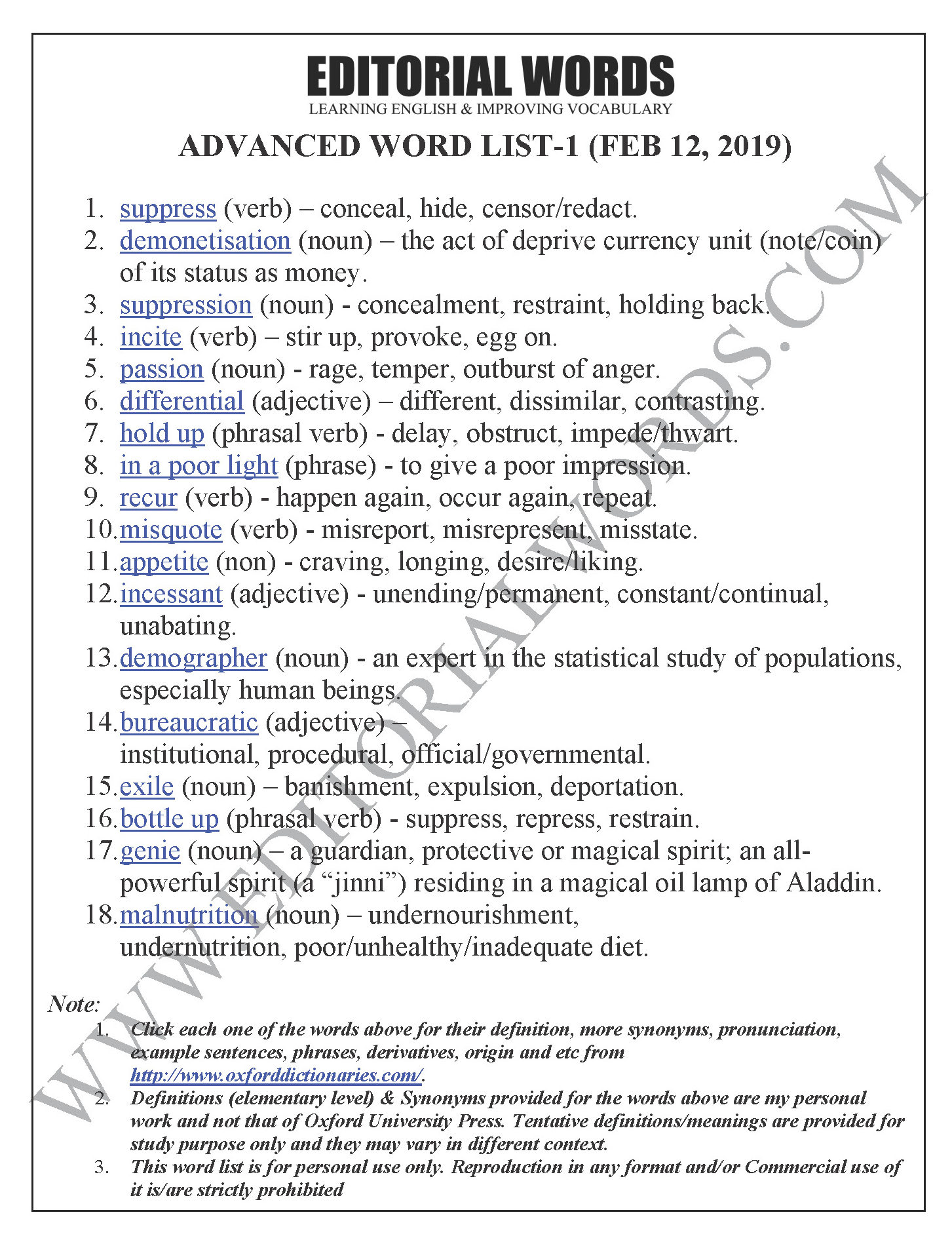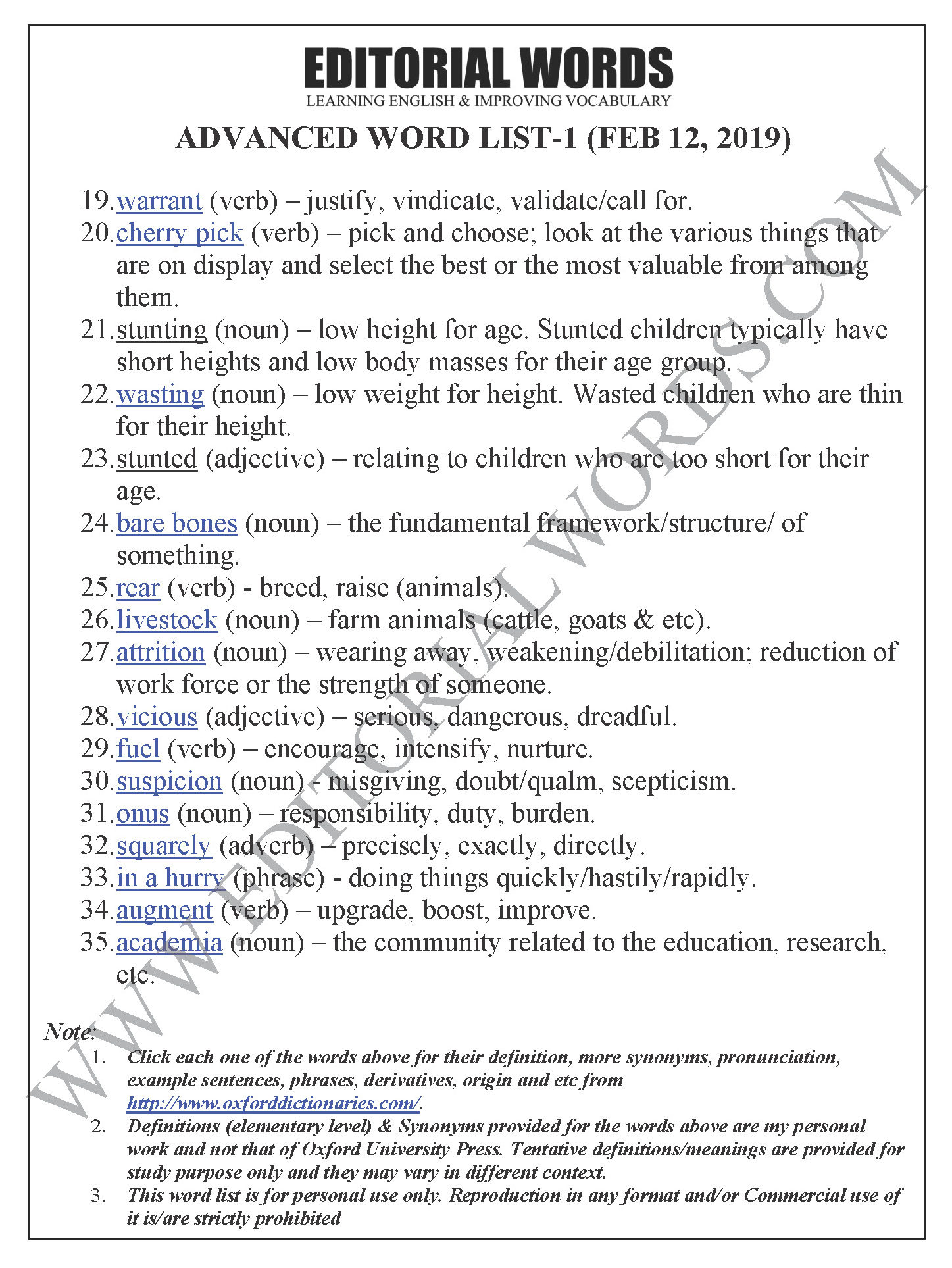 "Phrasal Verbs" We Learnt Last Week
"Idioms & Phrases" We Learnt Last Week
"Important Definitions" We Learnt Last Week
Recent Word Lists For The Hindu Editorial Articles
Recent Advanced Word Lists For The Hindu Lead Articles