The Hindu Lead Article (Down, but definitely not out) – Mar 14, 2019
As the fight against the dreaded terrorist group, the Islamic State (IS) is drawing to a close, issues such as the future of terrorism in West Asia and…For further reading, visit "The Hindu". Below is today's advanced word list-1 for The Hindu Lead Article (Down, but definitely not out) – Mar 14, 2019.
To read this article, click here.
This preview is provided here with permission.  
Courtesy: The Hindu
Today's Advanced Word List 1 for The Hindu Lead Article (Down, but definitely not out) – Mar 14, 2019
:
on the verge of

(

phrase) – to be at the point/situation where something is about to happen.
wipe out (phrasal verb) – eliminate, abolish, remove (completely).
apparatus (noun) – structure, system/framework, organization.
wittingly (adverb) – deliberately, knowingly, intentionally/purposely.
vortex (noun) – countercurrent, counterflow, whirlwind/eddy (circular movement). Figuratively to refer confusion, disturbance, commotion.
food for thought (phrase) – something to think about, something to be seriously considered.
sheen (noun) – shine, lustre; sparkle/brightness.
credible (adjective) – convincing, acceptable; reasonable/valid.
extinction (noun) – disappearance, destruction, elimination/eradication.
formidable (adjective) – strong, powerful, mighty.
caliphate (noun) – (Arabic: khilāfa) is an area containing an Islamic steward known as a caliph (Arabic: khalīfah), chief Muslim ruler-a person considered a religious successor to the Islamic prophet, Muhammad.
pay off (phrasal verb) – be successful, succeed, be effective,, get results.
semblance (noun) – resemblance, likeness, similarity/similar nature.
wind up (phrasal verb) – conclude, bring to an close, end/finish.
hole up (phrasal verb) – hide oneself, conceal oneself, secrete oneself.
rescue (noun) – an act of saving (from difficulty/danger); bail out, lend a hand.
someone's clutches (phrase) – power, control, domination.
sanctuary (noun) – refuge, haven, hideout/hiding place.
upstart (noun) – a person or group has risen suddenly to a position of power/wealth.
hierarchy (noun) – ranking, grading; class system.
lethal (adjective) – deadly, fatal, killing.
unleash (verb) – let loose, release, set free.
play the card of (phrase)  – use/utilize something (an idea/issue) for an advantage.
extremism (noun) – radicalism, fanaticism, dogmatism.
savagery (noun) – brutality, barbarity/cruelty; inhumanity.
facet (noun) – aspect, feature, characteristic/nuance.
intertwine (verb) – entwine, interweave, weave together.
sordid (adjective) –  disreputable, dishonourable, shameful.
lose sight of (phrase) –  pay no attention to,  be lax about, skip.
parentage (noun) – origins, roots/derivation, background.
strip of (verb) – take away from, relieve, deprive.
disillusion (verb) – disenchant, discontent, disappoint.
disregard (noun) – inattention

, heedlessness/carelessness, negligence.

dilemma (noun) – quandary, predicament, difficulty.
compassion (noun) – 

sympathy, feeling, empathy/leniency.

relentlessly (adverb) – steadily, firmly/determinedly, unwaveringly.
repatriation (noun) – the act of  sending people to their own country.
cocktail (noun) – mixture of different substances.
spur (verb) – stimulate, galvanize, encourage/motivate.

wean away

 (phrasal verb) – to  detach, disconnect, separate someone from depending on something.
swift (adjective) – rapid, quick, sudden/prompt.
disenchantment (noun) – disappointment, dissatisfaction, discontent.
sneak (verb) – move furtively/stealthy .
analogous (adjective) – comparable, parallel, similar.
infiltration (noun) – encroachment, violation, infringement.
trickle (noun) – 

a small group of people moving slowly.

insidious (adjective) – stealthy, tricky, underhand/dishonest.
gain ground (phrase) – make headway, make progress.
conducive (adjective) – favourable

, beneficial, advantageous.

fodder (noun) – a raw material for a specific use.
be in the same boat (phrase) – be in the same difficult situations like others.
Click each one of the words above for their definition, more synonyms, pronunciation, example sentences, phrases, derivatives, origin and etc from http://www.oxforddictionaries.com/.
Definitions (elementary level) & Synonyms provided for the words above are my personal work and not that of Oxford University Press. Tentative definitions/meanings are provided for study purpose only and they may vary in different context. 
This word list is for personal use only. Reproduction in any format and/or Commercial use of it is/are strictly prohibited.
Today's Advanc
ed Word List 1 for The Hindu Lead Article (Down, but definitely not out) – Mar 14, 2019
: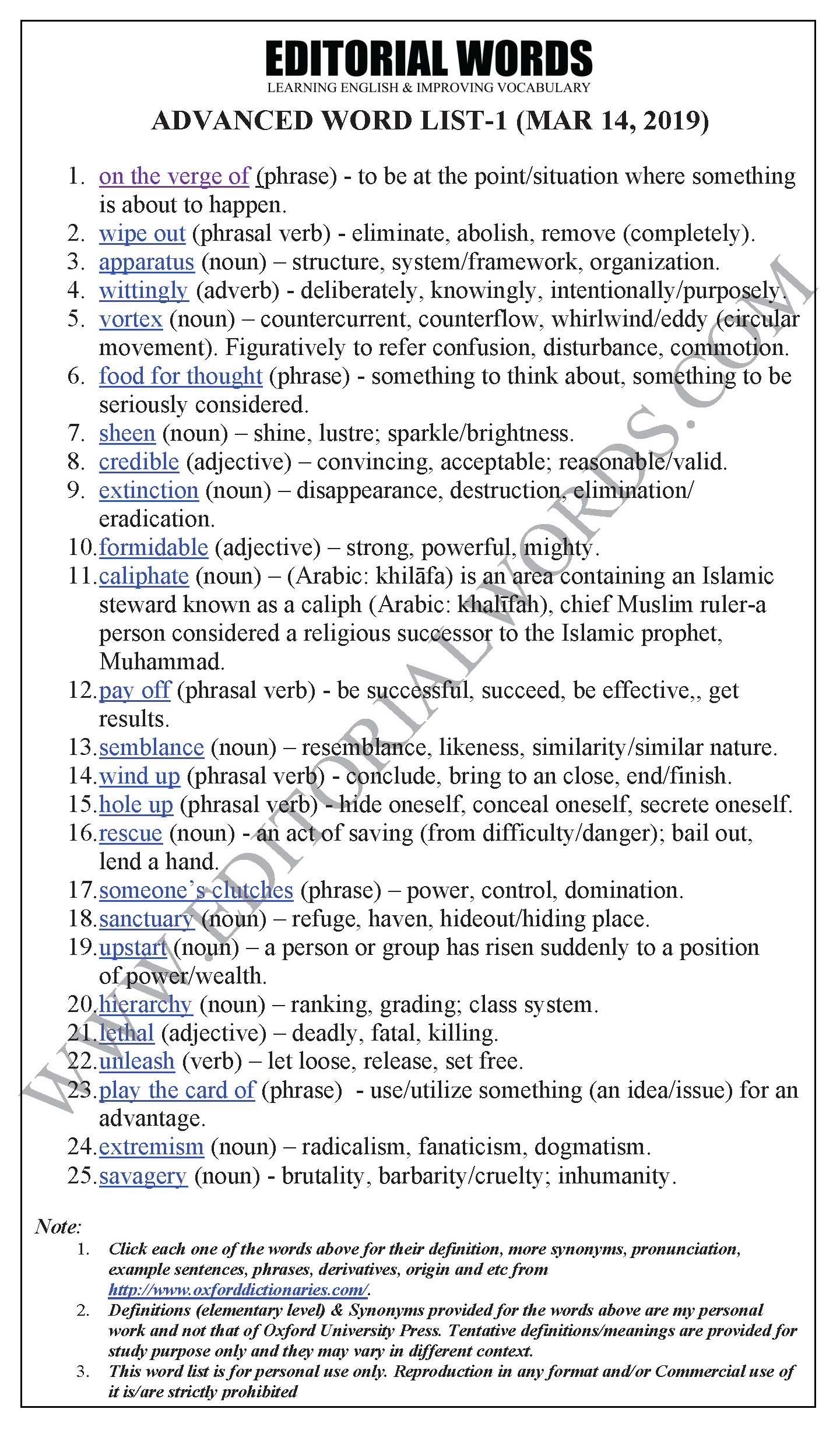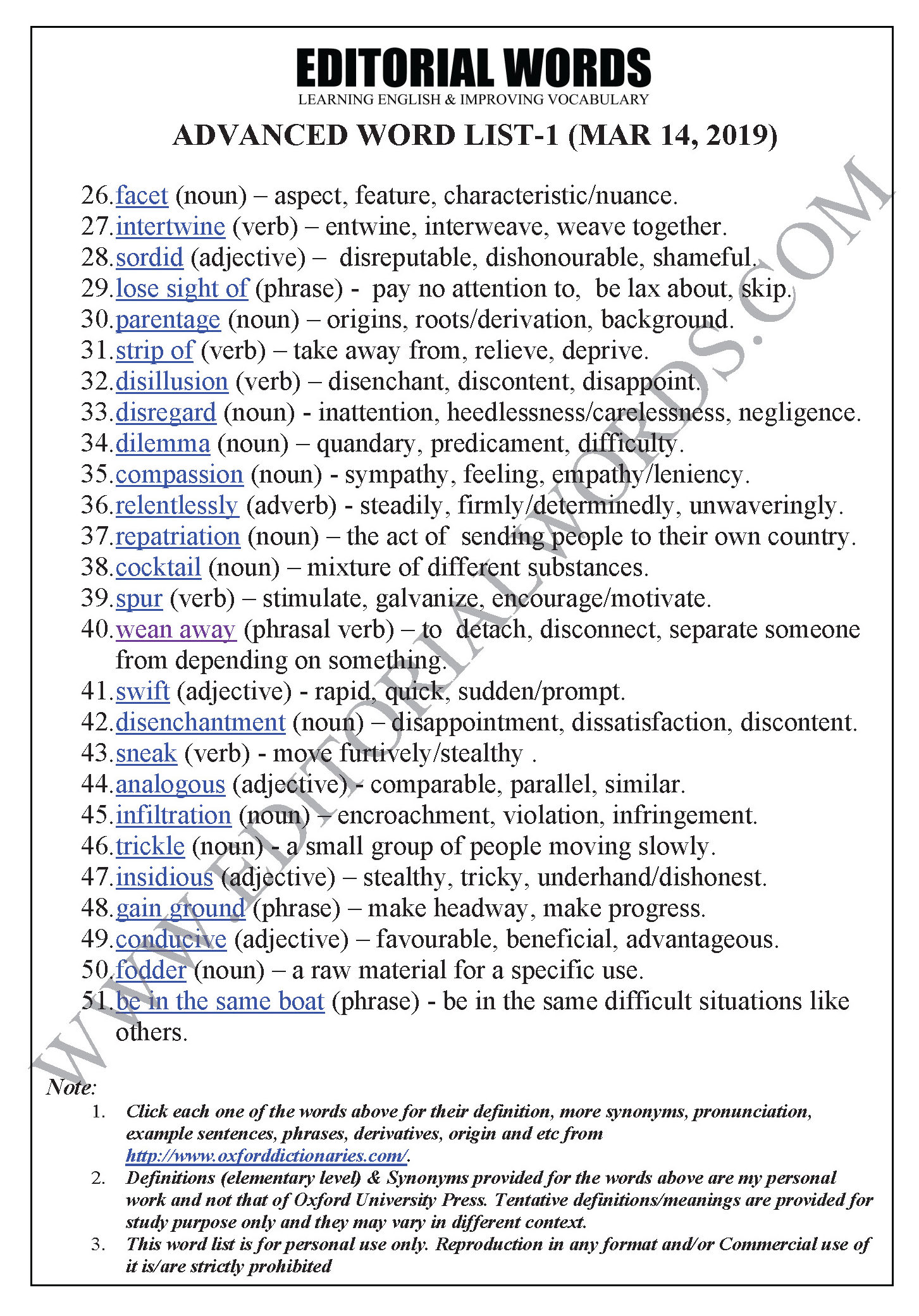 "Phrasal Verbs" We Learnt Last Week
"Idioms & Phrases" We Learnt Last Week
"Important Definitions" We Learnt Last Week
Recent Word Lists For The Hindu Editorial Articles
Recent Advanced Word Lists For The Hindu Lead Articles