The Hindu Lead Article (A solution in search of a problem) – Jan 11, 2019
If the number of demands for implementing reforms is any guide, India's reservation system is clearly in disarray. For further reading, visit "The Hindu". Below is today's advanced word list-1 for The Hindu Lead Article (A solution in search of a problem) – Jan 11, 2019.
To read this article, click here.
This preview is provided here with permission.  
Courtesy: The Hindu
Today's Advanced Word List 1 for The Hindu Lead Article (A solution in search of a problem) – Jan 11, 2019
:
disarray (noun) – disorder, confusion, disorganization.
band-aid (modifier) – temporary (solution).
prevalent (verb) – widespread, usual/common, ubiquitous.
affirmative action (noun) – it means positive steps taken to increase the representation of women and minorities in areas of employment, education, and culture from which they have been historically excluded.
arsenal (noun) – range, line-up, collection.
implications (noun) – consequence/outcome, ramification, repercussion.
criterion (noun) – basis, standard, norm. (criteria is the plural form of criterion).

creamy layer

 (noun) – income ceiling for OBC reservation under which children of persons having a gross annual income of Rs 8 lakh or above for a period of three consecutive years would fall under the creamy layer category and would not be entitled to the benefit of reservation available to Other Backward Classes.
well-off (adjective) – wealthy, rich, affluent.
threshold (noun) – lower limit, starting point, the level (to react to something).
household (noun) – family, house.
inflation (noun) – increase of price level of goods & services & vice versa decrease of currency value.
anticipate (verb) – expect, foresee, precede.
win-win (adjective) – relating to a situation in which each party will gain something.
call for (phrasal verb) – require, publicly ask/necessitate, demand.
outpace (verb) – surpass, outshine, go faster than.
constraint (noun) – restriction, impediment, obstacle.
lie in (phrase verb) – be present, exist.
foregone (adjective) – past, previous, earlier.
entrenched (adjective) – deep-rooted, established, irremovable/persistent.
redundant (adjective) – unnecessary/useless, not required, inessential.
from scratch (phrase) – from the very beginning.
blunt (adjective) – straightforward, direct, unequivocal.
sobering (adjective) – sensible/thoughtful; logical, realistic.

ground reality

 (noun) – practical condition/situation.
grim (adjective) – depressing

, distressing, upsetting.

in spite of (phrase) – despite, notwithstanding, regardless of.
grievance (noun) – complaint, criticism, objection/protest.
imply (verb) – say indirectly, suggest, hint.
ills (noun) – problems, troubles, difficulties.
framework (noun) – structure, scheme/system, organisation.
mobility (noun) – adaptability, flexibility, versatility.
entrepreneurship (noun) – the process/activity of setting up a business.
partake (verb) – participate, take part/join, engage.
inclination (noun) – tendency, disposition, desire/wish.
detract from (verb) – diminish, reduce, lessen.

out-of-the-box thinking

(phrase) – thinking creatively/unconventionally/differently.
Note:   
Click each one of the words above for their definition, more synonyms, pronunciation, example sentences, phrases, derivatives, origin and etc from http://www.oxforddictionaries.com/.
Definitions (elementary level) & Synonyms provided for the words above are my personal work and not that of Oxford University Press. Tentative definitions/meanings are provided for study purpose only and they may vary in different context. 
This word list is for personal use only. Reproduction in any format and/or Commercial use of it is/are strictly prohibited.
Today's Advanc
ed Word List 1 for The Hindu Lead Article (A solution in search of a problem) – Jan 11, 2019
: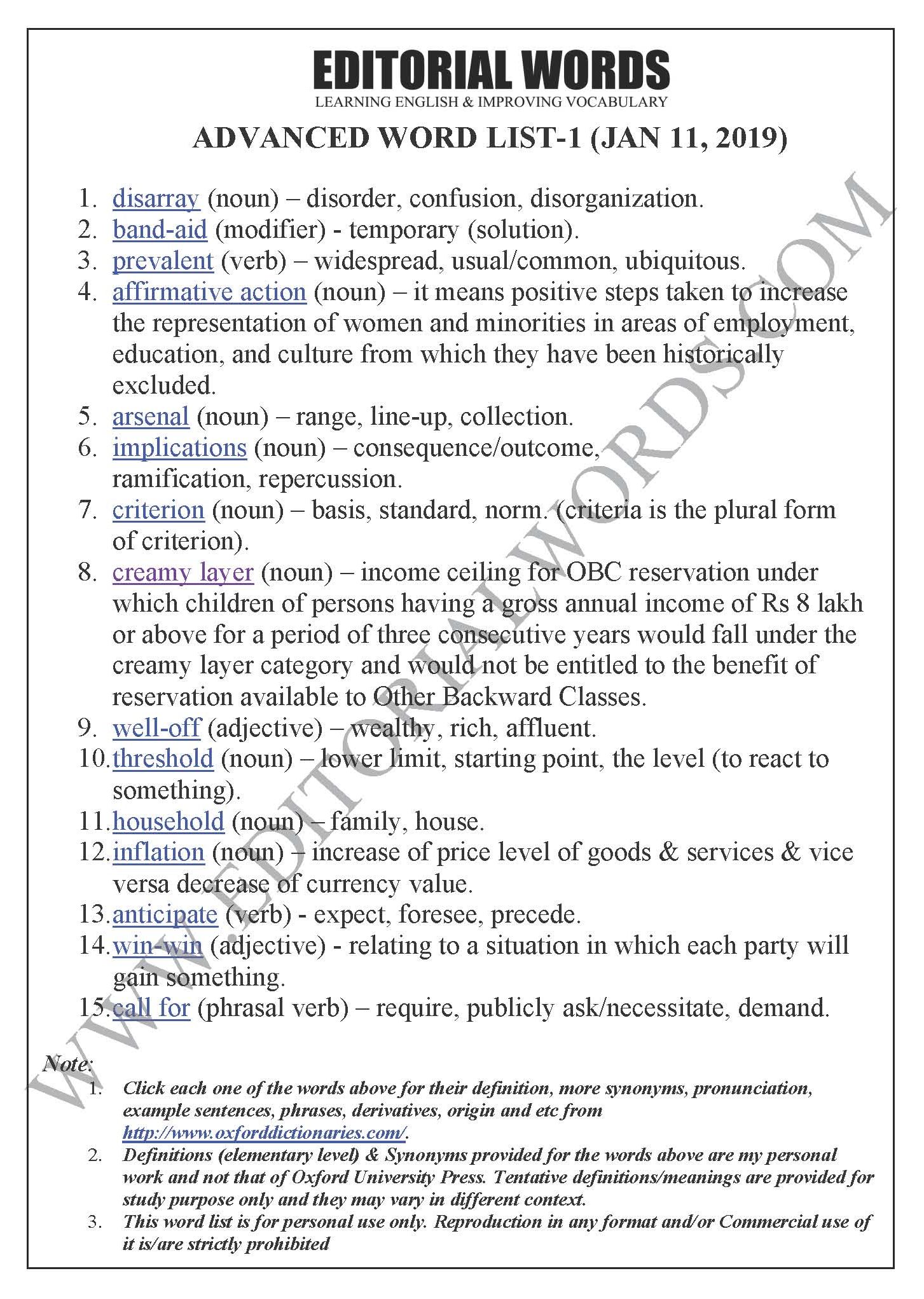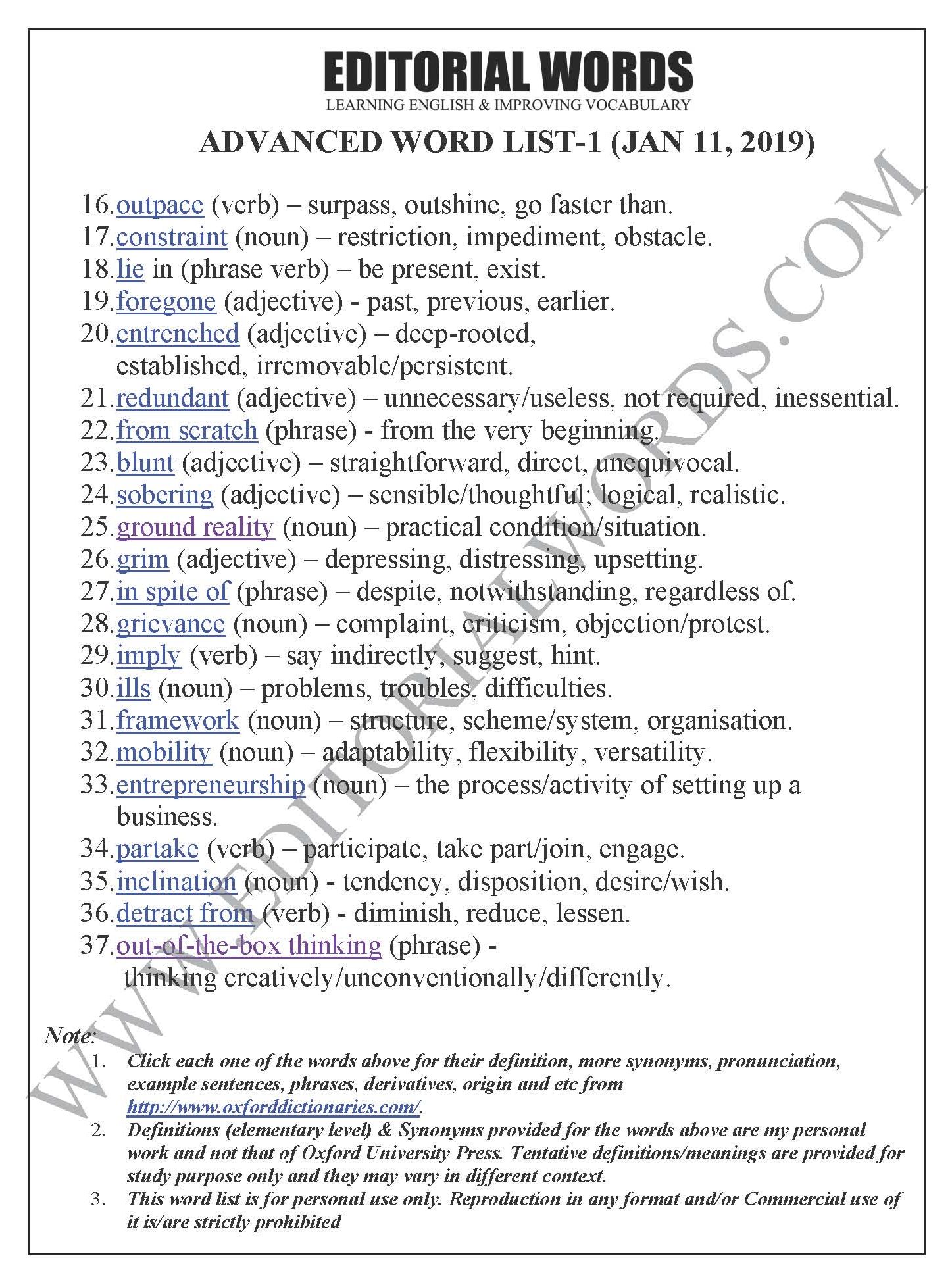 "Phrasal Verbs" We Learnt Last Week
"Idioms & Phrases" We Learnt Last Week
"Important Definitions" We Learnt Last Week
Recent Word Lists For The Hindu Editorial Articles
Recent Advanced Word Lists For The Hindu Lead Articles