The Hindu Editorial (The power of two) – Mar 13, 2019
Parliamentary elections in India have increasingly been influenced by State-level political variables beyond the performance of the ruling parties and the Opposition at the Centre. For further reading, visit "The Hindu". Below is today's word list-1 for The Hindu Editorial (The power of two) – Mar 13, 2019.
To read this article, click here.
This preview is provided here with permission.
Courtesy: The Hindu
Today's word list-1 for The Hindu Editorial (The power of two) – Mar 13, 2019:
have a bearing on  (phrase) – have a relevance/relation to something.
influence (verb) – affect, have an effect on; dominate/control.
variable (noun) – factor, feature, element (that is likely to change).
salient (adjective) – important, principal, main/major.
backlash (noun) – a strong negative reaction; adverse response, counteraction.
bifurcation (noun) – division of something into two branches or parts.
tenure (noun) – term, period, time (in office).
relegate (verb) – downgrade

, lower; degrade/reduce to.

keen (adjective) – eager, wishing, ready/determined.
fare (verb) – perform, progress, proceed/get along.
per capita (adjective) – per person, for person, from each.
irrigation (noun) – the process of (artificially) supplying water to farm land to grow crops & plants.
flip side (noun) – other side; downside, drawbacks/disadvantages.
ballooning (adjective) – soaring, escalating, increasing.
debt (noun) – liability, financial obligation, borrowed capital (the public debt/government debt is how much a government owes to its creditors).
one-upmanship (noun) – the art or practice of successively outdoing (do better than) a competitor.
scenario (noun) – course of events, situation.
buck (verb) – defy, resist, fight against.
put up a fight (phrase) – counterattack, hit back, reply/respond, react.

anti-incumbency 

(noun) – a situation which is against elected officials currently in power; discontent against ruling government/ party in power.
buoy (verb) – cheer up, encourage, stimulate.
stronghold (noun) – bastion, hotbed; fortress, fort.
pronounced (adjective) – noticeable, marked, strong.
narrative (noun) – a representation of a particular situation; portrayal/ account.
Note:  
 1. Click each one of the words above for their definition, more synonyms, pronunciation, example sentences, phrases, derivatives, origin and etc from http://www.oxforddictionaries.com/.bigotry

, narrow-mindedness
2. Definitions (elementary level) & Synonyms provided for the words above are my personal work and not that of Oxford University Press. Tentative definitions/meanings are provided for study purpose only and they may vary in different context. 
3. This word list is for personal use only. Reproduction in any format and/or Commercial use of it is/are strictly prohibited.
Today's word list-1 The Hindu Editorial (The power of two) – Mar 13, 2019: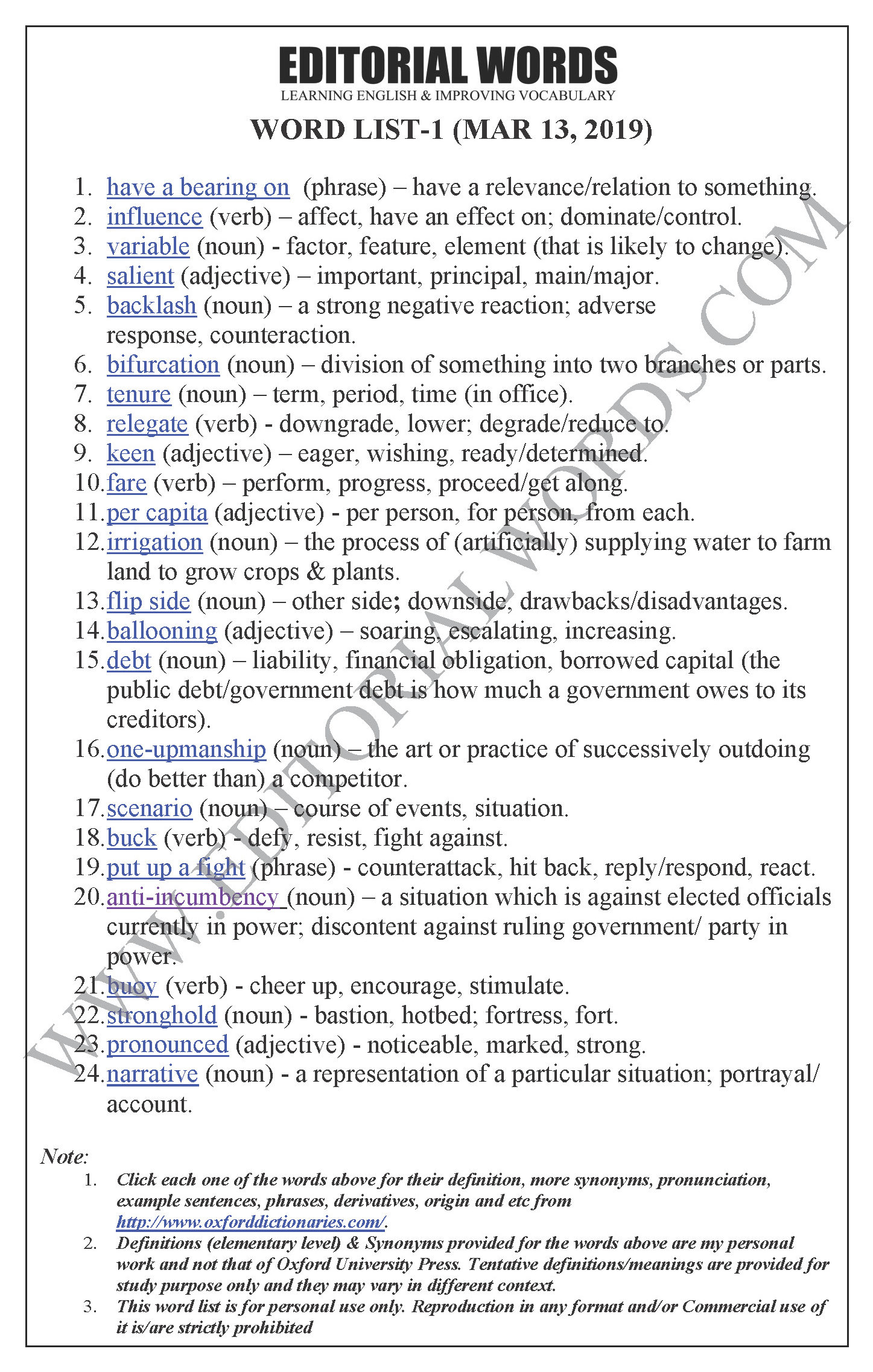 "Phrasal Verbs" We Learnt Last Week
"Idioms & Phrases" We Learnt Last Week
"Important Definitions" We Learnt Last Week
Recent Word Lists For The Hindu Editorial Articles
Recent Advanced Word Lists For The Hindu Lead Articles