The Hindu Editorial (The Kerala alert) – Mar 23, 2019
The death of a child in Kerala's Malappuram district has drawn attention to the epidemiology of the little-known West Nile Virus in India. For further reading, visit "The Hindu". Below is today's word list-2 for The Hindu Editorial (The Kerala alert) – Mar 23, 2019.
To read this article, click here.
This preview is provided here with permission.
Courtesy: The Hindu
Today's word list-2 for The Hindu Editorial (The Kerala alert) – Mar 23, 2019:
draw attention to

(phrase) – emphasize, highlight, underscore; focus on.
west nile virus (noun) –  West Nile Virus (WNV) can cause neurological disease and death in people. WNV is transmitted through infected mosquitoes (mosquitoes become infected when they feed on infected birds,). Approximately 80% of people who are infected will not show any symptoms.
surveillance (noun) – observation, scrutiny, inspection.
epidemiology (noun) – the study of the distribution and determinants of health-related states or events (including disease), and the application of this study to the control of diseases and other health problems (Courtesy: WHO).
endemic (adjective) – widespread, prevailing, common/ubiquitous.
microbe (noun) – a very small, simple living thing (only the size of one cell) that requires a microscope to see; microorganism.
serologically (adverb) – in a method of diagnostic examination of blood serum concerning immune system's response to pathogens (pathogen is something, like bacteria/virus, that causes disease).
go-to (adjective) – mentioning a person who may be depended on in a particular situation.
outbreak (noun) – outburst, epidemic, sudden appearance/occurrence.
nevertheless (adverb) – in spite of that, notwithstanding, however.
encephalitis (noun) – it is a sudden sudden inflammation (swelling) of the brain.
diagnosis (noun) – identification, recognition, discovery.
heightened (adjective) – increased, raised, intensified.
infamous (adjective) – notorious, disreputable, ill-famed (for something bad).
basket (noun) – group.
aetiology (noun) – the study of causation, or origination of a disease.
virulence (noun) – severity, harmful.
zoonotic (adjective) – relating to a disease that can be transmitted from animals to people
hitch (verb) – connect, attach, tie.
vector (noun) –  a biting insect (mosquito) that transmits a disease from one to another.
formidable (adjective) – strong, powerful, mighty.
Note:  
 1. Click each one of the words above for their definition, more synonyms, pronunciation, example sentences, phrases, derivatives, origin and etc from http://www.oxforddictionaries.com/.bigotry

, narrow-mindedness
2. Definitions (elementary level) & Synonyms provided for the words above are my personal work and not that of Oxford University Press. Tentative definitions/meanings are provided for study purpose only and they may vary in different context. 
3. This word list is for personal use only. Reproduction in any format and/or Commercial use of it is/are strictly prohibited.
Today's word list-2 The Hindu Editorial (The Kerala alert) – Mar 23, 2019: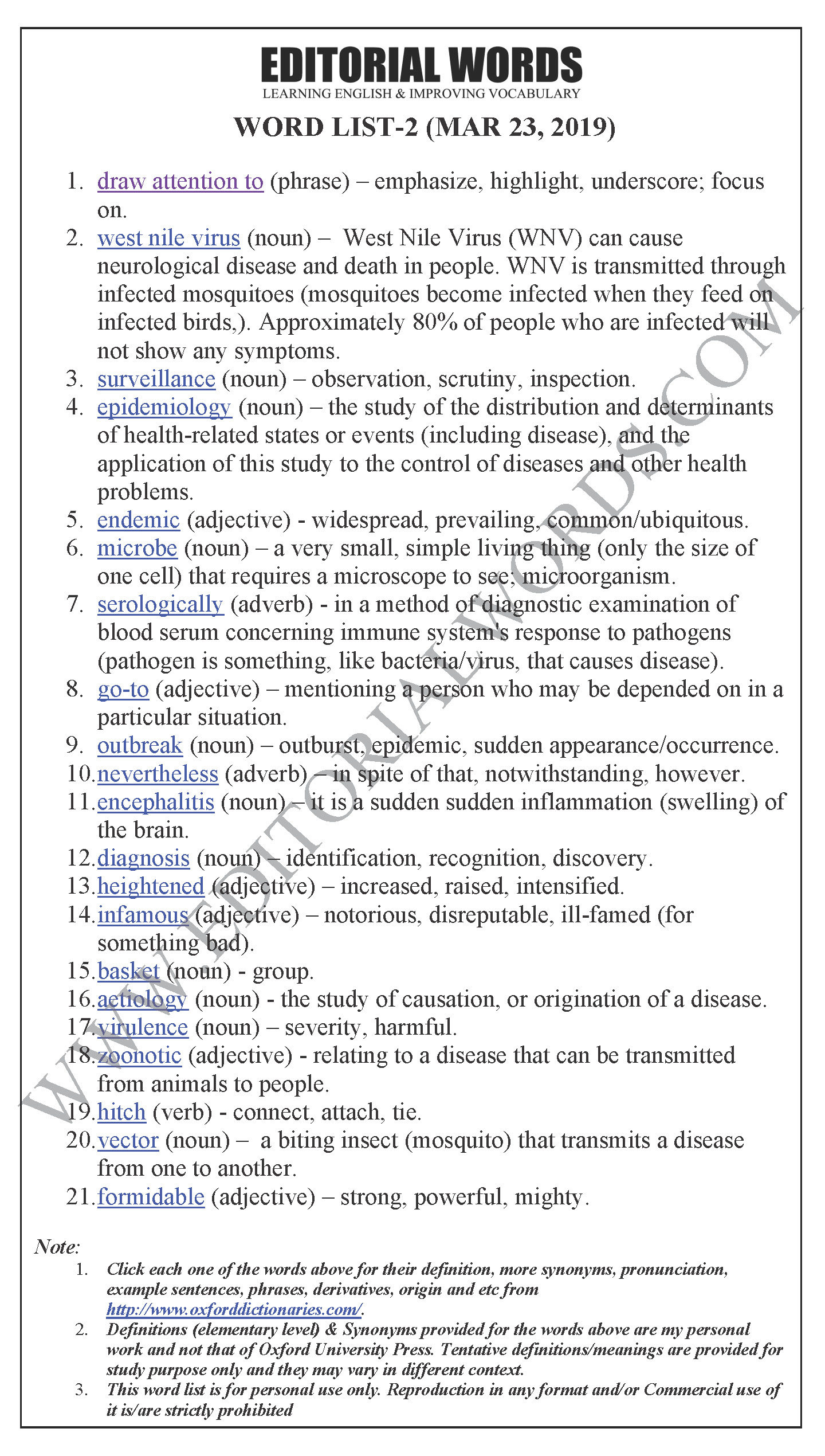 "Phrasal Verbs" We Learnt Last Week
"Idioms & Phrases" We Learnt Last Week
"Important Definitions" We Learnt Last Week
Recent Word Lists For The Hindu Editorial Articles
Recent Advanced Word Lists For The Hindu Lead Articles