The Hindu Editorial (Shopping for votes) – Feb 02, 2019
As election-eve budgets go, Interim Budget 2019-20 must rank as one of the most politically expedient ones this country has seen. For further reading, visit "The Hindu". Below is today's word list-1 for The Hindu Editorial (Shopping for votes) – Feb 02, 2019.
To read this article, click here.
This preview is provided here with permission.
Courtesy: The Hindu
Today's word list-1 The Hindu Editorial (Shopping for votes) – Feb 02, 2019
:
shop (verb) – buy

, purchase, get/acquire.

interim (adjective) – provisional, transitional, temporary.
cast away (phrasal verb) – discard/reject,

 abandon, leave behind.

convention (noun) – protocol, custom/practice, agreement.
sop (noun) – something insignificant given to stop criticism; compromise, adjustment.
expedient (noun) – convenient

, advantageous, beneficial; tactical/strategic.

shadow (noun) – hint, faint sign, trace/glimmer.
squarely (adverb) – precisely, exactly, directly.
hustings (noun) – election platform/campaign.

there is no denying

 (phrase) – it is undoubtedly true.
distress (noun) – anguish, suffering, pain.

reel under

 (phrase) – to suffer (due to a burden).
informal sector (noun) – informal economy, grey economy is the part of an economy that is neither taxed, nor monitored by any form of government.
household (noun) – family, house.
rebate (noun) – refund, repayment, deduction.
statute (noun) – law, regulation, rule.
eye (noun) – view, opinion, thinking.
fault (verb) – criticize

, censure/condemn, reproach.

counter-productive (adjective) – adverse, undesirable, unfavourable.
leg-up (noun) – support provided to improve one's situation; contribution, allowance, benefaction.
cost (phrase) – penalty, loss, sacrifice.
glide-path (noun) – trajectory, approach; a series of actions taken to get the expected result.

fiscal deficit

 (noun) – the difference between total expenditure and total income of the government.

slippage

(noun) – deficiency, shortage,
spur (verb) – stimulate, galvanize, encourage/motivate.
arithmetic (noun) – calculation, reckoning, tally.
Note:  
 1. Click each one of the words above for their definition, more synonyms, pronunciation, example sentences, phrases, derivatives, origin and etc from http://www.oxforddictionaries.com/.bigotry

, narrow-mindedness
2. Definitions (elementary level) & Synonyms provided for the words above are my personal work and not that of Oxford University Press. Tentative definitions/meanings are provided for study purpose only and they may vary in different context. 
3. This word list is for personal use only. Reproduction in any format and/or Commercial use of it is/are strictly prohibited.
Today's word list-1 The Hindu Editorial (Shopping for votes) – Feb 02, 2019: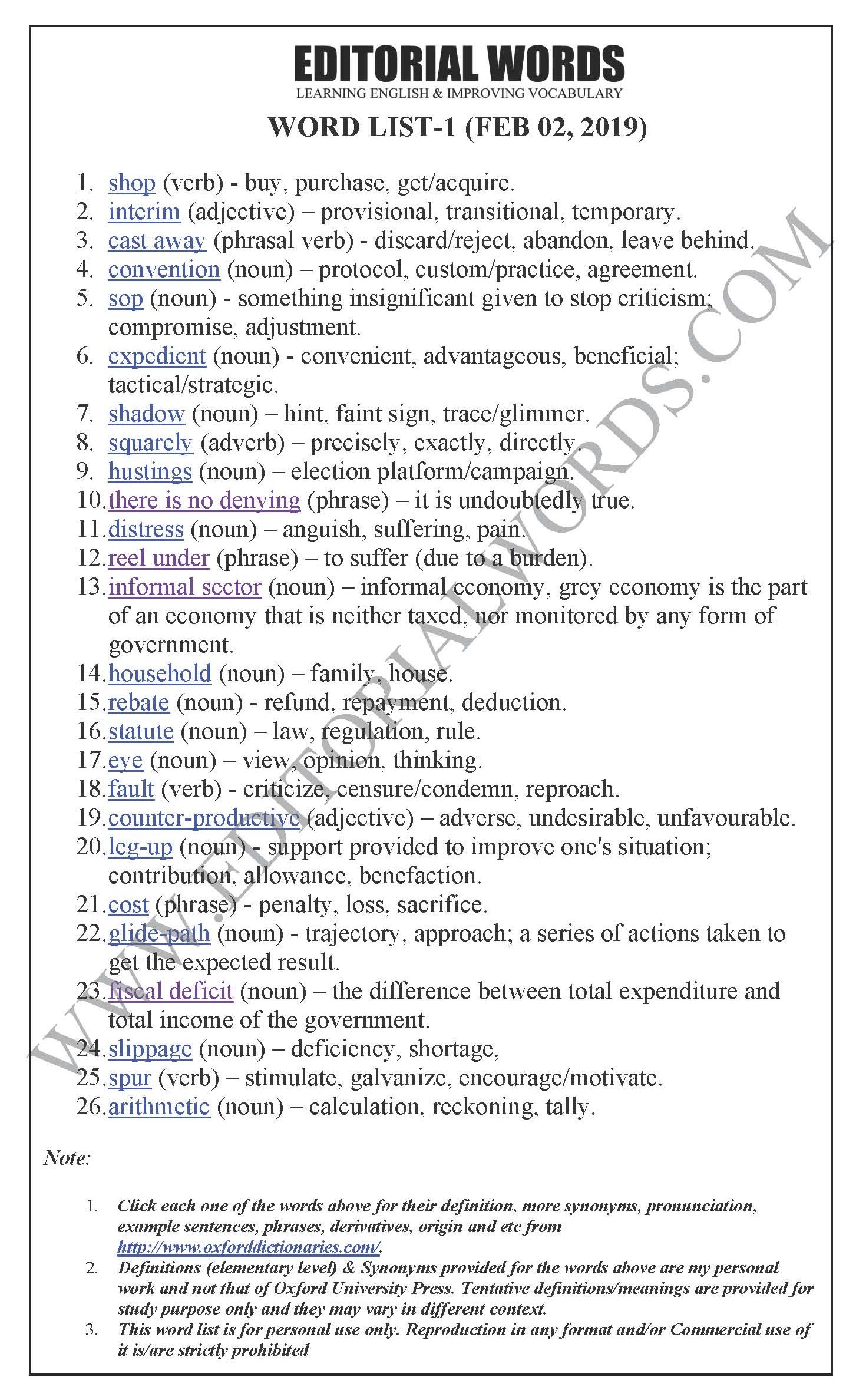 "Phrasal Verbs" We Learnt Last Week
"Idioms & Phrases" We Learnt Last Week
"Important Definitions" We Learnt Last Week
Recent Word Lists For The Hindu Editorial Articles
Recent Advanced Word Lists For The Hindu Lead Articles