The Hindu Editorial (Pause, refresh) – Aug 08, 2018
The Goods and Services Tax Council met last Saturday for the second time within a fortnight. For further reading, visit "The Hindu". Below is today's word list-2 for The Hindu Editorial (Pause, refresh) – Aug 08, 2018.
To read this article, click here.
This preview is provided here with permission.
Courtesy: The Hindu
Today's word list-2 for The Hindu Editorial (Pause, refresh) – Aug 08, 2018:
fortnight (noun) – a period of two weeks.
refrain from (verb) – abstain, desist/hold back, stop.
rejig (noun) – reorganization, rearrangement, alteration.
accrue (verb) – accumulate, collect, gather.
yield (verb) – provide, give, generate (profit/gain).
steep (adjective) – sharp, sudden, rapid.
kick in (phrasal verb) – come into effect.
unfold (verb) – develop, evolve, happen/take place.
reckon (verb) – consider/judge, evaluate, estimate.
offset (verb) – counterbalance/balance, equalize, neutralize.

consumption-led growth

(noun) – it means that consumer spending is the main cause of rising aggregate/comprehensive/total demand and economic growth.

tax compliance

 (noun) – the degree to which a taxpayer complies (or fails to comply) with the tax rules of his or her country, for example by declaring income, filing a return, and paying the tax due in a timely manner.
creditable (adjective) – commendable, laudable, notable.
look into (phrasal verb) – investigate, enquire about, probe.
brush aside (phrasal verb) – dismiss, disregard, ignore.
cumbersome (adjective) – complicated, complex; awkward/hard to deal with.
room (noun) – scope, opportunity, leeway.,
threshold (noun) – the level or amount (at which one starts to react).
deep dive (noun) – a details analysis or examination.
pointer (noun) – indication, hint, signal.
consensual (adjective) – relating to consensus/consent; in agreement with those who involved.
reservation (noun) – doubt, qualm, reluctance/objection.
pilot (noun) – sample

, experiment

.
incentive (noun) – stimulus, impetus; payment/concession (made to motive someone).
Note:   
Click each one of the words above for their definition, more synonyms, pronunciation, example sentences, phrases, derivatives, origin and etc from http://www.oxforddictionaries.com/.

Definitions (elementary level) & Synonyms provided for the words above are my personal work and not that of Oxford University Press. Tentative definitions/meanings are provided for study purpose only and they may vary in different context. 

This word list is for personal use only. Reproduction in any format and/or Commercial use of it is/are strictly prohibited.
Today's word list-2 for The Hindu Editorial (Pause, refresh) – Aug 08, 2018
: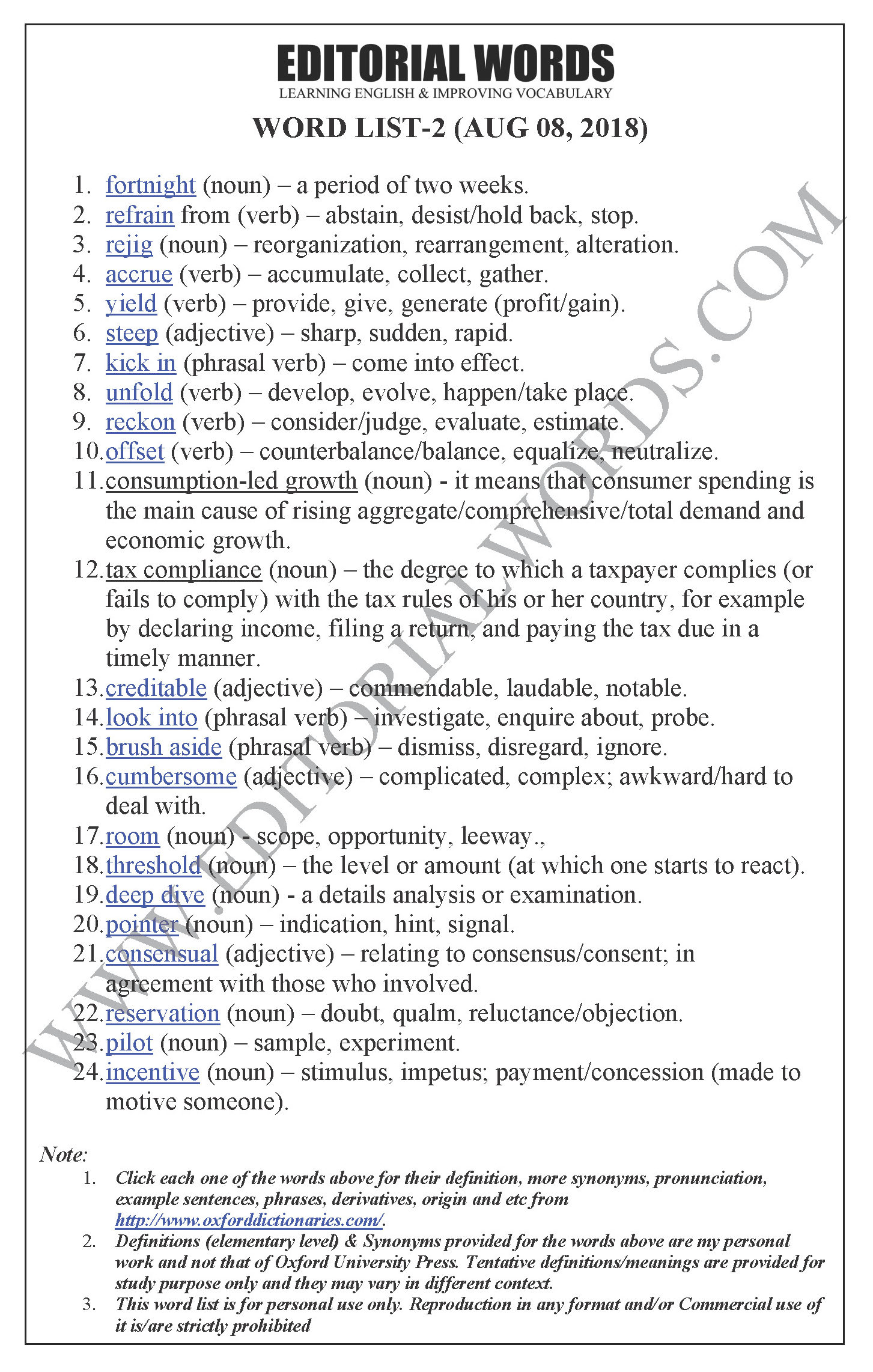 "Phrasal Verbs" We Learnt Last Week
"Idioms & Phrases" We Learnt Last Week