The Hindu Editorial (Old vs new) – Dec 17, 2018
Whether the Congress erred in privileging members of the old guard to lead the governments in Rajasthan, Madhya Pradesh, and Chhattisgarh has become a subject of debate. For further reading, visit "The Hindu". Below is today's word list-1 for The Hindu Editorial (Old vs new) – Dec 17, 2018.
To read this article, click here.
This preview is provided here with permission.
Courtesy: The Hindu
Today's word list-1 The Hindu Editorial (Old vs new) – Dec 17, 2018
:
err (verb) – make a mistake, be wrong, be incorrect; blunder.
privilege (verb) – grant a right/advantage, give an advantage/benefit.
old guard (noun) – old member of an organisation.
mould (noun) – pattern, format, model/structure.
make a mockery of (phrase) – make something to look foolish/absurd.
convention (noun) – protocol, custom/practice, agreement.
mirror (verb) – imitate, reflect, reproduce.
distrust (noun) – mistrust, suspicion, lack of confidence.
closed-door (adjective) – secret, restricted, obstructive.
opaque (adjective) – non-transparent, unclear, mysterious/doubtful.
precede (verb) – go/come before (in time), pave the way for, lead up to.
unanimously (adverb) – without opposition, agreed to by everyone involved.
detractor (noun) – critic, fault-finder, censurer.
spearhead (noun) – forefront, leaders, driving force.
dynamism (noun) – strength, powerfulness, potency/efficacy.
call for (phrasal verb) – require, make necessary, demand.
blood (verb) – initiate, to give experience.
sober (adjective) – 

sensible/thoughtful; logical, realistic.

at the helm

 (phrase) – in charge, in command/control/authority; in the driving seat.
reorientation (noun) – the act of changing the focus/direction.
grassroots (plural noun) – the most basic level of an organisation.
decentralise (verb) – transfer of the power/control of a department/government from a single place to other locations.
feeble (adjective) – ineffective, unsatisfactory, unconvincing/weak.
euphemism (noun) – polite/indirect term; a mild or pleasant word or phrase that is used instead of one that is unpleasant or offensive.
Note:  
 1. Click each one of the words above for their definition, more synonyms, pronunciation, example sentences, phrases, derivatives, origin and etc from http://www.oxforddictionaries.com/.bigotry

, narrow-mindedness
2. Definitions (elementary level) & Synonyms provided for the words above are my personal work and not that of Oxford University Press. Tentative definitions/meanings are provided for study purpose only and they may vary in different context. 
3. This word list is for personal use only. Reproduction in any format and/or Commercial use of it is/are strictly prohibited.
Today's word list-1 The Hindu Editorial (Old vs new) – Dec 17, 2018: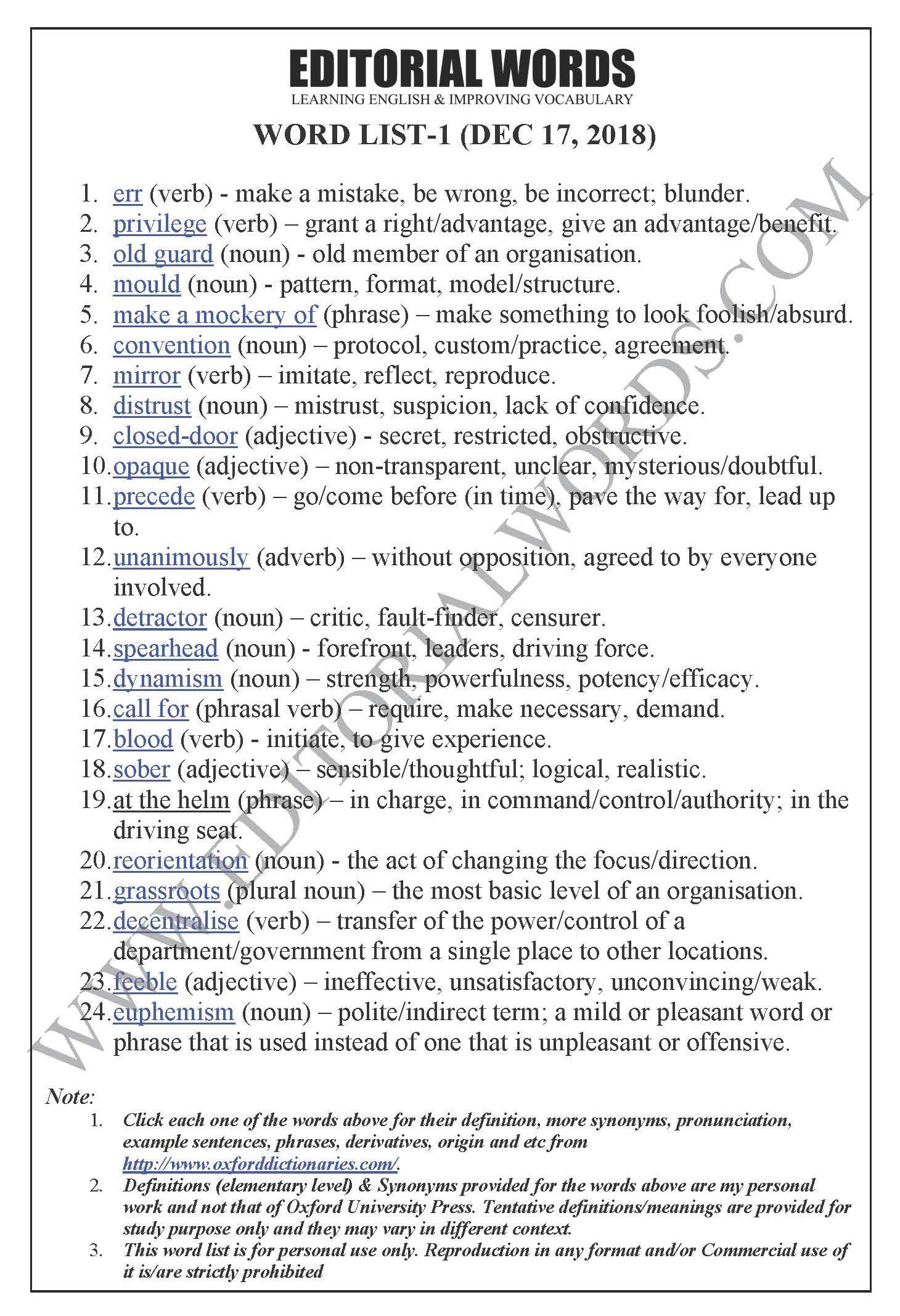 "Phrasal Verbs" We Learnt Last Week
"Idioms & Phrases" We Learnt Last Week
"Important Definitions" We Learnt Last Week
Recent Word Lists For The Hindu Editorial Articles
Recent Advanced Word Lists For The Hindu Lead Articles