The Hindu Editorial (No zero-sum games) – Feb 11, 2019
There are alarm bells in India over a possible decision by the U.S. Trade Representative to withdraw the Generalised System of Preferences status. For further reading, visit "The Hindu". Below is today's word list-2 for The Hindu Editorial (No zero-sum games) – Feb 11, 2019.
To read this article, click here. 
This preview is provided here with permission.
Courtesy: The Hindu
Today's word list-2 The Hindu Editorial (No zero-sum games) – Feb 11, 2019
:
zero-sum game (phrase) – zero-sum game is one in which no wealth is created or destroyed. So, in a two-player zero-sum game, whatever one player wins, the other loses.
hostility (noun) – opposition, aversion, resentment.
halt (verb) – terminate, end, stop.
alarm bell (noun) – signal

, warning, alert.

Generalised System of Preferences (GSP)

(noun) – The Generalized System of Preferences (GSP) is a U.S. trade program designed to promote economic growth in the developing world by providing preferential duty-free entry for thousands of products from 129 designated beneficiary countries and territories.
revocation (noun) – cancellation, abandonment, calling off/recall.
concession (noun) – grant of privilege; favour, allowance

, exception

.

blow (noun) – setback, failure, disappointment.
trade deficit (noun) – a trade deficit (a deficit in the balance of trade) occurs when the value of a country's imports exceeds that of its exports. It is also called a trade gap.
rest on (verb) – be based on, depend on, rely on.
in line with (phrase) – in accordance with.
zero out (phrasal verb) – reduce to zero.
retaliation (noun) – revenge, vengeance, counter-attack.
put off (phrasal verb) – postpone, delay, delay/defer.
come through (phrasal verb) – be successful in, get through, be processed.
breakthrough (noun) – progress, development, advancement.
aggravate (verb) – worsen/make worse, exacerbate, compound.
substance (noun) – significant subject, important matter/content, valid message.
deadlock (noun) – stalemate, impasse, stand-off.
Note:
1. Click each one of the words above for their definition, more synonyms, pronunciation, example sentences, phrases, derivatives, origin and etc from http://www.oxforddictionaries.com/.
2. Definitions (elementary level) & Synonyms provided for the words above are my personal work and not that of Oxford University Press. Tentative definitions/meanings are provided for study purpose only and they may vary in different context. 
3. This word list is for personal use only. Reproduction in any format and/or Commercial use of it is/are strictly prohibited.
Today's word list-2 for The Hindu Editorial (No zero-sum games) – Feb 11, 2019: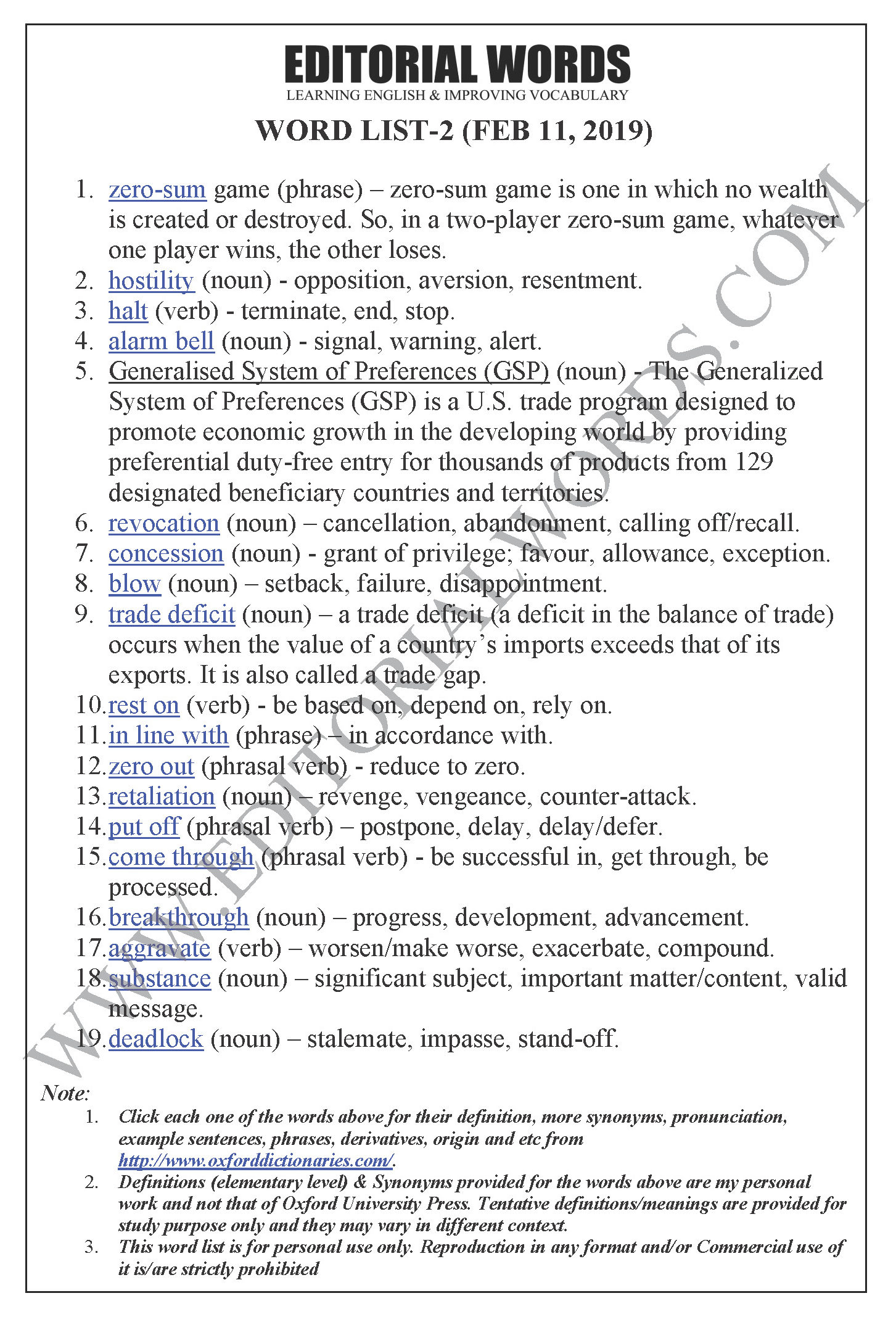 "Phrasal Verbs" We Learnt Last Week
"Idioms & Phrases" We Learnt Last Week
"Important Definitions" We Learnt Last Week
Recent Word Lists For The Hindu Editorial Articles
Recent Advanced Word Lists For The Hindu Lead Articles