The Hindu Editorial (HIV reality check) – Dec 31, 2018
A 23-year-old pregnant woman in Tamil Nadu tested positive for HIV after receiving a unit of blood at a government hospital blood bank, indicating glaring lapses in screening procedures. For further reading, visit "The Hindu". Below is today's word list-2 for The Hindu Editorial (HIV reality check) – Dec 31, 2018.
To read this article, click here. 
This preview is provided here with permission.
Courtesy: The Hindu
Today's word list-2 for The Hindu Editorial (HIV reality check) – Dec 31, 2018
reality check (phrase) – something which helps us to see a situation with the real facts than ideas, concepts, hopes & etc.
devastate (verb) – shatter, shock, traumatize/distress.
lapse (noun) – failure/blunder, mistake/error, negligence/oversight.
glaring (adjective) – obvious, visible, apparent.
screening (noun) – evaluation or investigation.
transfuse (verb) – inject, impart, instil.
diagnose (verb) – identify, determine, detect.
certainty (noun) – assurance, confidence, sureness.

window period

(noun) – the time between potential exposure to HIV and when the test reveals for sure if the
person has HIV.
obtain (verb) – get, acquire, be given.
consent (noun) – agreement, assent, permission/approval.
consent (verb) – agree to, allow, accept to.
imperative (adjective) – very important, critical, necessary.
viable (adjective) – practicable, feasible, realistic.
keep something in check (phrase) – restrain, keep under control, control.
precautionary (adjective) – preventive, safety, protective.
protracted (adjective) – prolonged, extended/extensive, lengthy.
keep away (phrasal verb) – stay away, keep away, withdraw.
Note:
1. Click each one of the words above for their definition, more synonyms, pronunciation, example sentences, phrases, derivatives, origin and etc from http://www.oxforddictionaries.com/.
2. Definitions (elementary level) & Synonyms provided for the words above are my personal work and not that of Oxford University Press. Tentative definitions/meanings are provided for study purpose only and they may vary in different context. 
3. This word list is for personal use only. Reproduction in any format and/or Commercial use of it is/are strictly prohibited.
Today's word list-2 for The Hindu Editorial (HIV reality check) – Dec 31, 2018: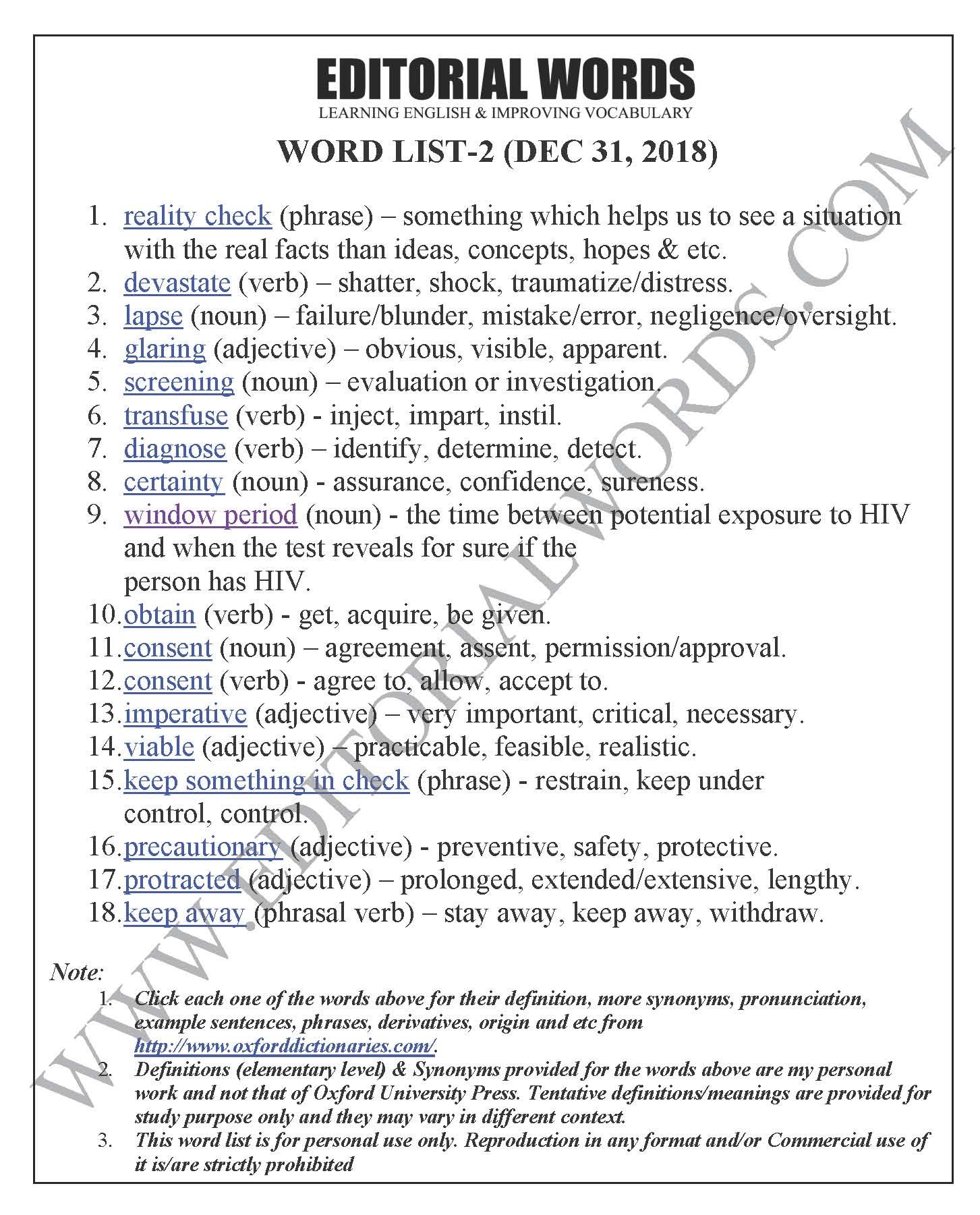 "Phrasal Verbs" We Learnt Last Week
"Idioms & Phrases" We Learnt Last Week
"Important Definitions" We Learnt Last Week
Recent Word Lists For The Hindu Editorial Articles
Recent Advanced Word Lists For The Hindu Lead Articles