The Hindu Editorial (Disquieting decision) – Jan 12, 2019
The removal of Alok Verma as Director of the Central Bureau of Investigation is a disconcerting denouement to an unseemly episode. For further reading, visit "The Hindu". Below is today's word list-1 for The Hindu Editorial (Disquieting decision) – Jan 12, 2019.
To read this article, click here.
This preview is provided here with permission.
Courtesy: The Hindu
Today's word list-1 The Hindu Editorial (Disquieting decision) – Jan 12, 2019
:
disquieting (adjective) – horrible, awful, disgusting/upsetting.
tussle (noun) – fight, skirmish/scuffle; quarrel.
unseemly (adjective) – improper, inappropriate, undignified.
echelon (noun) – level, rank, grade (in an organization).
disconcerting (adjective) – discomfiting, unsettling, disturbing.
denouement (noun) – finale, outcome, result.
couch (verb) – express, frame, formulate.
even-handed (adjective) – fair, equitable, impartial.
incumbent (noun) – a person who is holding an office or position; officer, office-holder, office-bearer.
reinstatement (noun) – restoration, return to a former position, return to power.
unconditional (adjective) – unquestioning, unreserved, unequivocal/absolute.
divest (verb) – deprive, strip, dispossess/relieve of (power).
dissenting (adjective) – disagreeing, objecting, differing/opposing. 
on the ground (phrase) – in a situation/place where things are happening really/practically.
prima facie (adverb/adjective) – something (first impression) considered as right until proved.
untenable (adjective) – undefendable, unjustified, unacceptable.
standpoint (noun) – point of view, perspective, outlook.
implications (noun) – consequence/outcome, ramification, repercussion.
precedent (noun) – previous example/instance, prior instance, exemplar.
adverse (noun) – dangerous, unfavourable, disadvantageous.
unseat (verb) – remove from office, depose, dethrone.
bipartisan (adjective) – involving cooperation between two (opposite & big)  political parties.
envisage (verb) – foresee, predict, forecast.
thwart (verb) – prevent, block, impede/hinder.
stratagem (noun) – plan, tactic, course of action.

institutional crisis

 (noun ) – a problem in the routine function of an institution/establishment/system.
Note:  
 1. Click each one of the words above for their definition, more synonyms, pronunciation, example sentences, phrases, derivatives, origin and etc from http://www.oxforddictionaries.com/.bigotry

, narrow-mindedness
2. Definitions (elementary level) & Synonyms provided for the words above are my personal work and not that of Oxford University Press. Tentative definitions/meanings are provided for study purpose only and they may vary in different context. 
3. This word list is for personal use only. Reproduction in any format and/or Commercial use of it is/are strictly prohibited.
Today's word list-1 The Hindu Editorial (Disquieting decision) – Jan 12, 2019: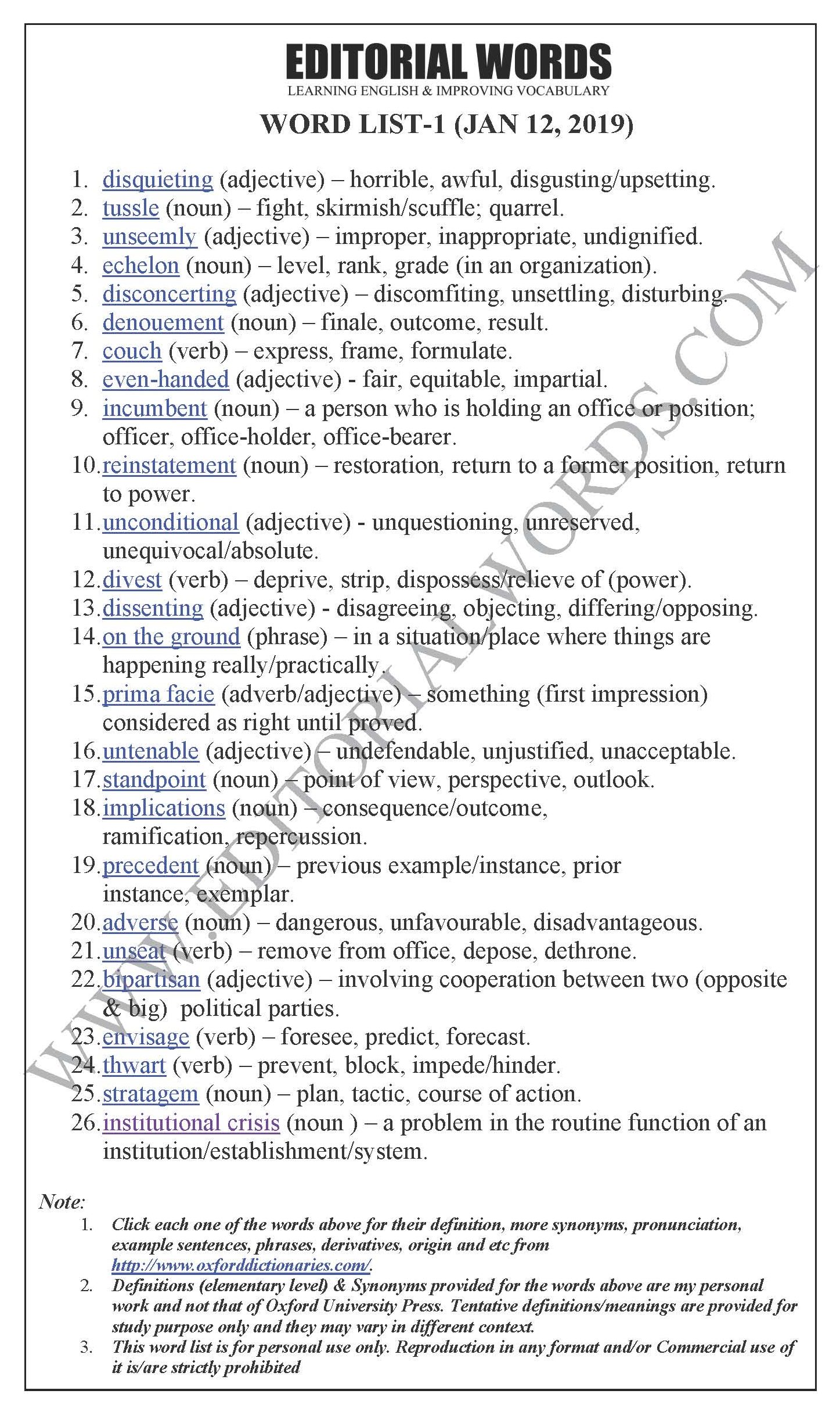 "Phrasal Verbs" We Learnt Last Week
"Idioms & Phrases" We Learnt Last Week
"Important Definitions" We Learnt Last Week
Recent Word Lists For The Hindu Editorial Articles
Recent Advanced Word Lists For The Hindu Lead Articles