The Hindu Editorial (Deadly roads in India) – Oct 11, 2018
The Road Accidents in India report of the Ministry of Road Transport and Highways for 2017 comes as a disappointment. For further reading, visit "The Hindu". Below is today's word list-2 for The Hindu Editorial (Deadly roads in India) – Oct 11, 2018.
To read this article, click here.
This preview is provided here with permission.
Courtesy: The Hindu
Today's word list-2 for The Hindu Editorial (Deadly roads in India) – Oct 11, 2018:
fatality (noun) – death, casualty, victim.
jolt (verb) –  surprise, shock, stun.
reiterate (verb) – repeat, say again, restate.

quantum shift

(noun) – small, discrete (indivisibly distinct) steps made for a big change over time.
cripple (verb) – injure, damage, disable.
remedy (noun) – solution, answer, antidote/panacea.
highlight (verb) – underline, emphasize, underscore.
incremental (adjective) – gradual, step-by-step.
transformation (noun) – change, amendment, sea change.
glaring (adjective) – obvious, visible, apparent.
seize of (verb) – be aware, be informed of.
fulfil (verb) – accomplish, achieve, execute.
enforcement (noun) – imposition, implementation, execution.

green commuter

 (noun) – cyclist, pedestrian (walker).
contested (noun) – disputed, debated, argued.
scholar (noun) – intellectual, academic, learned person.
cumulatively (adverb) – as a total/whole, collectively.

public infrastructure

(noun) – the basic facilities, services (and quality of life) that are essential to a country & its public.
water down (phrase) – weaken, dilute; moderate, tone down.
in spite of (phrase) – despite, notwithstanding, regardless of.
endanger (verb) – imperil, jeopardize, risk.
tenure (noun) – term, period, time (in office).
paradigm shift (noun) – a fundamental and important change with new ideas/thinking.
dismal (adjective) – bad, awful, terrible.
lack (verb) –  be lacking, be deficient in, require/need.
accountability (noun) – responsibility, liability, answerability.
Note:
1. Click each one of the words above for their definition, more synonyms, pronunciation, example sentences, phrases, derivatives, origin and etc from http://www.oxforddictionaries.com/.
2. Definitions (elementary level) & Synonyms provided for the words above are my personal work and not that of Oxford University Press. Tentative definitions/meanings are provided for study purpose only and they may vary in different context. 
3. This word list is for personal use only. Reproduction in any format and/or Commercial use of it is/are strictly prohibited.
Today's word list-2 for The Hindu Editorial (Deadly roads in India) – Oct 11, 2018: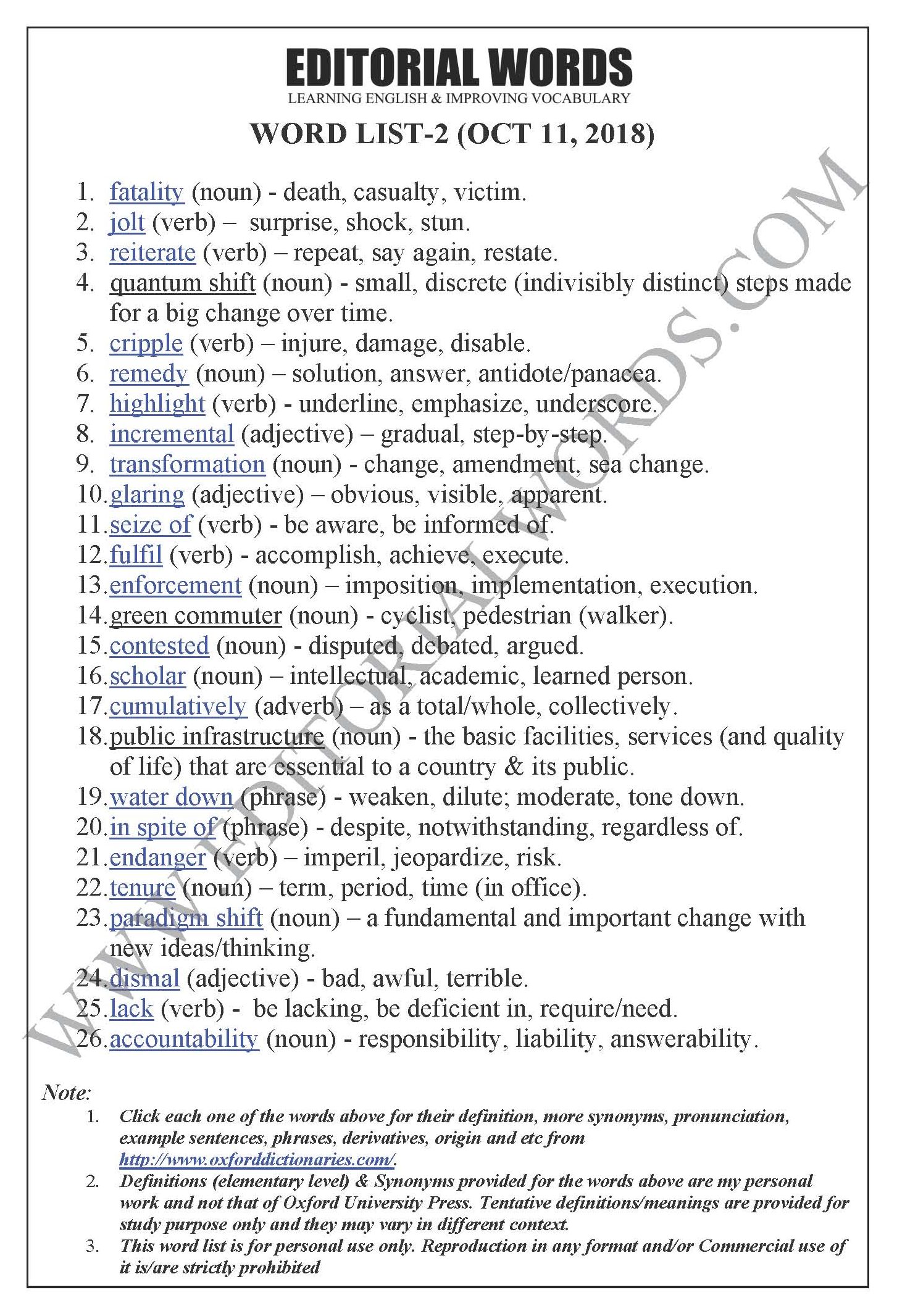 "Phrasal Verbs" We Learnt Last Week
"Idioms & Phrases" We Learnt Last Week