The Hindu Editorial (Caution ahead) – Jan 11, 2019
The first advance estimate of gross domestic product (GDP) growth for 2018-19 released by the Central Statistics Office on Monday paints a mixed picture of the economy. For further reading, visit "The Hindu". Below is today's word list-1 for The Hindu Editorial (Caution ahead) – Jan 11, 2019.
To read this article, click here.
This preview is provided here with permission.
Courtesy: The Hindu
Today's word list-1 The Hindu Editorial (Caution ahead) – Jan 11, 2019
:
populist (adjective) – relating to the politicians who claim that they are representing the common/ordinary people.

gross domestic product

(GDP) (noun) – a measure of economic activity in a country. It is the total value of a country's annual output of goods and service.
paint a picture of (phrase) – tell, describe, outline.
aftermath (noun) – consequence, result/outcome, repercussion.
demonetisation (noun) – the act of deprive currency unit (note/coin) of its status as money.
rollout (noun) – official launch/introduction.
conservative (adjective) – moderate, reasonable, cautious.
sequential (adjective) – continuous, consecutive, straight.
deceleration (noun) – deceleration is the rate at which something slows down; it is the opposite of acceleration.
ail (verb) – trouble, bother, distress.

regime uncertainty

 (noun) – policy uncertainty; it refers to uncertainty about monetary or fiscal policy, the tax or regulatory regime, or uncertainty over electoral outcomes that will influence political leadership.

put a halt to

(phrase) – to (cause to) stop doing something.
nascent (adjective) – just beginning, developing, burgeoning.
hold back (phrasal verb) – desist, discontinue, refrain from doing something.
clear up (phrasal verb) – solve, resolve, answer.
perennial (adjective) – everlasting, unchanging, permanent.
dependent on (adjective) – conditional on, based on, determined by.
ill-advised (adjective) – unwise, misguided, short-sighted/thoughtless.

fiscal deficit

 (noun) – the difference between total expenditure and total income of the government.
crank up (phrasal verb) – increase, enlarge, raise.
Note:  
 1. Click each one of the words above for their definition, more synonyms, pronunciation, example sentences, phrases, derivatives, origin and etc from http://www.oxforddictionaries.com/.bigotry

, narrow-mindedness
2. Definitions (elementary level) & Synonyms provided for the words above are my personal work and not that of Oxford University Press. Tentative definitions/meanings are provided for study purpose only and they may vary in different context. 
3. This word list is for personal use only. Reproduction in any format and/or Commercial use of it is/are strictly prohibited.
Today's word list-1 The Hindu Editorial (Caution ahead) – Jan 11, 2019: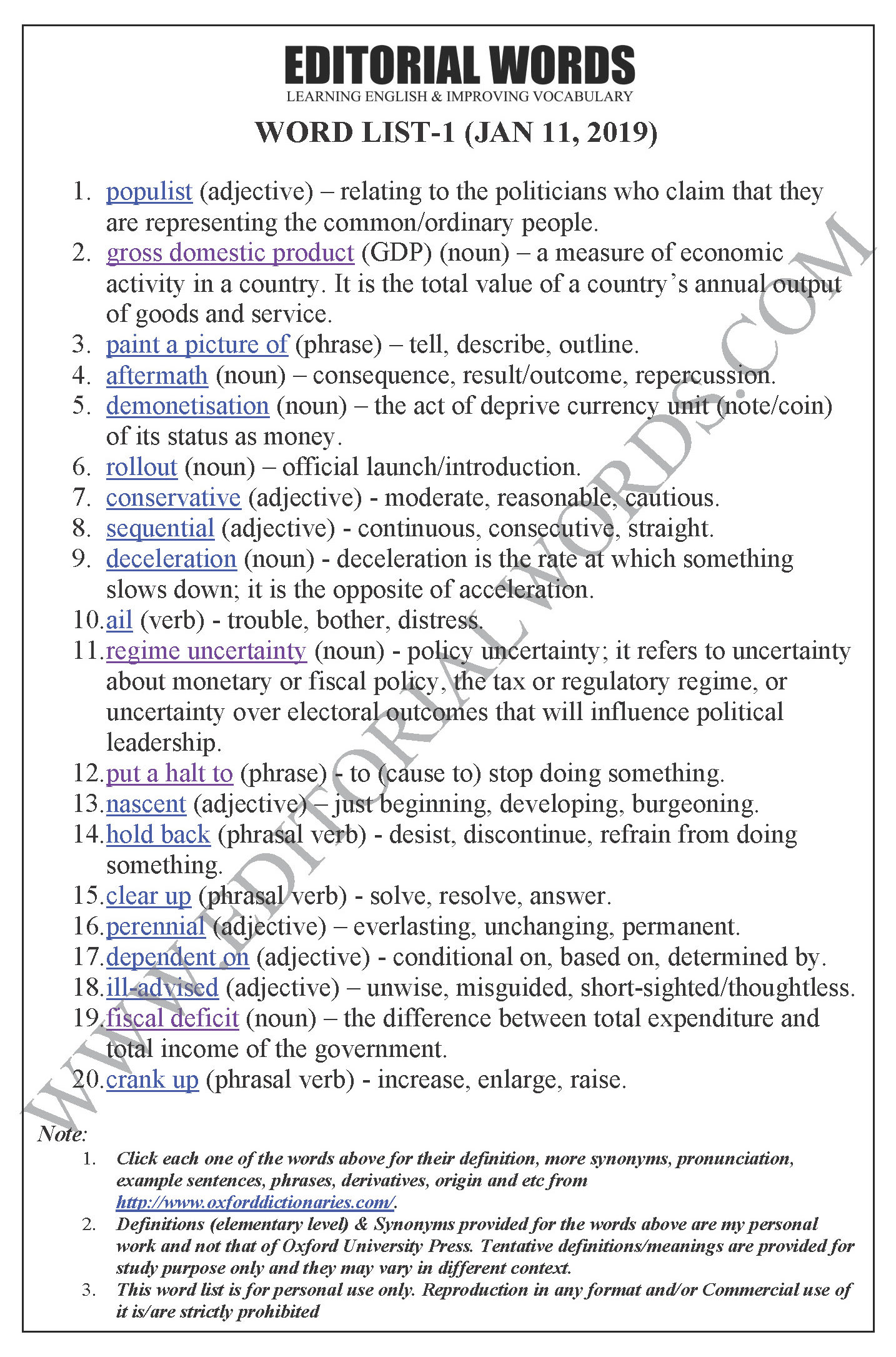 "Phrasal Verbs" We Learnt Last Week
"Idioms & Phrases" We Learnt Last Week
"Important Definitions" We Learnt Last Week
Recent Word Lists For The Hindu Editorial Articles
Recent Advanced Word Lists For The Hindu Lead Articles