The Hindu Editorial (Bolstering Paris) – Dec 19, 2018
The UN Climate Conference held in Katowice, Poland, has moved ahead with the implementation of the Paris Agreement through a rule book,.. For further reading, visit "The Hindu". Below is today's word list-1 for The Hindu Editorial (Bolstering Paris) – Dec 19, 2018.
To read this article, click here.
This preview is provided here with permission.
Courtesy: The Hindu
Today's word list-1 The Hindu Editorial (Bolstering Paris) – Dec 19, 2018
:
bolster (verb) – strengthen, support, reinforce/buttress.
consensus (noun) – an idea or opinion that is shared by all the people in a group. agreement, concurrence.
global warming (noun) – it is the unusually rapid increase in Earth's average surface temperature over the past century primarily due to the greenhouse gases released as people burn fossil fuels.
rule book (noun) – regulations and standards of an organisation.
avert (verb) – prevent, stop, avoid.
climate change (noun) – a long-term change in the Earth's climate, or of a region on Earth (Courtesy: NASA).
prevail over (phrasal verb) – overcome, gain mastery, prove superior.
scepticism (noun) – doubt/qualm, cynicism, suspicion.
window (noun) – opportunity, chance, opening.
greenhouse gas (noun) – heat trapping gas; a gas (such as water vapor, carbon dioxide, methane, nitrous oxide, etc) in the atmosphere that absorbs and emits radiation, causing greenhouse effect and warming of Earth's temperature. (Courtesy: VOA Learning English).
peg (verb) – fix, limit, hold/control (a price/rate at a articular level).
flag (verb) – indicate, identify, point out.
stark (adjective) – sharply defined, distinct, clear.
cap (verb) – put a ceiling on, limit, restrict.
scale up (phrasal verb) – increase.
in line with (phrase) – in accordance with.
renewable energy (noun) – energy generated from the natural resources (such as water, wind, solar energy)
luxury emissions (noun) – emissions due t luxurious lifestyles whereas subsistence  emissions are that fulfil basic human needs.
dividend (noun) – benefit, advantage, gain.
put forth (phrasal verb) – suggest, propose, put forward/introduce.
cumulative(adjective) – collective, aggregate, total.
complacency(noun) – self-satisfaction, self-admiration; carelessness.
paradigm shift(noun) – a fundamental and important change with new ideas/thinking.
mitigation(noun) – alleviation, reduction; lessening.
stock-taking (adjective) – relating to something to access/review one's situation.
carbon footprint– The total amount of greenhouse gases produced to directly and indirectly support human activities, usually expressed in equivalent tons of carbon dioxide (CO2).
blanket (noun) – covering, layer, screen/mask.
suffocate (verb) – stifle, impede development of, feel oppressed/ trapped.
Note:  
 1. Click each one of the words above for their definition, more synonyms, pronunciation, example sentences, phrases, derivatives, origin and etc from http://www.oxforddictionaries.com/.bigotry

, narrow-mindedness
2. Definitions (elementary level) & Synonyms provided for the words above are my personal work and not that of Oxford University Press. Tentative definitions/meanings are provided for study purpose only and they may vary in different context. 
3. This word list is for personal use only. Reproduction in any format and/or Commercial use of it is/are strictly prohibited.
Today's word list-1 The Hindu Editorial (Bolstering Paris) – Dec 19, 2018: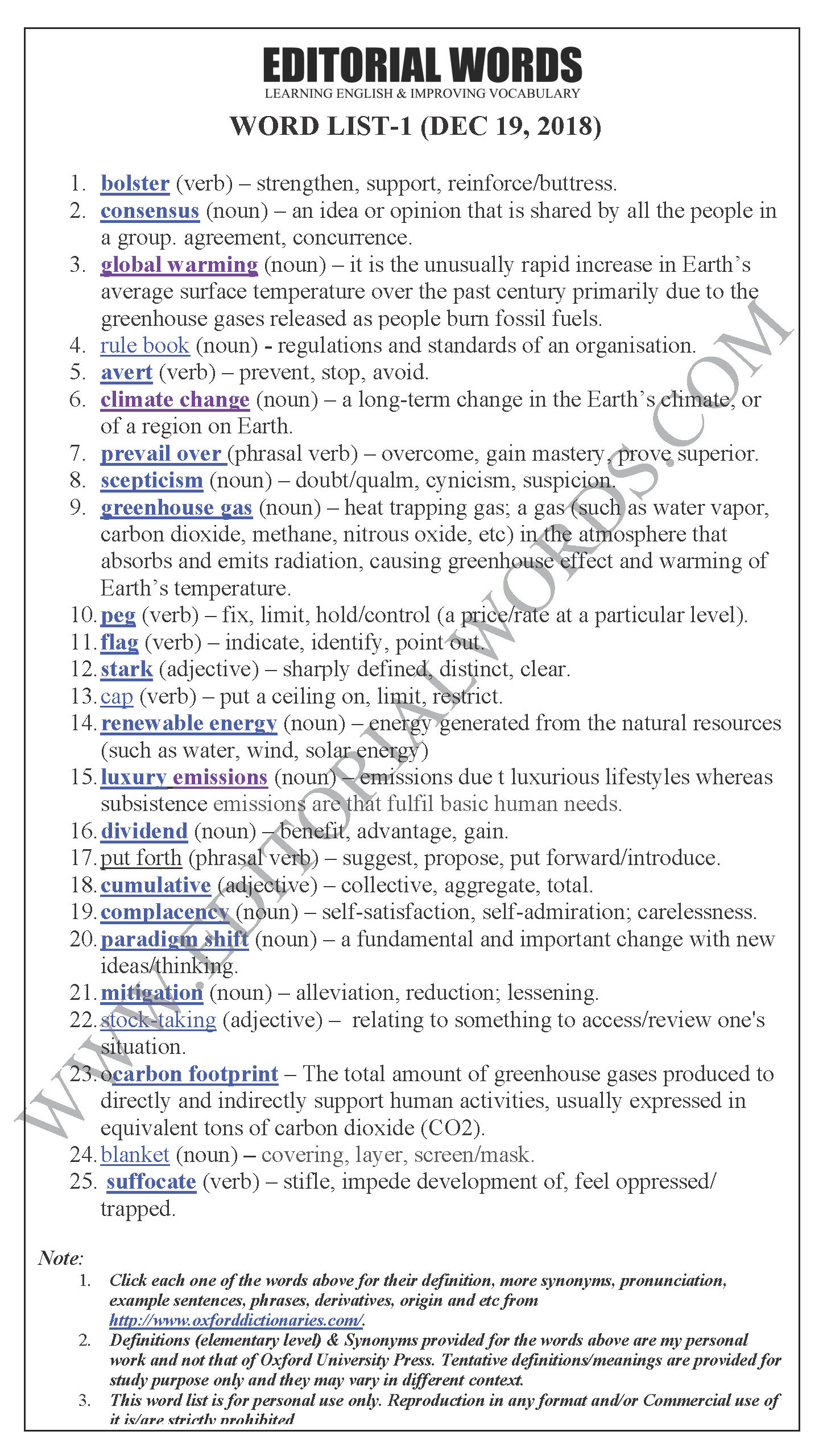 "Phrasal Verbs" We Learnt Last Week
"Idioms & Phrases" We Learnt Last Week
"Important Definitions" We Learnt Last Week
Recent Word Lists For The Hindu Editorial Articles
Recent Advanced Word Lists For The Hindu Lead Articles