The Hindu Editorial (BCCI revamp) – Aug 13, 2018
Two years after accepting the Justice R.M. Lodha Committee's recommendations, the Supreme Court has now extended some concessions to….. For further reading, visit "The Hindu". Below is today's word list-1 for The Hindu Editorial (BCCI revamp) – Aug 13, 2018.
To read this article, click here.
This preview is provided here with permission.
Courtesy: The Hindu
Today's word list-1 for The Hindu Editorial (BCCI revamp) – Aug 13, 2018: 
pragmatic (adjective) – empirical, realistic/actual, practical.
aggrieved (adjective) – distressed, upset, unhappy.
revamp (verb) – mordenize/refurbish, improved, upgrade.
climbdown (noun) – wthdrawal, retraction, u-turn/concession.
knock down (phrasal verb) – demolish

, bring down, destroy.

cooling-off period

 (noun) – a period of time which allows settlement of arguments for someone to act.
office-bearer  (noun) – official/officer; a person who holds a position of authority/responsibility in an organisation.
tenure (noun) – term. period, time (in office).
kick in (phrasal verb) – come into effect.
fiefdom (noun) – territory/sphere over which a particular person/group has rights and controls its overall operations.
fritter away (phrasal verb) – squander, waste, misuse.
consolidate (verb) – strengthen, reinforce, fortify.
defer (verb) – postpone, put off, delay.
aggregate (verb) – total, comprehensive, overall.
amount (verb) – become, grow into, turn out to be.
perpetuation (noun) – continuation, 

prolongation

, 

extension.

overrule (verb) – reject, cancel, reverse/overturn.
strip of (verb) – take away from, dispossess, deprive/deny.
up to (phrase) – choice of, responsibility of.
dispel (verb) – banish, eliminate/remove, dismiss
manipulation (noun) – manoeuvre, stratagem, intrigue/ploy.
a matter of (phrase) – something depends on.
intervention (noun) – mediation

, arbitration, conciliation/peacemaking

.
deficit (noun) – slippage,

 deficiency, shortage.
Note:   
Click each one of the words above for their definition, more synonyms, pronunciation, example sentences, phrases, derivatives, origin and etc from http://www.oxforddictionaries.com/.

Definitions (elementary level) & Synonyms provided for the words above are my personal work and not that of Oxford University Press. Tentative definitions/meanings are provided for study purpose only and they may vary in different context. 

This word list is for personal use only. Reproduction in any format and/or Commercial use of it is/are strictly prohibited.
Today's word list-1 for The Hindu Editorial (BCCI revamp) – Aug 13, 2018: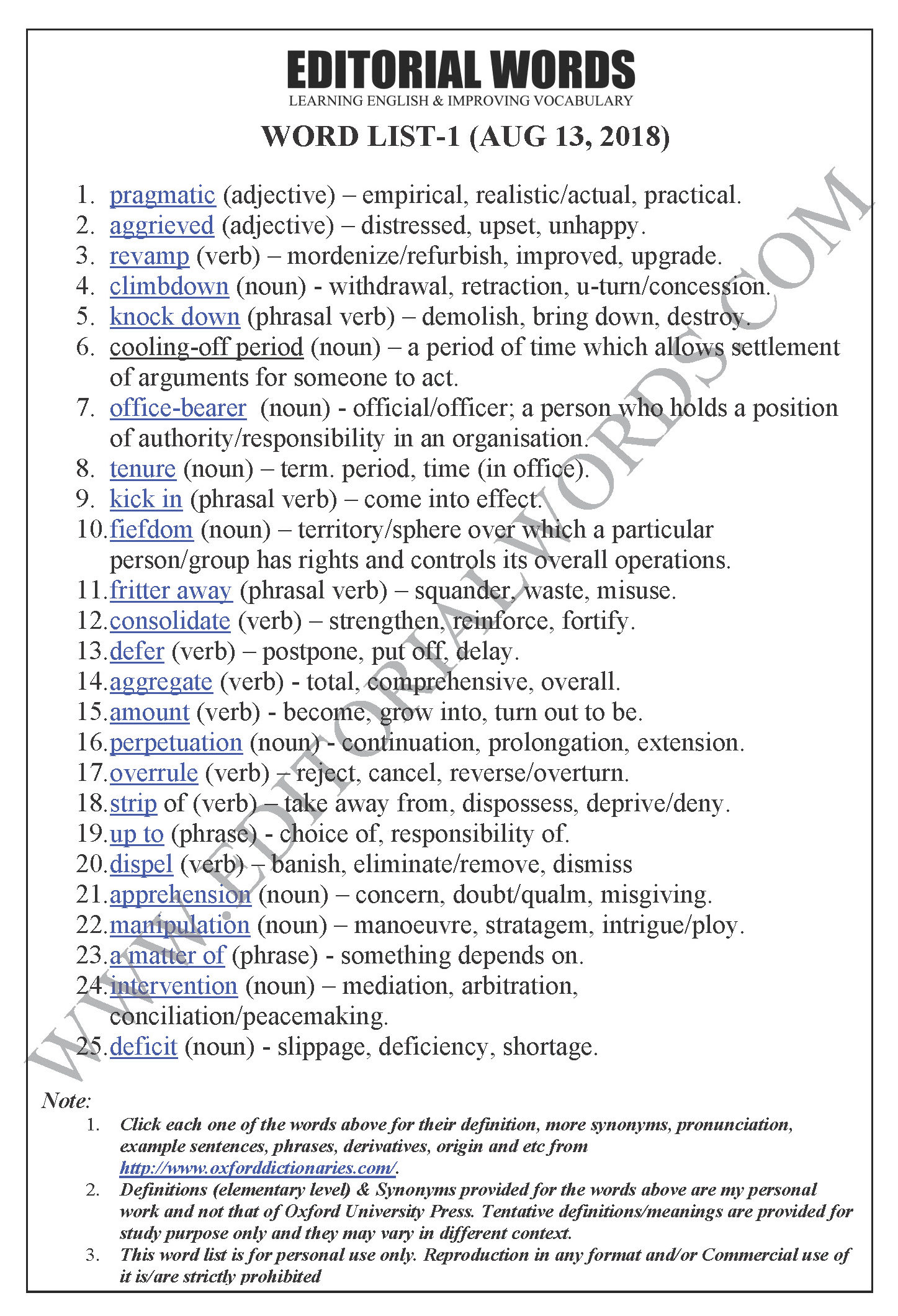 "Phrasal Verbs" We Learnt Last Week
"Idioms & Phrases" We Learnt Last Week