The Hindu Editorial (a lot to lose) – Mar 21, 2019
The electoral scene in Tamil Nadu presents a picture dramatically different from what it was five years ago. For further reading, visit "The Hindu". Below is today's word list-1 for The Hindu Editorial (a lot to lose) – Mar 21, 2019.
To read this article, click here.
This preview is provided here with permission.
Courtesy: The Hindu
Today's word list-1 for The Hindu Editorial (a lot to lose) – Mar 21, 2019:
towering (adjective) – important, famous, leading/supreme.
distinctive (adjective) – exclusive, particular, unique.
liability (noun) – hindrance, drawback, disadvantage.
dilution (noun) – reduction in value/power/force of something.
rapport (noun) – affinity, close relationship, bond.
relatively (adverb) – quite, comparatively/proportionately;  to a certain extent.
variant (noun) – variation, form, alternative.
fold (noun) – community, group, body.
reinforce (verb) – strengthen, support, buttress.
hold sway (phrase) – be in power/control, rule.
electorate (noun) – all the people who entitled to vote in an election.
ally (noun) – associate, partner, supporter.
endorse (verb) – uphold, support, approve.
marked (adjective) – noticeable, pronounced, clear.

anti-incumbency

 (noun) – a situation which is against elected officials currently in power; discontent against ruling government/ party in power.
supplicant (noun)- a person who begs/asks/appeals to someone (in power) humbly.
perception (noun) – impression

, feeling, thought

.
demonetisation (noun) – the act of deprive currency unit (note/coin) of its status as money.
rub off (phrasal verb) – be transferred to, be passed on to, be communicated to.
have a bearing on  (phrase) – have a relevance/relation to something.
pin one's hopes on (phrase) – rely on, depend on, count on.
prospects (noun) – possibilities, potential, chances/opportunities.
splinter (noun) – a separation of a large group into smaller units, mainly due to disagreement.
fledgling (adjective) – emerging, beginning, developing.
fray (noun) – contest/

competition

.
garner (verb) – gather, collect, accumulate.
at the expense of (phrase) – sacrifice, loss, neglect of.
by all accounts (phrase) – supposedly, apparently, seemingly.
Note:  
 1. Click each one of the words above for their definition, more synonyms, pronunciation, example sentences, phrases, derivatives, origin and etc from http://www.oxforddictionaries.com/.bigotry

, narrow-mindedness
2. Definitions (elementary level) & Synonyms provided for the words above are my personal work and not that of Oxford University Press. Tentative definitions/meanings are provided for study purpose only and they may vary in different context. 
3. This word list is for personal use only. Reproduction in any format and/or Commercial use of it is/are strictly prohibited.
Today's word list-1 The Hindu Editorial (a lot to lose) – Mar 21, 2019: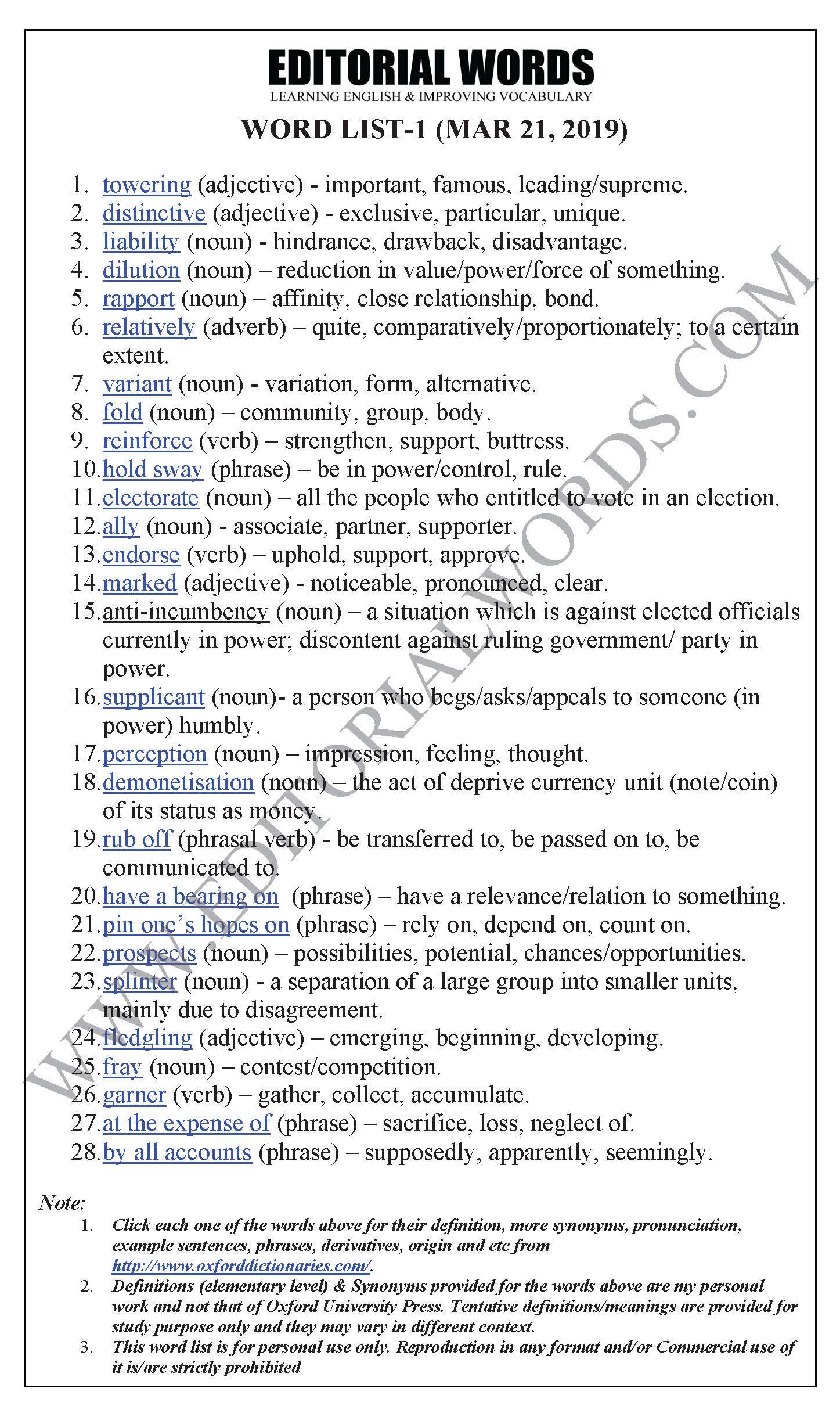 "Phrasal Verbs" We Learnt Last Week
"Idioms & Phrases" We Learnt Last Week
"Important Definitions" We Learnt Last Week
Recent Word Lists For The Hindu Editorial Articles
Recent Advanced Word Lists For The Hindu Lead Articles