Future perfect? – The Hindu (Aug 16, 2017)
In talking of a New India free of casteism, terrorism, corruption and nepotism by 2022, in his Independence Day address, Prime Minister Narendra Modi was… For further reading, visit "The Hindu".
This preview is provided here with permission.
Courtesy: The Hindu
Word List-1
casteism (noun) – discrimination due to caste (system).
nepotism (noun) – partiality, inequality, discrimination/prejudice.
sell (verb) – persuade, convince, get support.
dwell on (phrasal verb) – linger over, speak at length; elaborate on.
inexorably (adverb) – in a way that is impossible to stop/prevent.
go so far as to do something (phrase) – do something regarded/considered as extreme.
embrace (noun) – welcome, accept/adopt; include/comprehend.
intended (adjective) – planned, considered, meant.
overzealous (adjective) – extreme, fanatical, over-enthusiastic.
lynch mob (nou) – relating to the group of people who punish/kill by hanging someone for claimed offence without legal trail.
echo (verb) – repeat, say again/restate, reiterate.
call for (adjective) – demand, necessitate, publically ask.
compassionate (adjective) – caring, loving, kind-hearted.
discriminate (verb) – differentiate, distinguish, separate.

 

invoke (verb) – evoke, induce, cause.
surgical strike (noun) – a military attack aimed to cause damage on a particular target with small/no collateral damage to the surrounding.
stand-off (noun) – deadlock, stalemate, impasse (in a dispute/conflict).
reliance (noun) – dependence; trust/confidence on something.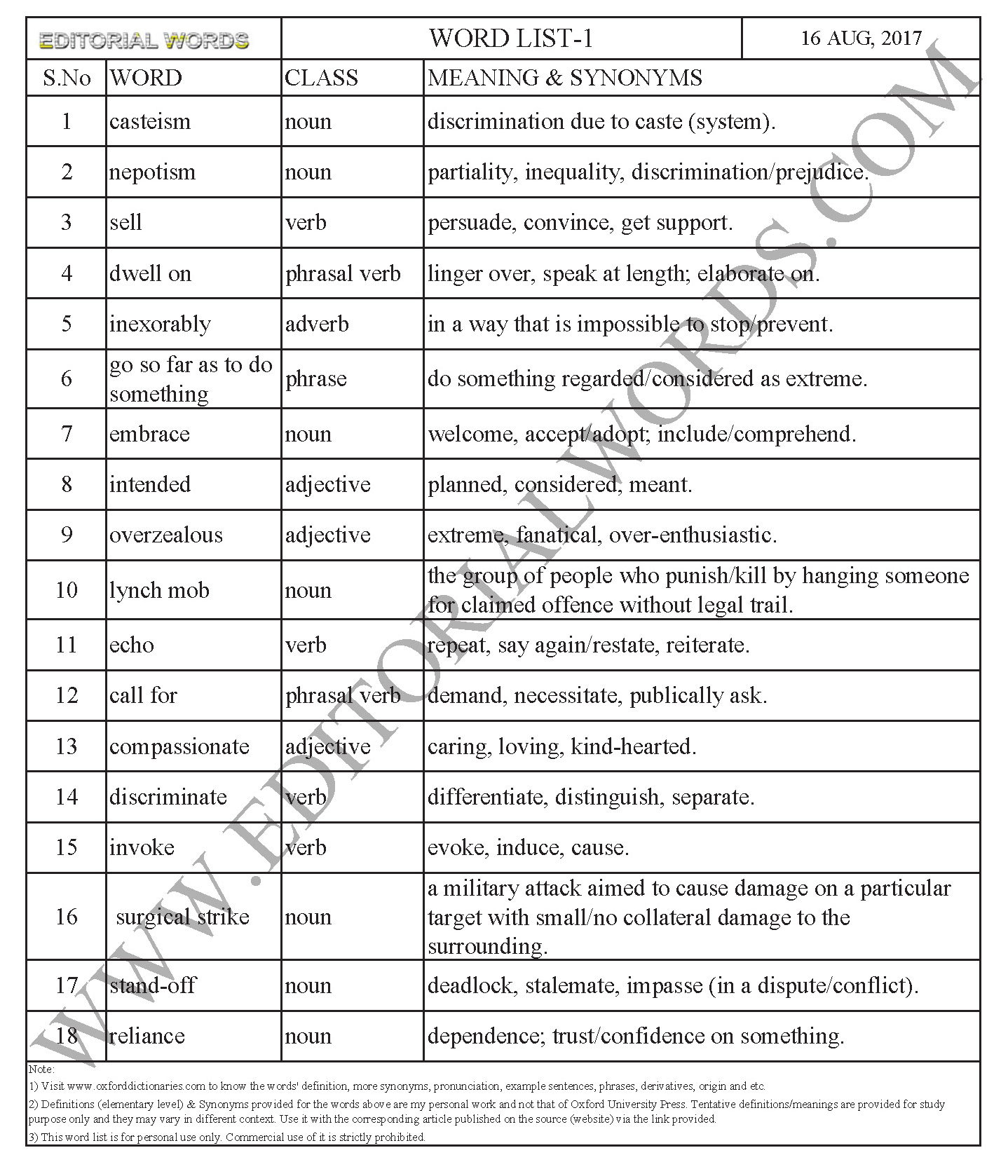 Note: 
Definitions (elementary level) & Synonyms provided for the words above are my personal work and not that of Oxford University Press. Tentative definitions/meanings are provided for study purpose only and they may vary in different context. Use it with the corresponding article published on the source (website) via the link provided. 

This word list is for personal use only. Reproduction in any format and/or Commercial use of it is/are strictly prohibited.