Lines of defence – The Hindu (April 19, 2017)
n the face of extreme and unreasonable complaints against Electronic Voting Machines by a number of political parties,… For further reading, visit "The Hindu".
This preview is provided here with permission.
Courtesy: The Hindu
Word List-1:
line of defence

(phrase) – way of defending.
in the face of (phrase) – in spite of, notwithstanding, despite.
corroborate (verb) – confirm, verify, validate.
audit trail (noun) – audit log; a series of paper, electronic files, and other such records that show how transactions are dealt with by an organization from beginning to end.

Voter-verifiable paper audit trail (VVPAT)

 – it is a method of providing feedback to voters using a ballot-less voting system. it consists of physical paper records of voter ballots as voters have cast them on an electronic voting system.
interpret (verb) – understand, construe, see.
context (noun) – circumstances, conditions, surroundings.
brush off (phrasal verb) – rebuff, dismiss, reject.
clutch (noun) – group, set, collection.
tamper (verb) – interfere, meddle (to cause damage to something).
manipulation (noun) – plot, trick/tactic, intrigue/stratagem.
encrypt (verb) – convert data/information into code; encode.
burnt (past participle of burn) – produce (a disc/chip) by copying original.
standalone (adjective) – separate, unconnected.
lay down (phrasal verb) – formulate, stipulate; prescribe.
accountability (noun) – responsibility, liability, answerability.
indigenously (adverb) – in an indigenous (originating from native/local) manner, something is produced in a particular region/country.
embed (verb) – design and build (a microchip) as an integral part of a machine/device.
glib (adjective) – plausible, slick, thoughtless/superficial.
rigging (noun) – an act of manipulating/intriguing/conduct fraudulently, particularly elections.
stuffing (noun) – an act of placing bogus (fake) votes in (a ballot box).
revert (verb) – return, go back, regress.
regressive (adjective) – retrograde/unprogressive, negative, unwelcome.
quietus (noun) – something that calms/quiets/soothes.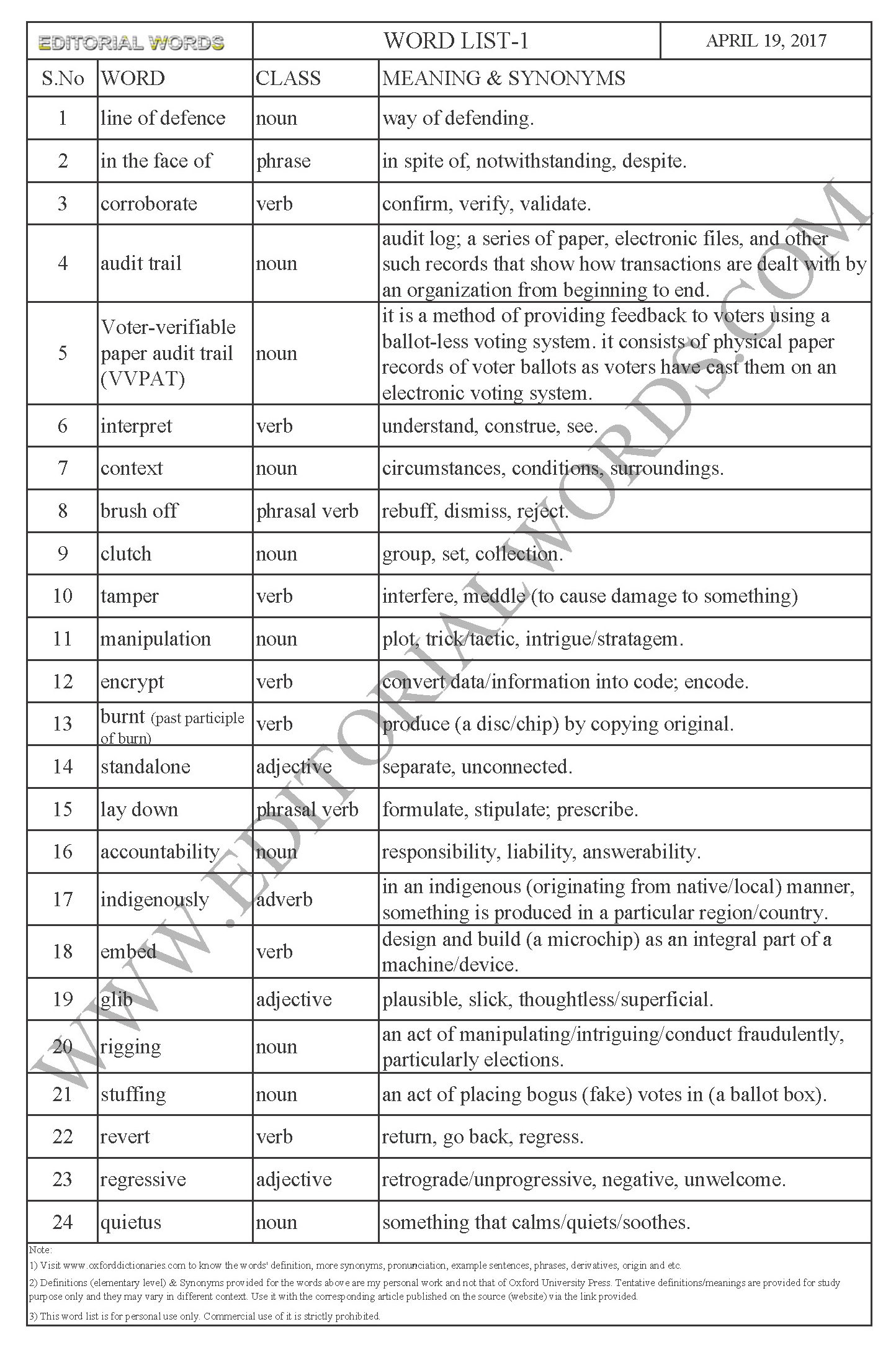 Notes:
Click each one of the words above for their definition, more synonyms, pronunciation, example sentences, phrases, derivatives, origin and etc from http://www.oxforddictionaries.com/.

Definitions (elementary level) & Synonyms provided for the words above are my personal work and not that of Oxford University Press. Tentative definitions/meanings are provided for study purpose only and they may vary in different context. Use it with the corresponding article published on the source (website) via the link provided. 

This word list is for personal use only. Reproduction in any format and/or Commercial use of it is/are strictly prohibited.