Afghan by birth, Indian by heart – The Hindu (Jun 18, 2017)
Coming from trouble-torn Afghanistan where peace has been no more than a pause between two wars in the last few decades, Sayed Qudrat epitomises how education can transform people's perception and is important to usher in stability to a country besides promoting the individual's well-being. For further reading, visit "The Hindu".
This preview is provided here with permission.
Courtesy: The Hindu
Word List-1:
no more than

(phrase) – used to highlight how small a thing (number/amount) is.
pause (noun) – stop, break, hiatus.
epitomise (verb) – symbolize, represent, illustrate.
usher in (phrasal verb) – start/begin, initiate; herald/signal.
well-being (noun) – welfare

, happiness, comfort/security. 

mastery (over) (noun) – control, superiority, domination/command.
humanity (noun) – compassion, humaneness/kindness, benevolence.
transcend (verb) – go beyond, rise above: surpass/conquer/outshine.
facilitate (verb) – enable, assist, help.
horizon (noun) – range of experience, outlook, perspective/perception.

scroll of honour/

roll of honour (noun) – an award given to encourage, recognize, admire and honour someone's achievement.
ovation (noun) – round of applause, clapping/cheering, praise.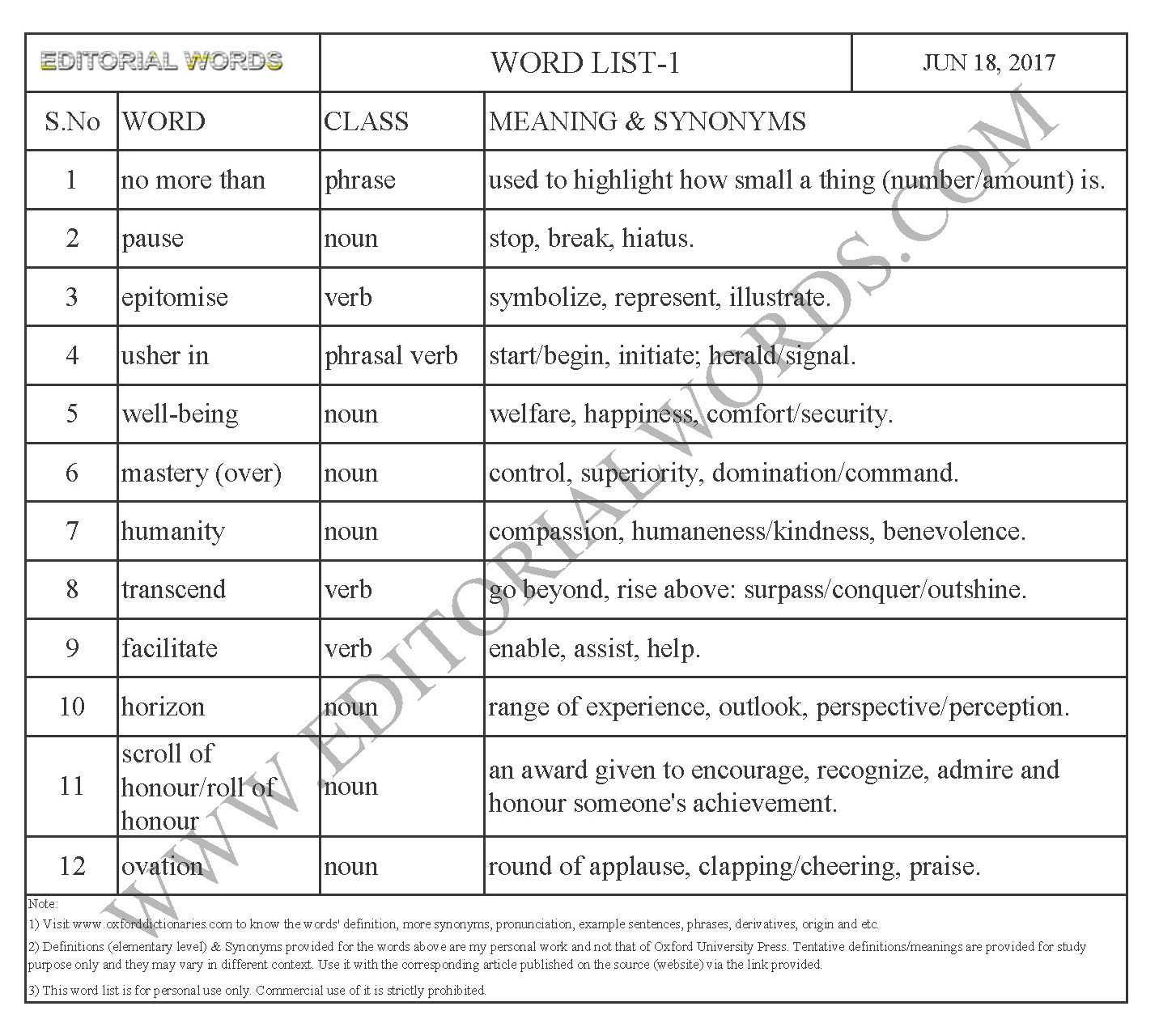 Note:
Visit www.oxforddictionaries.com to know the words' definition, more synonyms, pronunciation, example sentences, phrases, derivatives, origin and etc.

Definitions (elementary level) & Synonyms provided for the words above are my personal work and not that of Oxford University Press. Tentative definitions/meanings are provided for study purpose only and they may vary in different context. Use it with the corresponding article published on the source (website) via the link provided. 

This word list is for personal use only. Reproduction in any format and/or Commercial use of it is/are strictly prohibited.