Deep-sea dive – The Hindu (Jun 17, 2017)
Reliance Industries' and BP's joint investment of ₹40,000 crore in the KG-D6 gas block has important implications for the oil, gas and renewable energy sectors in terms of technological development, supply line infrastructure and pricing policy. For further reading, visit "The Hindu".
This preview is provided here with permission.
Courtesy: The Hindu
Word List-1
implication (noun) –  consequence, result, ramification.
renewable energy (noun) – energy generated from the natural resources (such as water, wind, solar energy)
arbitration (noun) – adjudication, mediation, conciliation/peacemaking.
optimism (noun) – hopefulness, confidence, positiveness.
outlook (noun) – prospects, expectations, future.
regime (noun) – system, arrangement, scheme.
diminish (verb) – decrease, lessen, reduce.

conventional energy

(noun) – non-renewable energy; sources such as oil, gas, coal & etc.
exploit (verb) – utilize, make use of, use.
know-how (noun) – knowledge, expertise, skill.
offshore (wind) (adjective) – (wind) blowing towards the sea from the land.
non-existent (adjective) – not present, not existing, imaginary/unreal.
untapped (adjective) – not exploited/used; dormant/inactive, unused.
couple (with) (verb) – combine, integrate, connect/incorporate.
draw (verb) – invite, attract, engage.
upstream (petroleum industry) (noun) – the industry which finds and produces crude oil and natural gas.
downstream (petroleum industry) (noun) –  the industry which does refining of petroleum crude oil and the processing and purifying of raw natural gas, as well as the marketing and distribution of products derived from crude oil and natural gas.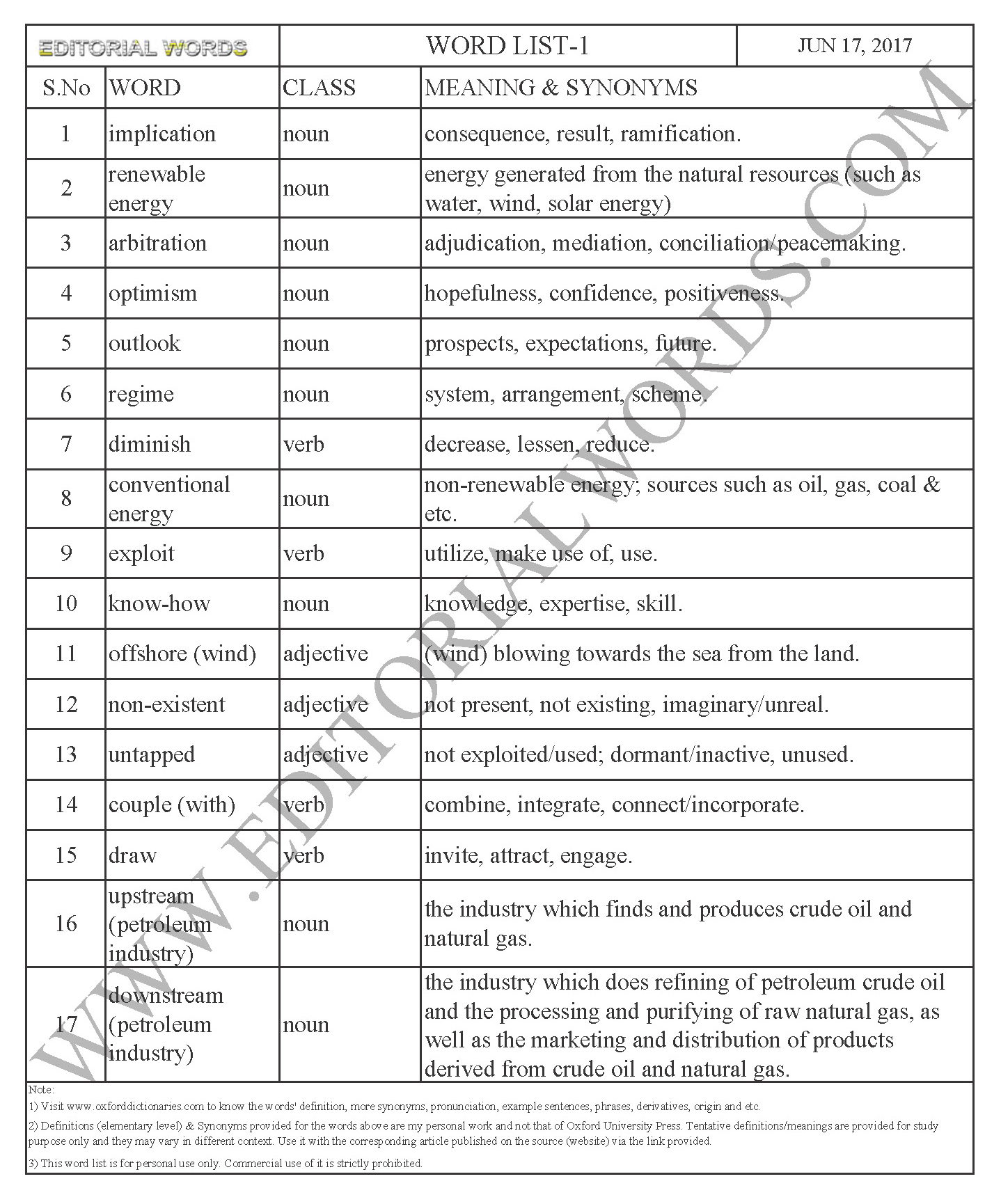 Note:
Click each one of the words above for their definition, more synonyms, pronunciation, example sentences, phrases, derivatives, origin and etc from http://www.oxforddictionaries.com/.

Definitions (elementary level) & Synonyms provided for the words above are my personal work and not that of Oxford University Press. Tentative definitions/meanings are provided for study purpose only and they may vary in different context. Use it with the corresponding article published on the source (website) via the link provided. 

This word list is for personal use only. Reproduction in any format and/or Commercial use of it is/are strictly prohibited.