Hopes and fears – The Hindu (Sep 23, 2017)
It is only with a great degree of caution and circumspection that the interim report of the Steering Committee of the Constitutional Assembly of Sri Lanka can be welcomed.  For further reading, visit "The Hindu".
This preview is provided here with permission.
Courtesy: The Hindu
Word List-2 (To Improve English Vocabulary)
set off (phrasal verb) – cause, lead to, begin/start/initiate.
informed (adjective) – knowledgeable, well educated; sagacious/intelligent.
envision (verb) – imagine, visualize, envisage.
far-reaching (adjective) – extensive, wide-ranging, radical/comprehensive.
optimism (noun) – hopefulness, confidence, positiveness.
fractious (adjective) – unruly, uncontrollable, unmanageable.
polity (noun) – a state as a political entity.
durable (adjective) – long-lasting, strong, substantial.
equitably (adverb) – fairly, impartially, unbiasedly.
ethnic (adjective) – relating to a population subgroup (cultural

, national, traditional/folk) with a common national or cultural tradition.

prosperity (noun) – wealth, success, the good life/well being.
derail (verb) – obstruct, impede, hinder.
extremist (noun) – a person who is with extreme political or religious views and supports  violent actions. fanatic, radical, fundamentalist.
sustained (adjective) – continuous, uninterrupted, non stop.
devolution (noun) – decentralization, delegation, distribution.
unitary (adjective) – relating to a system of government in which power is provided to the central government.
federal (adjective) – relating to a system of government in which power is shared between a central government and individual states.

executive presidency

(noun) – In Executive presidency, the enormous & all executive powers shall be vested in the office of president.
subsidiarity (noun) – a principle that holds social & political issues should be dealt with at the most immediate (or local) level, rather than by a central authority.
tier (noun) – grade, level/step, echelon.
vest in (verb) – (phrasal verb) – be provided the power/authority.
first-past-the-post (phrase) – it is an electoral system in which a candidate with the most votes in each constituency wins and becomes the MP/MLA for that seat.
ramifications (noun) – consequence, result, outcome.
devolve (verb) – delegate, pass on, hand over/transfer (power to a lower level).
long-drawn (adjective) – prolonged, protracted, lengthy.
pre-eminent (adjective) – greatest, supreme, distinguished.

founding document 

(noun) – it is simple referred as the constitution and it defines the terms in which the organisation/country was established and governed.
bipartisan (adjective) – involving cooperation between two (opposite & big)  political parties.
shackles (noun) – restrictions, trammels, restraints; (figuratively) something that prevents people from acting freely.
divisive (adjective) – isolating/separating, dividing; 

disharmonious.

notion (noun) – idea/thought, belief, concept.
reconciliation (noun) – reunion, appeasement, settlement/compromise.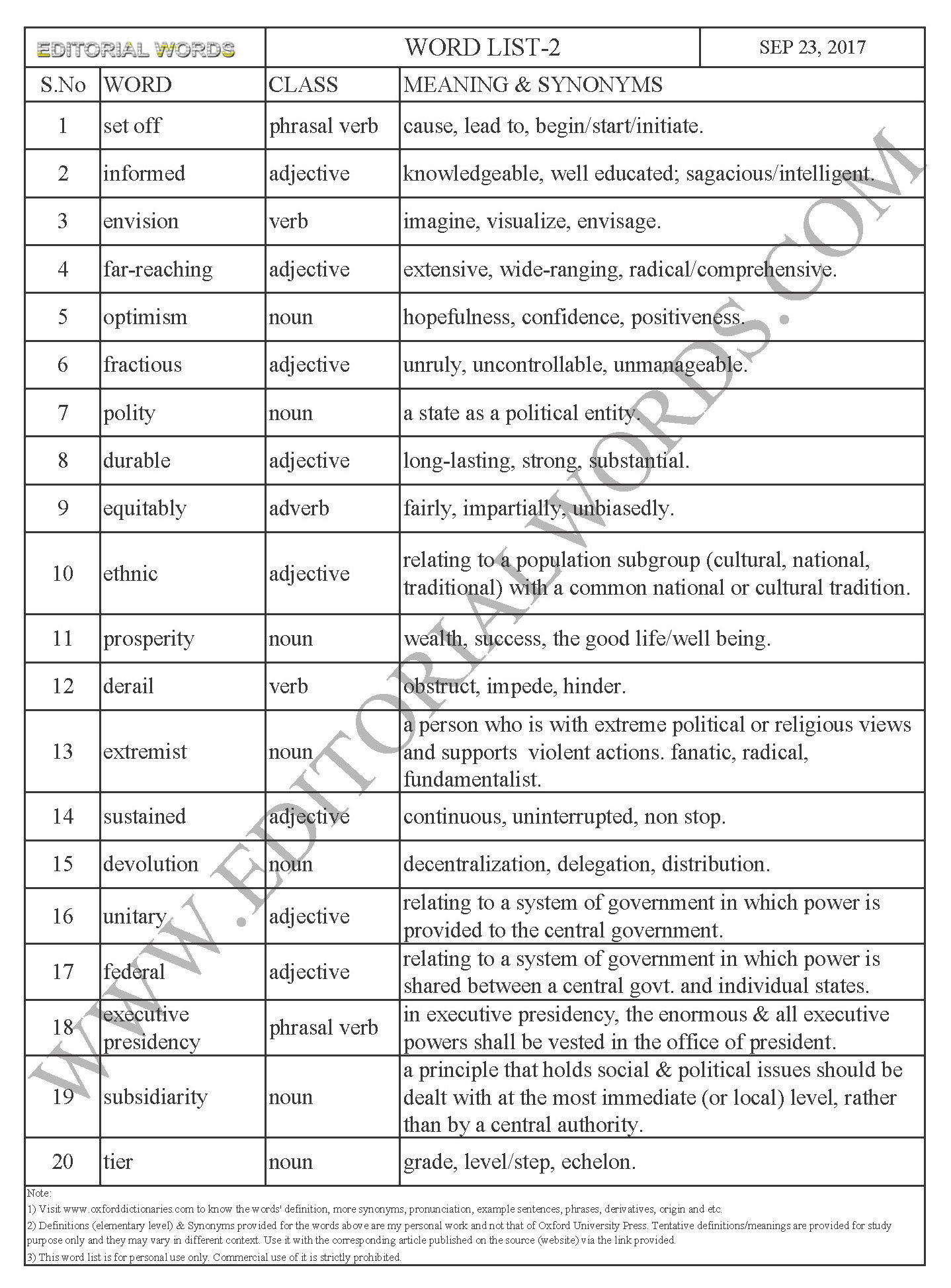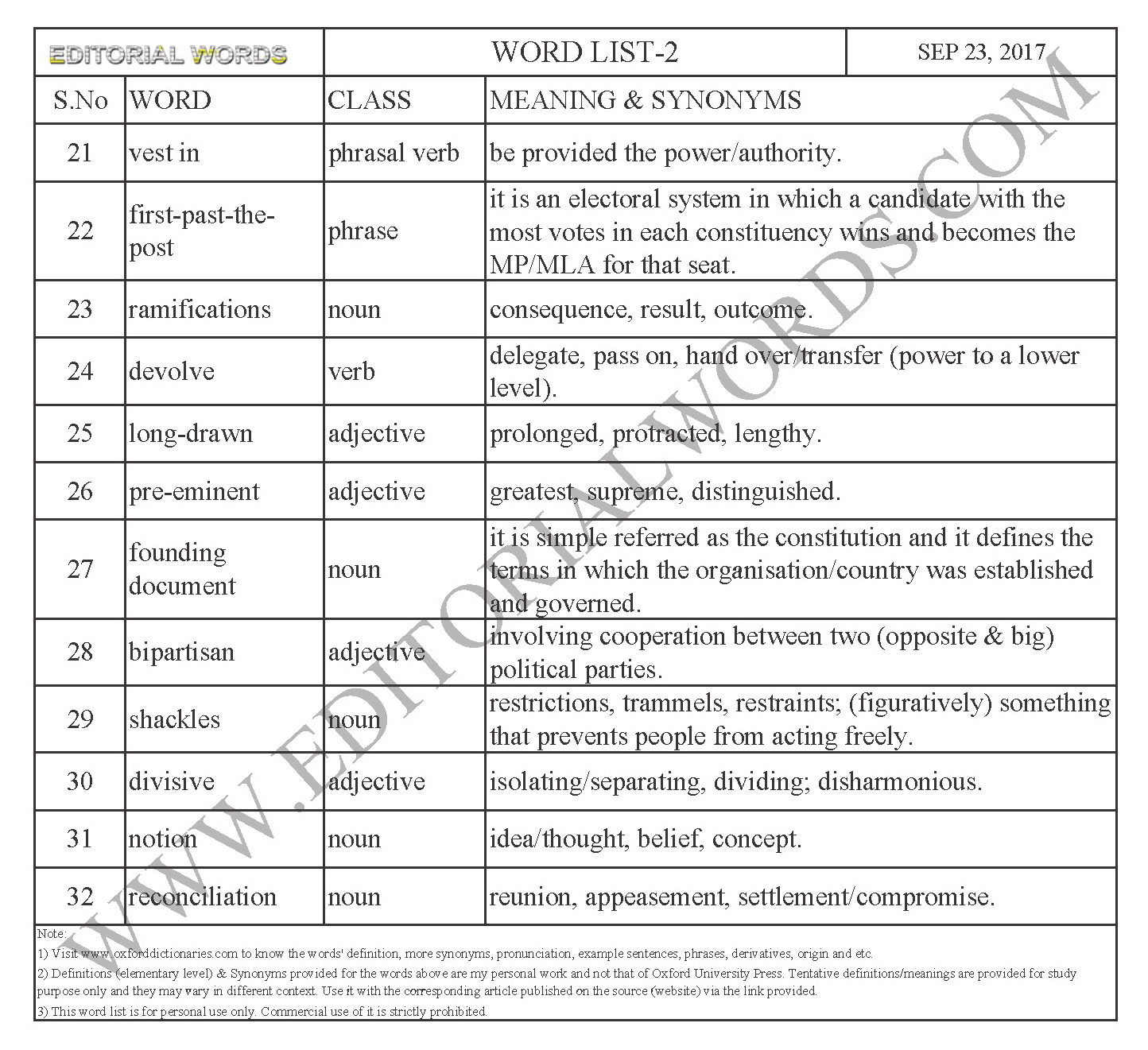 Note:  
Click each one of the words above for their definition, more synonyms, pronunciation, example sentences, phrases, derivatives, origin and etc from http://www.oxforddictionaries.com/.

Definitions (elementary level) & Synonyms provided for the words above are my personal work and not that of Oxford University Press. Tentative definitions/meanings are provided for study purpose only and they may vary in different context. Use it with the corresponding article published on the source (website) via the link provided. 

This word list is for personal use only. Reproduction in any format and/or Commercial use of it is/are strictly prohibited.