The self-blinding Russia prism – The Hindu Mar 17, 2018
Many have been quick to conclude that it was his strong anti-Russia position that led to Rex Tillerson's dismissal as U.S. Secretary of State by President Donald Trump on March 13. For further reading, visit "The Hindu".
This preview is provided here with permission.
Courtesy: The Hindu
Advanced Word List 1 (To Improve English Vocabulary)
prism (noun) – a viewpoint which clarifies/distorts something.
collusion (noun) – conspiracy, complicity, collaboration.
nerve agent (noun) – Nerve agents are a class of chemicals called organophosphates – meaning they contain phosphorous – that are extremely poisonous. They attack the   nervous system of the human body, which passes messages from the brain to other parts of the body, telling it what to do.
profoundly (adverb) – extremely, intensely, greatly.
precedent (noun) – model, example, pattern.
stand up for (phrasal verb) – support, recommend, uphold.
punditry (noun) – the expression of experts(pundits) in a particular field.
misogyny (noun) – prejudice, dislike, hatred (of women).

liberal capitalism

(noun) – a system of production and trade based on property and wealth being owned by private business and ordinary people, rather than the state.
demon (noun) – genius, wizard, expert/master.
at the door (phrase) – on access/entry to an event.
arch-enemy (noun) – main enemy.
insinuation (noun) – hint, suggestion, implication/indication.
salacious (adjective) – improper, erotic, arousing.
dossier (noun) – report, case history, case study.
indictment (noun) – charge, accusation, citation.
depose (verb) – remove, overthrow, overturn.
bot (noun) – a robot.
unwitting (adjective) – unknowing, unconscious, unaware/innocent.
primary (noun) – (in the US) an election in which members of the same political party run against each other for the chance to be in a larger and more important election, especially presidential, election.
bipartisan (adjective) – involving cooperation between two (opposite & big)  political parties.
sanctions (noun) – action taken, or an order given to force a country to obey international laws by limiting or stopping trade with that country, by not allowing economic aid for that country, etc (Courtesy: VOA Learning English).
disenfranchise (verb) – take away someone's human rights.
groundswell (noun) – a large, spontaneous growth in people's support (for political actions).
scorched earth policy (noun) – a military strategy that aims to destroy anything that might be useful to the enemy while it is advancing through or withdrawing from a location.
undercut (verb) – undermine, weaken, damage/corrode .
treason (noun) – 

disloyalty

, 

betrayal (of one's country);

 

mutiny

/

rebellion.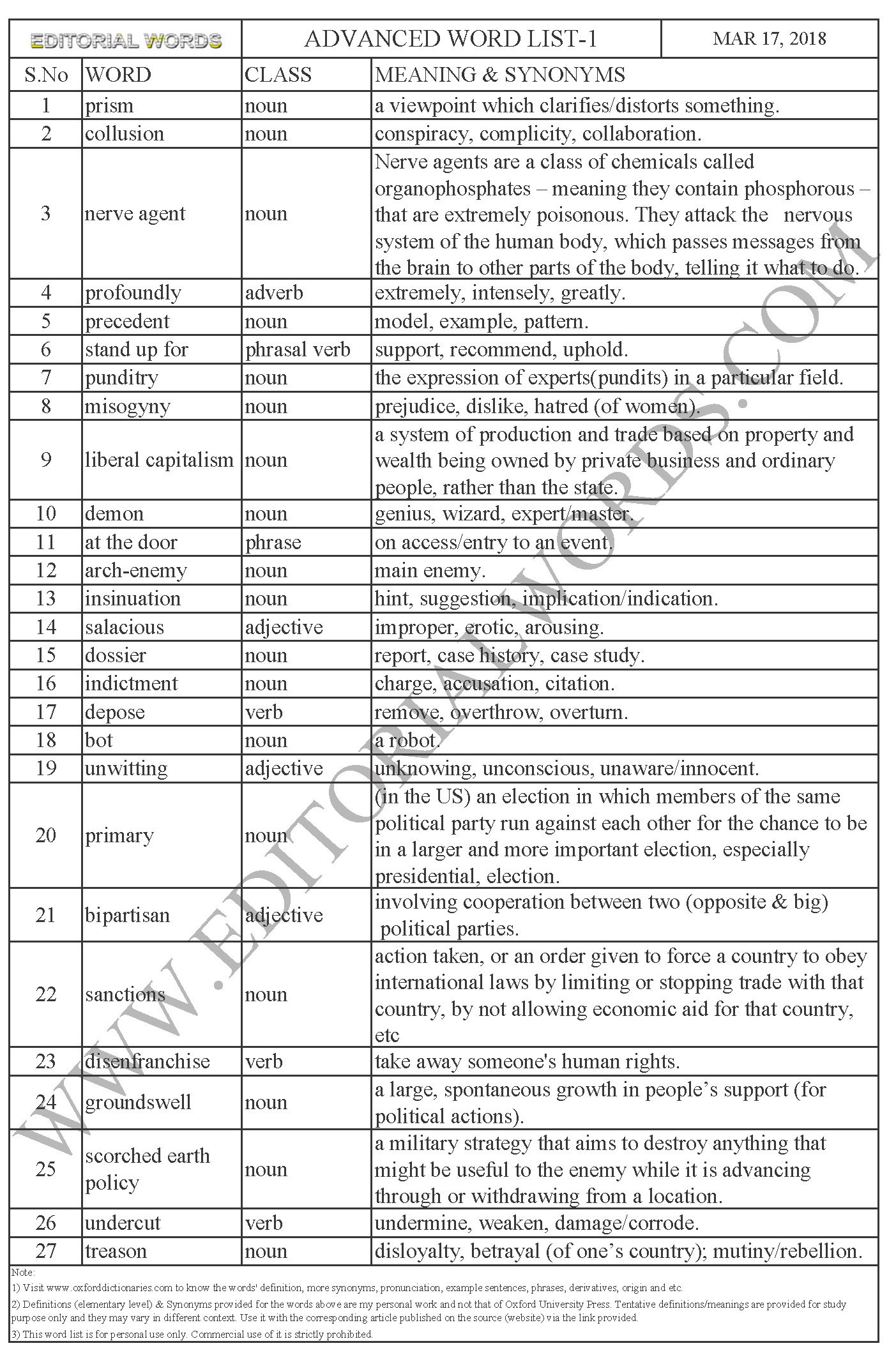 General Knowledge